Courtesy SabrangIndia
In a rare show of unanimity within the political class, eight days ago, on December 22, 2015, the Rajya Sabha (Upper house of the Indian Parliament), passed, through a unanimous voice vote, the SC and ST (Prevention of Atrocities) Amendment Bill, 2015. Communalism Combat has been consistently tracking the absence of political will in pursuing caste-driven crimes.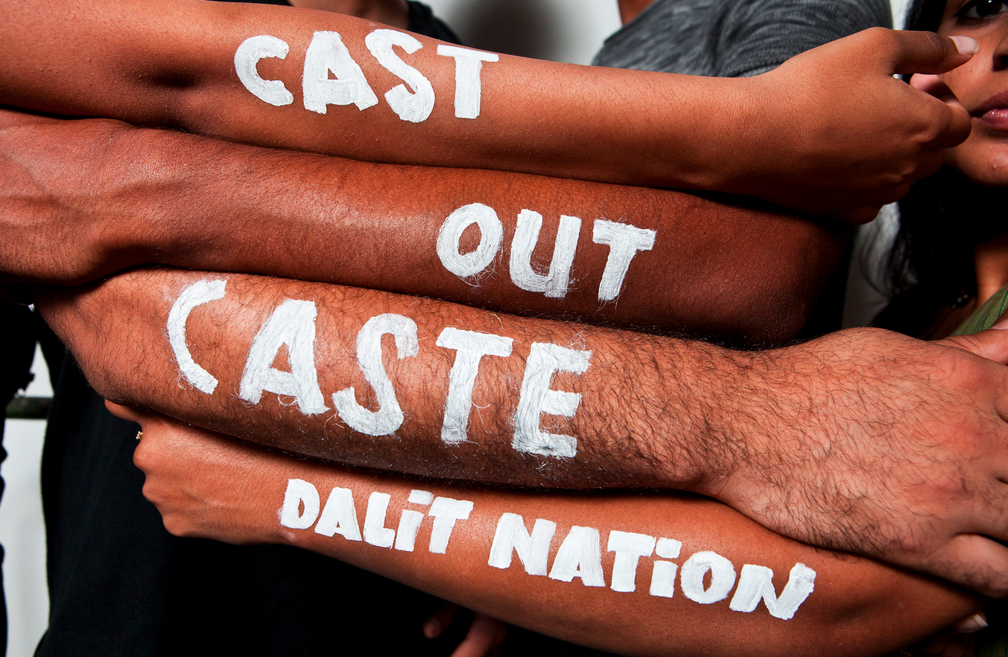 In March 2005, we analysed this special law enacted in 1989 for the most underprivileged sections and through detailed state-wise reports showed how it had in fact failed to protect India's Dalits and Adivasis from specifically directed crimes. (https://sabrangindia.in/sabrangthemes/caste-crimes-2005)
Ten years after that date and analysis, following dynamic mobilisation of citizens civil rights groups from the Dalit and Adivasi sections, and others, the Indian Parliament has finally passed an Amendment Bill that acknowledges the loopholes. PS Krishnan, one of the key figures in the movement to remove the loopholes in the existing law (Prevention of Atrocities [POA], 1989), analyses for us the key improvements in the proposed law that now only awaits the formal assent from the President of India.
An Easy- to-Read Analysis that enables a quick grasp of the recent Amendments:
I.An Expansion in the Definition of the list of Atrocities to bring in certain crimes which have been taking place but were omitted in the original POA Act
Original Act
Amended Bill
Number of offences / crimes listed as offences of Atrocities
In Section 3(1) =1 5
In Section 3(2) =  7
____
22
In Section 3(1) = 29
In Section 3(2) =  8
_____
37
I A. Some of the major offences thus added to the list of Atrocities in the newly Amended Law
(1)
Social and economic boycott
This crime is widespread.  Dr. Ambedkar had pointed this out and presented the crippling terror generated through this to the Simon Commission in 1927.
This was omitted in the original Act of 1989 despite serious efforts at that time, in meetings and in writing, to get this included.
(2)
Greater protection for SC and ST women
(a)  Dedicating women as Devadasi or similar practice(s)
(b)  Certain offences of sexual nature against women
(c)  Crimes relating to allegations of being declared 'witches'
(a)Gives additional protection to SC and ST women
(b) This is much stronger and more specific than in the original Act
(c)Most of the victims of these atrocities are ST women and also SC women.
(3)
Election-related
(a)  election-related coercion – in voting as well as candidate nomination/self-nomination
(b) obstruction of elected member or chair of local bodies from performing duties and functions
(c) post-poll attacks including social or economic boycott
Relevant to instances like Melavalavu in Tamil Nadu,
where the elected SC Panchayat President and those accompanying him were pulled out of a bus and killed in public in broad daylight.
(4)
Making an SC or ST member perform acts of manual scavenging or the employment or permission to employ any such person (SC or ST) for this purpose (of manual scavenging)
This buttresses the Prohibition of Employment as Manual Scavengers and their Rehabilitation Act 2013, the one legislation directly for SC and ST enacted by the UPA Government during its 10-year rule.
(5)
Any Compulsion to dispose or carry human or animal carcasses or dig graves
(6)
Promotion of enmity
Insult to any object, statue, photograph, portrait etc. held sacred or in high esteem or late persons held in high esteem (by SCs and STs)
Targets widespread practice of insult, particularly to statues of Dr. Babasaheb Ambedkar.
(7)
Prevention of equal use of common resources like burial or cremation ground, water resources, public convenience, road passage, riding bicycles, motorcycles , mounting horse in wedding processions, wearing footwear or new clothes, equal access to places of worship, equal access to educational and health institutions, shops  etc, interfering with freedom of profession, occupation in trade, business, employment etc.
Wedding horse-riding offences common in North India, e.g., Kumher (Rajasthan) 1992, Kaphalta (UP, now Uttarakhand) 1980 and many recent instances.This is more comprehensive and specific than  3(1) (14) in original Act
(8)
Punishment for major IPC offences, i.e., crimes with 10 years or more of imprisonment, not specifically listed.
The Bill substitutes "on the ground of victim being SC or ST" with  "knowing that victim is an SC or ST"
Read with
"6. New Presumption Clause"
lower down
Punishment for IPC offences listed in the Schedule to the Bill
Greater Protection for STs
(a) Denial of forests rights
(b) Destruction of crops
Relevant to cases like Vachati, Adivasi village in Tamil Nadu in 1992, where all the fields, crops and wells were destroyed and damaged, women and girls were raped by Forest, Police and Revenue personnel.
II. Expeditious Conduct of Criminal Trials through the establishment of Exclusive Special Courts (of Sessions Court level) with the appointment of an exclusive special public prosecutor
Mandates the State Government to establish adequate number of Special Courts and Exclusive Special Courts in every district to ensure disposal within two months, instead of what was contained in the original Act that used existing sessions courts with no mandate for expeditious trials
Lays down day-to-day trial and time-limit of two months for trial and three months for disposal of appeal in High Court.
Provides for direct cognizance by Exclusive Special Courts and Special Courts dispensing with committal proceedings which cause delay(s).
III.New Chapter on Victims and Witness Rights
Duty and responsibility cast on the State to protect victims, dependents, witnesses against intimidation, coercion, inducement, violence, threats
Timely notice of proceedings
Right to be heard at every stage of the proceeding(s) including bail proceedings
Right to take assistance from NGOs, social workers, advocates
Court shall provide complete protection, travelling and maintenance expenses, social and economic rehabilitation, relocation and periodical review of protection offered by State and pass orders
Video recording of all proceedings
State should specify scheme to ensure ­–
Immediate relief
Food, water, clothing medial aid, transport, daily allowance
Maintenance, expenses
Protection
Information of stage of investigation etc.
IV. Legal Enforcement of Duties of Public Servant
| | |
| --- | --- |
| Lists out specific duties of public servants | This elaborates, tightens and specifies the general provision in original Act, thus facilitating fixing of individual accountability |
V.   Externment
Scope expanded to enable externment not only from Scheduled Areas and Tribal Areas, as in the Act, but also from areas identified as Atrocities-prone – gives protection to STs outside the above-mentiuoned areas and to SCs also.
VI.  New Presumption Clause
New PresumptionIf it is proved that the accused had personal knowledge of the Victim or her/his Family, the Court shall presume that the accused knew the Caste or Tribal identity of the Victim unless contrary is proved.
This is the only addition to existing two presumptions.
This is based on a social reality and plugs a loophole by which the accused (have been) falsely claiming ignorance of the fact that the victims were SCs or STs and therefore the crime cannot be termed as one "on the ground of Victim being SC or ST".
VII.  Urgent Next Steps Required
Getting the Rules drafted quickly.
Include within the Rules whatever, the suggestions (from the Dalit civil liberties movement)for the Amendment Bill that have not been included within the proposed changed Act, which can possibly be got included in the Rules.
Tighten and activate the implementation machinery from the top to bottom (PM/CMs down to District Collectors and SPs, Special Public Prosecutors, etc.), and enable the establishment of an informed and sensitive judicial framework.
Tight and vigilant monitoring of the Implementation at all stages.
Securing adequate financial provision for establishing Exclusive Special Courts etc. — there is already a Centrally Sponsored Scheme in the Ministry of Social Justice & Empowerment for strengthening machinery for implementation of PCR Act and POA Act – this will have to be got adequately augmented.
Wide publicity through all possible means to make Dalits and Adivasis aware of their rights under the amended Act and inform others also for their support and as cautioning / warning to those who belong to social categories which are prone to violence against Dalits and Adivasis.
VIII.  Important Omissions in the Act
The following are examples of major common Atrocities and systemic improvements, advised by among others, the author and which were included in the draft Bill (sent to Minister on November 19.11, 2009), which have not been included in amended Act.
(a)
Murders, Mass Murders
Massacres
After completing priority task of getting present amended Act properly implemented, the movement will need to ensure the tabling of another Amendment Bill to get these and other omissions included in the Act.Government systems are essential but not enough. The non-official supplementation proposed is also essential for meaningful monitoring.
(b)
Rape, Mass-Rape, Gang-Rape
(c)
A new Chapter titled "National Monitoring and Enforcement Authority" for creating a non-official body of experienced non-political persons devoted to Social Justice for SCs and STs, for monitoring and enforcement of full implementation of Act, complementary to Governmental systems.
(The author is former Secretary to Government of India and has been working in the field of Social Justice for SCs, STs, SEdBCs including SEdBCs of the Minorities and their women and children, for the last six-and-half decades)
Background
In the March 2005 cover story of Communalism Combat we had stated that:
"If, at an international level, this recognition that rights violations can be experienced by the individual as also by groups so positioned within and without state boundaries found expression in several covenants, laws and charters after the first Universal Declaration of Human Rights (UDHR), back home our first realisation on this front came with the enactment of the Protection of Civil Rights Act in 1955. Article 17 of the Constitution is that provision of our constitutional mandate through which untouchability was abolished and its practice in any form forbidden. Despite clear and specific constitutional provisions guaranteeing every individual's right to a life of dignity, equality and non-discrimination, the shameful existence of caste-based discrimination and denials made this specific articulation on untouchability a necessity at the point of time when the Constitution was drafted.
Five years later, the Protection of Civil Rights Act, 1955 was enacted in order to enforce this constitutional provision. The provisions of this Act extended to the whole of India. Thirty-four years later even these enactments were found at the ground level to be inadequate. In order to check and deter crimes against Dalits and Adivasis, the Scheduled Castes and Scheduled Tribes, the Scheduled Castes and the Scheduled Tribes (Prevention of Atrocities) Act, 1989 was brought into force with effect from January 30, 1990 (forty years after we gave ourselves the Constitution).
Its main objective was "to prevent the commission of offences of atrocities against the members of the Scheduled Castes and the Scheduled Tribes, to provide for Special Courts for the trial of such offences and for the relief and rehabilitation of the victims of such offences and for matters connected therewith or incidental thereto." The provisions of the Act extend to the whole of India except the state of Jammu and Kashmir. Comprehensive rules were also notified under the Scheduled Castes and the Scheduled Tribes (Prevention of Atrocities) Act, 1989 on March 31, 1995, which among other things provide for immediate relief and rehabilitation to the affected persons through the district administration. The provisions of these Acts are meant to be implemented by respective state government/union territory administrations and fifty per cent central aid is provided to ensure the implementation of all provisions.
Fifteen years (2005) after its enactment, nationwide studies show that while this legislation has provided a critical tool for the social and political mobilisation of Dalits, an insensate State and government machinery has resulted in poor implementation of this Act. Moreover, a concerted backlash from a society and State that staunchly refuses to accept the reality of caste-driven crimes seeks to dilute registration of crimes under this Act as 'normal' Indian Penal Code (IPC) crimes. It is time that public stock is taken of the hurdles being put in the way of the implementation of the Atrocities Act."
https://sabrangindia.in/sabrangthemes/caste-crimes-2005