Millions of Missing Girls – Doctors Must Stop Pre-Natel Sex Determination
AIDWA Press Release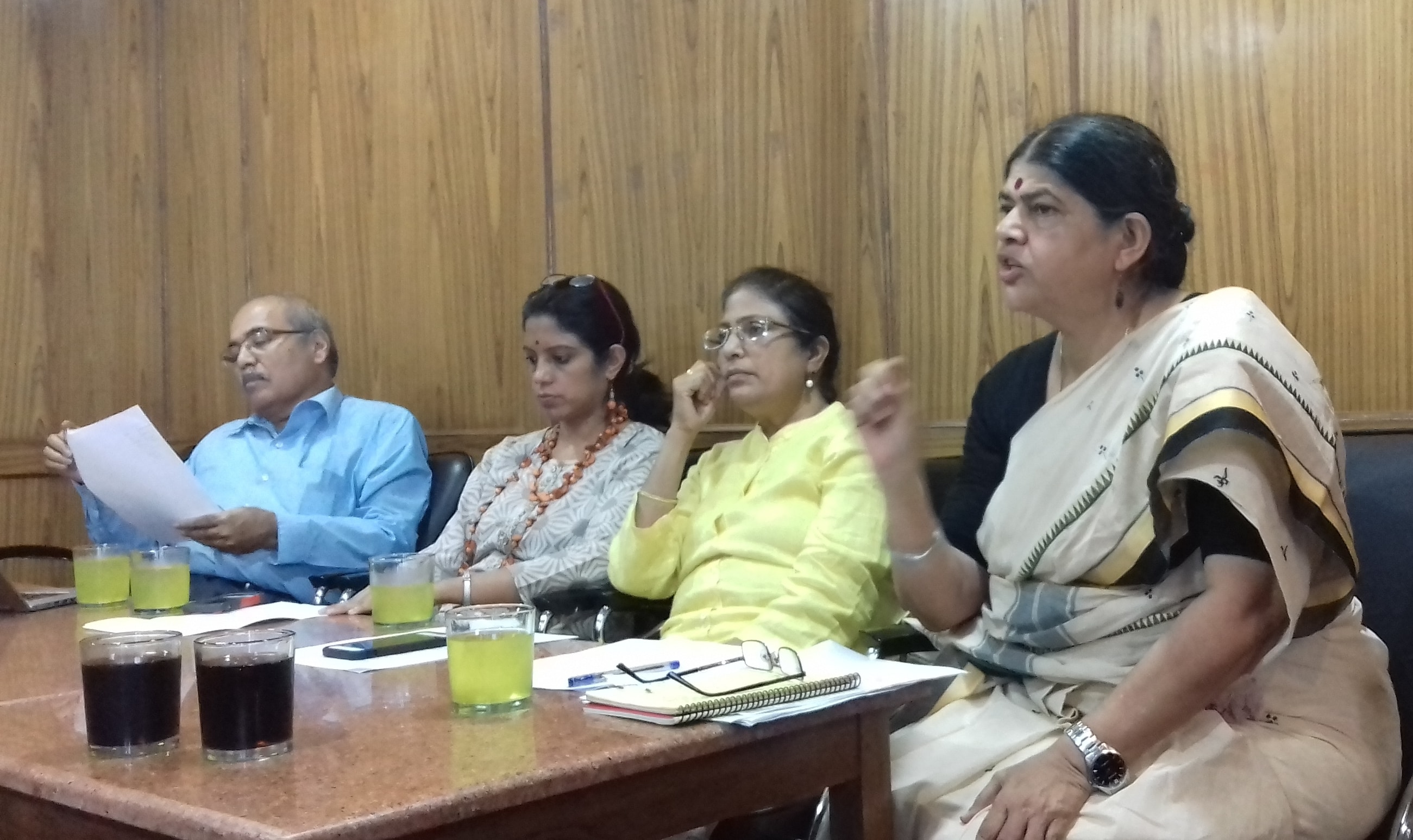 Delhi, 5 June 2017
Six leading scholars and activists came together to address the media against the Indian Medical Association (IMA)'s advocacy to weaken the Pre-Conception and Pre-Natal Diagnostic Techniques (PC-PNDT) Act in the context of Delhi Chalo organised tomorrow. These experts include:
Dr Neelam Singh, leading Gynecologist, Lucknow and Vatsalya,
Ms. Sudha Sundararaman, Vice President, AIDWA,
Dr. Satish Agnihotri, IAS (retired), Scholar on child sex ratios and earlier Secretary of Women & Child Department, Odisha Govt.
Ms. Smita Khanijow, Action Aid Delhi & Member State Supervisory Board, PC-PNDT, Delhi
Prof. Bijayalaxmi Nanda, Miranda House, Delhi University
Dr. Sabu M George, girl child activist for over three decades
(Tapasi Praharaj from AIDWA was also present at the Press meet.)
In recent years, around hundred doctors have been convicted under the Pre-Conception and Pre-Natal Diagnostic Techniques (PC-PNDT) Act. Medical associations have made determined efforts to undermine this law, which prohibits determination of sex of foetus for non medical reasons. Last year IRIA, the association of radiologists, organised a national strike against this act. Hundreds of their members protested against this act in Jantar Mantar claiming that radiologists are being booked for insignificant errors in paper work.
This week, it is the turn of the Indian Medical Association. On 6 June, they are organising "Delhi Chalo", where thousands of doctors are expected to assemble at India Gate with their stethoscopes. The ostensible reason is the growing violence against doctors by public. Violence against members of medical profession has to be condemned and the offenders needs to be severely punished. However, IMA has also raised the demand to decriminalise the PC-PNDT Act. Under the leadership of Dr. K. K. Aggarwal, in recent years the IMA has been claiming that doctors are being penalised for clerical errors, and have demanded a stop to this. This move is nothing less than an indirect move to undermine the PC-PNDT Act.
Reality of millions of missing Girls
The larger context of declining child sex ratios in India needs to be highlighted. We are using the indicator sex ratios at birth as desired by medical associations. Both, the latest data based on civil registration (CRS, 23 million births in 2014) as well as Government's Sample Registration System data, confirm the declining trend. The SRS sex ratios at birth have consistently declined from 909 girls per thousand births to 900 over the years 2011 to 2015. Sex ratio at birth of 900 means that over 5.4% of girls are not allowed to be born. Approximate number of missing girls is about 6 lakh girls every year due to at least 18 lakh medical crimess of sex selection and sex selective abortions every year. The value of this criminal business is at least 1000 crore Rupees.
Dr Satish Agnihotri emphasised that "none other than the Prime Minister himself has appealed twice, once from the ramparts of the Red Fort and next during the launch of Beti Bachaao Beti Padhaao movement, against this malpractice. It is high time the young generation of Doctors address this issue seriously and wholeheartedly and stop discrimination against the unborn girl child. Otherwise, the erosion of ethics among medical professionals will assume menacing proportions".
Ms. Sudha Sundararaman stated that this was not the time to weaken the law. In the present context, when lakhs of medical crimes are still being committed by unethical medical professionals every year, she said this was the time to strengthen its implementation. She mentioned that the Supreme Court had laid down directives towards this end in November 2016, on which urgent action should be taken.
Dr. Neelam Singh asked the Governments and Judiciary to strictly implement the law. Otherwise, the scale of violence against surviving women will further worsen as observed in parts of Western Uttar Pradesh where foetal sexing has been taking place for nearly four decades. Government of India should motivate other states to follow the example of Haryana, Rajasthan and Maharastra in creating strong deterrence against the heinous crime of sex selection and female foeticide.
Dr. Sabu George congratulated the Government for initiating Beti Bachao, Beti Padhao programme in hundreds of Districts. Millions of crimes of sex selection and sex selective abortion cannot be dismissed as clerical errors. And over thousand crores of illegal money generated by unethical doctors every year needs to be stopped immediately".

---