In Dear Reader (Harper Collins, 2023), originally published as Eka Eka Ekashi in Bengali, translated into English by Arunava Sinha, Sankar reflects on his own life. From his mother and grandmother to his teachers and headmasters, he writes fondly of the women and men who shaped his youth; and of legendary figures like Bibhutibhushan Bandopadhyay, Sibram Chakraborty and Sunil Gangopadhyay who stroll in and out of famous neighbourhoods like Howrah Station, College Street Boipara, Burrabazar. Superbly translated by Arunava Sinha, this is Sankar's love letter to an ever-changing city and its people.
The following is an excerpt from the book.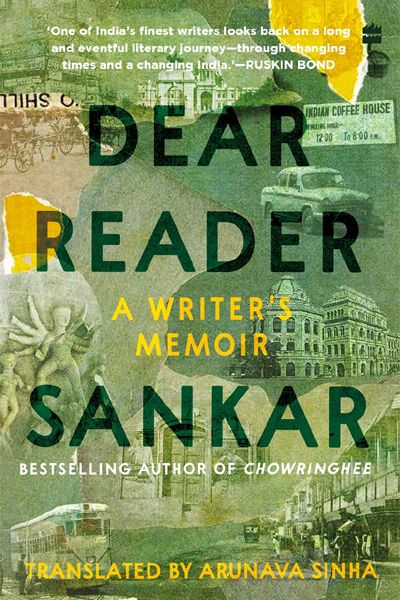 I Remember My Father
There was a time when I would join an adda with friends whenever possible. There would be frequent and long sessions with familiar faces in the Ramakrishna–Vivekananda Ashram in Kasundia. Later on, though, I withdrew from these; I felt that I didn't know myself well enough and ought to spend some time on introspection. When a seemingly extroverted person becomes an introvert without notice, it can lead to a lot of misunderstandings. People whose affection and indulgence I had grown up with complained that I was changing, that I was drunk on success and was no longer accessible to those I knew.
But that is not it at all! The truth is that having spent much of the leisure in my life without putting any thought to it, I want to be a little thrifty now, I do not have enough time left to say spending it in one way is as good as spending it in another.
I want to immerse myself in writing for some time, without seeking even a moment's respite. My only objective is to close the study door, stop the clock from glaring at me, open the window of my mind and shamelessly seek inspiration from the goddess of learning. Even after all these decades, I have not been able to solve this mystery of literature—sometimes a story will pop up in one's head unbidden, on other occasions not all of one's entreaties to the goddess will yield anything! Like a disinterested idol, the goddess, Saraswati is wrapped up in herself.
These moments of seeking alms but not receiving any are discomfiting. I begin to lose faith in myself, even though selfconfidence is the foundation of all creation. The finest creator is one who can keep faith in themselves and yet lose themselves. As for the unfortunate like me, who are employed as casual labourers in the goddess of learning's factory, we are entirely dependent on her daily handouts. All's well if we get them, but there's nothing to be done if we don't.
It is in the nature of the heart to retreat rather than advance when these alms are not available. Victory implies progress, while defeat leads to a backward journey. And that in turn means recalling those who were with us once but aren't any more. I know there might be a reunion with all of them in my heart during this period of leisure. They do not care for crowds, they are shy and retiring even after crossing over, unwilling to bother me unless I have endless time at my disposal. I will have to invite them loudly. Ihagachha, ihagachha, ihatishtho, ihatishtho, come and take your seat here, please, I am longing for your company. Too many details of these reunions cannot be shared, for even the writer, who is a slave to the reader, needs privacy at times. That is when they have to humbly submit, 'I have left my pen elsewhere, it is only your company that I seek. Make a little room for me in your joyous world of unexpressed feelings, I shall not disrespect you.'
Those who return thus, secretly, do not sign my visitors' book; they seem to exist beyond the relationships I once had with them. This is a peculiar situation. These days I often feel death is a kind of divorce. My father, my mother, my brother are all separated from me by death—they are now my former father, former mother, former brother, they have obtained divorces from the court of God and severed their relationships with me. They have tasted freedom.
As Durga Puja nears, I wonder who is stationed on memory lane for a silent rendezvous with me. The number of divorces in the form of death keeps growing there are so many people in this world I know, so many whose love made my unbearable suffering bearable, so many whose debts I have not paid, who did not wait for the accounts to be settled, who left on their own, issuing exparte decrees of eternal separation. All year long, I am completely immersed in my work, forgetting I am the victim of hundreds, even thousands, of divorces. Trouble strikes when the music of reunion floats through the air during the festive season of Durga Puja.
This time when they visit, I'm considering not letting them leave so soon. I'll interview them in the manner of an experienced journalist. I mean to get answers to the questions I couldn't ask them when they were alive, to settle the doubts that fester in my mind even today. I will find out what can be done about the debts I have not paid back. For instance, I will ask my father, 'What about that money?'
My father was a grave man, perpetually occupied with the compulsions of earning a living. A huge family, no savings, and additional responsibilities. There were many temptations too—after all, he had control over the property and assets of other people temporarily. Still, he tried his utmost not to be tainted. Lawyers had a bad reputation anyway—even when someone was honest, no one believed it.
I had asked Baba for money once. Not a paisa or two, an entire eight annas. He was in the drawing room, counting out some money with the cashier's help. He had been appointed the court receiver of a jomidar's assets at that time.
He was counting out thousands in currency notes and coins and arranging them neatly, but he didn't give me the eight annas I asked for. 'When I have some money,' he said.
This made no sense to me. There was so much money that even two persons were finding it difficult to count, and yet he had just said 'when I have some money'.
I considered asking the cashier for the eight annas, but that was out of the question. He had given me a four-paise coin once, which had led to mayhem at home. My father had returned the money to him on that occasion, and a new rule was established: There would be no monetary transactions with visitors.
I was both upset and angry now, but Baba paid no attention, he was busy counting. 'Go and do your sums,' he said. 'Don't waste time here.'
I was too young then to understand the value of time. What happened next gave me great joy. I wanted my father to be in trouble because he had not given me the eight annas I had asked for. And that was exactly what happened. The cashier and he could not tally the amount.
They counted the loose change obsessively but it turned out to be a rupee short every time. It made no difference how many times they counted. 'You can't have brought the entire money from Joynagar,' Baba scolded the cashier.
'I counted three times, it was the right amount down to the last paisa when I left.'
They began counting again, but the outcome was the same.
The cashier got to his feet, shook his clothes out, checked his own bag, all to no avail. 'No one has taken it, have they?' he said finally. My father was irked at this. 'What do you think you're saying, Bara Da? There's no one here besides you, me, the clerk and Sankar. Surely you don't suspect my son?'
The cashier was contrite. 'Suspect your son? May I never commit such folly in my entire life.'
My father agreed. He had deep faith in his son. The boy didn't study nearly enough, but there was no question of his being dishonest.
'Let it be, we'll square up later,' the cashier said eventually. My father was unwilling. Sending for my mother, he said, 'Give me a rupee out of the shopping money.' A rupee was not a small sum in those days, it would put pressure on the household finances. But despite her reluctance, Ma had no choice. 'I don't need so much milk this month,' my father told her. 'Integrity is more important than a glass of milk.'
Time rushed by. My father was still a young man when he left us for the place where children's pleas for money could not be heard. In my childhood I pondered a great deal over why we became fatherless so early. I had read somewhere that the sins of children are visited upon their parents.
When I asked my mother, she replied confidently, 'My children are gems, each and every one of them. They have done no wrong. It must be my sins from my past life.' I had no response to that; we were never particularly frank with each other.
If I get the chance, I will try to settle the accounts with my father for that one rupee. Such a small amount! Now, in the afterlife, perhaps he is not bothered by such trifles any more. But I am. 'Help me shed my guilt, Baba,' I will say. 'It was I who took a rupee in rage that day. You'd have found it if only you had searched me, but you chose to trust me instead—Haripada Mukherjee's son is nothing if not honest.'
I still feel afraid at the thought of the dangerous turn my life might have taken had I been caught with the money that day. Your faith in me has saved me every time I have come face to face with temptation since then, I have reminded myself that Haripada Mukherjee's son is nothing if not honest.
I didn't spend the money, but I didn't have the courage to return it either. I threw it into the drain through the window.
I do not know why, but I spent my entire childhood in deep agony over this. Was it because of my wrongdoing that Baba left us abruptly? It was all so long ago, but I am desperate to settle the account of this rupee. If I ever get the chance, I will bring it up with my father, albeit with great trepidation.
This is an excerpt from Sankar's Dear Reader : A Writer's Memoir, translated by Arunava Sinha and published by Harper Collins, 2023. Republished here with permission from the publisher.