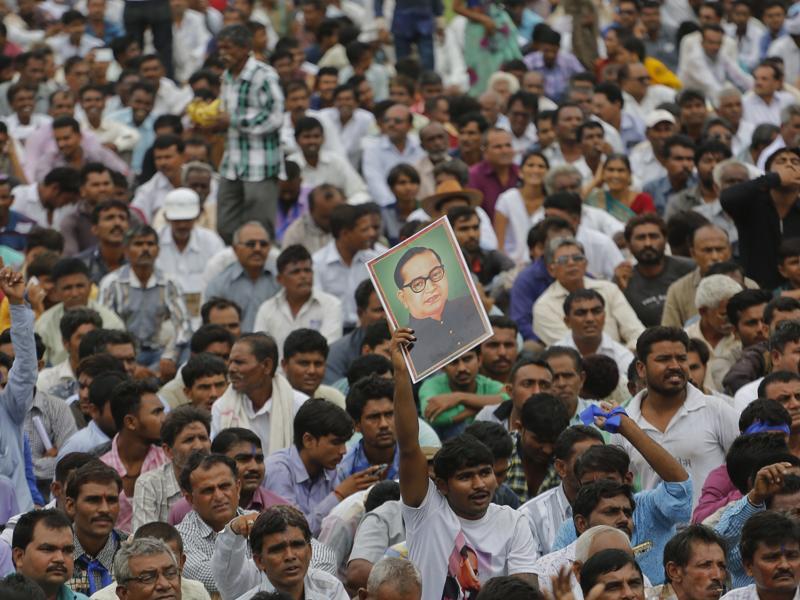 I did not chose to be born into a family with a shared history of untouchability. My family converted to Buddhism in 1956, and today's social and political discourse refers to them as dalits. But I was not born an untouchable, a Buddhist, or dalit. Like any other child, I was born as a human being on this earth. Yet, as soon as I could comprehend the world in relation to myself, these categories—untouchable, Buddhist, dalit—became increasingly difficult to shed.
Do I want to shed them? Yes, because for me, the worth of a human being is self-evident. We do not need categories to prove a person is worthy of respect, dignity, freedom, and recognition. But there is another question. Is it pragmatic to shed these categories? The most sensible and logical answer is no. Because these categories—which have become my identity in India's social, political and cultural spaces—were also invented to resist the categories the oppressor castes created to justify oppressing us.
From India's history, we know who the oppressor castes are. Their names popped up in your head when you read the word oppressor. If this sounds abstract, let me clarify that everybody in our caste society is perennially trapped in categories we have invented for ourselves and others. These categories define us to the extent that we are deceived in our day-to-day lives when we interact with each other or even when we introspect.
In today's India, we cannot breathe without thinking, 'I am a so-and-so' and thinking somebody else is a so-and-so. Our self itself is a deception. Admit it or not, the imagination of the caste in which we are born, around which we have been brought up, confines us. This phenomenon is responsible for our self becoming the caste self. That is, our caste overwhelmingly constructs our self right from birth. And its material dialectics shape the course of our existence.
I was born in a dalit basti populated by Mahars who converted to Buddhism in 1956. I must depend entirely on my memories to understand my existence and the culture of this land since popular culture never recorded my history. And, if I am true to those memories, I never witnessed intercaste rivalry, violence or explicit discrimination in the basti. The Khairlanji massacre was the only exception, after which violence engulfed almost all dalit bastis in Nagpur. Also, since I grew up among members of one caste, my memories of my formative years have been shaped around it. So, festivals essentially meant the birth and death anniversaries of Babasaheb Ambedkar. I was far from understanding what coexistence meant in a caste society. I lived within the basti, within one caste, and developed a notion of "my culture" in which no one had a place except my people and me—simply because in our day-to-day lives, no other caste existed as a socio-political reality.
Our caste is our strictest prohibition from intimately knowing anyone from another caste. Smaller spaces in India, like the basti where I was born and raised, never promise the scope of becoming a part of another caste. Hence, we are denied a different imagination of life and love. After I had lived for almost a decade in Mumbai, India's most cosmopolitan city, I increasingly felt we all are psychologically terrorised and emotionally and sexually suppressed in a caste society. Our suppression makes the injustices and violence of caste society seem so normal that we learn to remain unaffected by it—unless an incident occurs that concerns our caste or its members. Sexual repression has given us a lethally patriarchal sexual imagination, making our idea of love toxic. The most evident example of this is in Indian romantic movies.
Subconsciously, we become uncomfortable and confused in the presence of people from castes other than ours. Our fear and distrust are so real that no two castes can unite with a firm determination to fight the viciousness of caste society, though it permeates our existence, within and outside us, has demoralised us and distorted our ability to think, rationalise and generate empathy. We live in denial of all others. This is hyperopia of the worst kind because it does not let us see those right next to us. We all suffer from it, and this is most evident when our caste self enters a space where it encounters multiple castes and genders.
In his 2018 book, How Fascism Works, Jason Stanley, a leading scholar on fascism, wrote that the danger of fascist politics arises from the "particular way in which it dehumanises segments of the population. Excluding these groups limits the capacity for empathy among other citizens, leading to the justification of inhumane treatment, from repression of freedom, mass imprisonment, and expulsion, to in extreme cases, mass extermination".
Caste has not only exterminated people in violent episodes of atrocities over centuries but continues until this moment. It has done so precisely—in a way that has stunted mental growth and prevented members of one caste from developing sympathy and love for those born in another. The fascist mechanism in caste society has created a mythic history in which one caste group is always presented as a threat to the other. And, to survive, one must suppress the other. This is the logic of caste as a system of mental extermination of the masses.
There are thousands of castes, and each feels threatened by at least several hundred others. The ones at the bottom rung of this hierarchy have nothing to lose but their fear because the entire caste system stands opposed to them. The weight of the castes that occupy the rungs above them is ever-crushing. They are the dalits, the most dehumanised in the caste system. Hence their revolt against caste as fascism is as simple as breathing to live.
What about those castes whose members have someone to look down upon and suppress and others above them who could do the same to them? In India, the deception of caste has paralysed those who exist between the oppressor and the oppressed castes. The starkest instance is Indian academic spaces, where students from all castes, religions, and linguistic and gender backgrounds study together. These spaces are like museums of many selves, each in denial of the other. They are deceived because their selves are fundamentally a construction of their caste at birth. So the members of oppressor castes want to remain conveniently ignorant of the reality of caste oppression and avoid entering the caste debate. But the most oppressed castes—the dalits, who face the sharpest edge of the caste system—have no choice but to be instinctively outspoken against caste.
In between are the perplexed castes, caught in an eternal dilemma, whose members find it extremely difficult to locate their position in caste history. They have castes to look up to and other groups to look down upon and feel superior to. When they take the oppressor's side, they deny their historical persecution by the oppressor castes. But they do not wish to side with the oppressed, for they find it degrading to associate with people who share a history of untouchability or oppression.
So India has cunningly ignorant castes who avoid the caste question altogether. It has the perplexed in-between castes, which perpetuate the ideas of oppressor castes. And there are castes whose members instinctively resist the caste system. Imagine the kind of relationships such 'selves'—each conditioned to oppose, deny, and be an antithesis to the other—would share in university spaces.
When such distorted individuals communicate, it is immediately apparent that common sense is missing. They carry a caste sense of the world, constructed from the moment they were born as members of a caste. The most oppressed are suspicious of all others. Those in the middle are perennially bewildered. And the oppressor self denies that its existence is based on oppressing others. Their caste self deceives others and themselves, making honest communication an impossibility. Until we are nothing but our caste, it will keep deceiving us about ourselves till the day we are alive.
Disclaimer: The views expressed in this article are the writer's own, and do not necessarily represent the views of the Indian Writers' Forum.