Gabbilam, the long poem by Gurram Jashuva that has been described as a Dalit epic, has been translated into English by Chinnaiah Jangam, a historian who works on modern South Asia. His areas of research cover Dalit studies, caste, and social and intellectual history. He is the author of Dalits and the Making of Modern India.
Gurram Jashuva, considered the father of Dalit literature in Telugu, used the Sanskrit meter in classical Telugu to prove himself an equal to Brahmin pandits. In Gabbilam, Jashuva challenges the dominant Sanskrit and Telugu literary canon by choosing the bat to reflect the existential status of untouchables. The bat, or 'gabbilam' in Telugu, is believed to be a bad omen, since it is neither bird nor animal. Jashuva subverts the classic Meghaduta: Rather than the messengers used by the Savarnas – swans, parrots, peacocks or clouds – he uses the stigmatized bat that hangs upside down in temple towers to send his message of suffering to the god Shiva.
Perhaps for the first time in the classical verse-epic tradition of Indian poetry, Gabbilam presents a Dalit man as the hero and protagonist; and it is, arguably, the earliest text to highlight the oppression, exclusion, and dehumanization of untouchables in casteist Hindu society. It occupies a pre-eminent position in the Telugu literary sphere, not just for the depiction of Dalit suffering, but also for bringing the language of ordinary people into the classical medium.
In this conversation with writer Githa Hariharan, Chinnaiah Jangam speaks of Gabbilam, of the notion of a Dalit epic, and of the long road that remains to be travelled if we are to annihilate caste.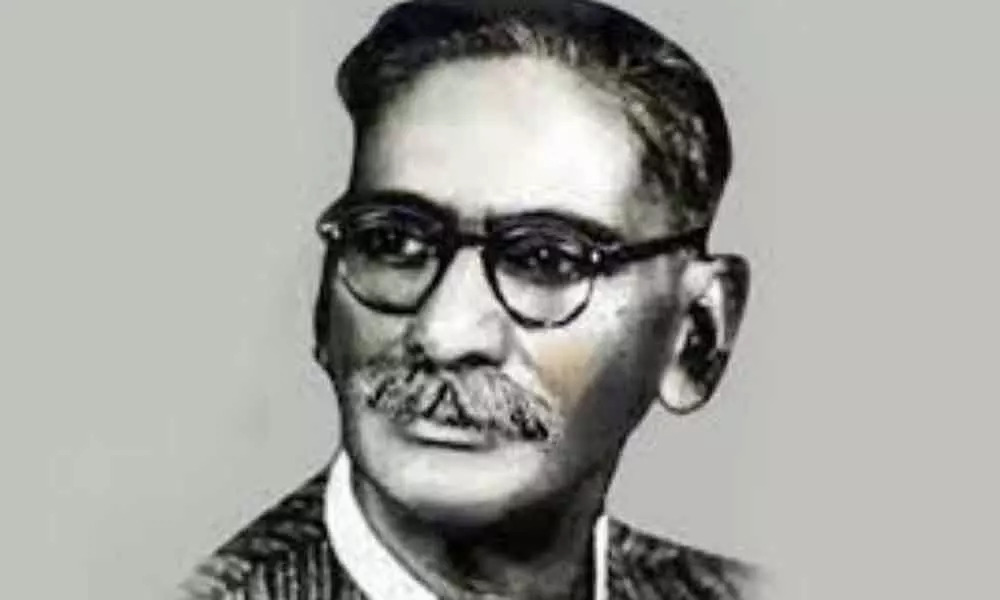 Githa Hariharan (GH): From the title invoking a bat rather than the stereotype 'classical' swan or peacock, Gabbilam writes back – powerfully – to Kalidasa's Meghaduta. Would you comment on how this literary strategy becomes a process of countering caste (and class) domination? 
Chinnaiah Jangam (CJ): It is fascinating that you have begun with the idea of writing back. The primary purpose of the title Gabbilam is to turn the literary and cultural canons upside down. Jashuva uses a subversive strategy to counter status-quoist writings by exposing their hypocrisy. The title begins this project of subversion, as a counter-narrative to dominant Brahmanical narratives. It questions the legitimacy of caste, and it protests the inhuman treatment of untouchables and their dehumanization.
GH: I found Gurram Jashuva's own story extremely moving. His struggle to survive poverty and casteist discrimination, and his resistance to the scorn and neglect of fellow poets, encapsulates, in one life story, the story of resistance to all orthodoxy. What do you think?
CJ: Jashuva's life is incredibly inspiring, not just as a poet, but also as a human being. His parents had an inter-caste marriage, and he experienced poverty and discrimination all his life. As an untouchable, Jashuva was prohibited from learning Sanskrit, a classical language considered holy – the language of gods. Jashuva taught himself Sanskrit, and he wrote in classical Telugu, in a poetic form closer to the Sanskrit meter to prove himself equal to Brahmin pundits. He also worked as a scriptwriter  in a theatre company. But because he read Sanskrit classical literature, he lost his job in a Christian missionary school. He struggled a great deal to support his family. He had just one set of clothes that he washed in the Godavari river at night and dried on the riverbank. A friend would bring him food from a restaurant since Jashuva was not allowed inside. Despite all this humiliation, there was no hatred in him. He said poverty and caste discrimination taught him patience, even as it made him rebel against the caste system.
GH: You call Gabbilam a dalit epic. Gabbilam has an extraordinarily wide canvas. It travels through the history of different times in India, its different religions, cultural practices and achievements, the changing physical landscape from South to North, and the diverse people, from rulers to the oppressed. Are there other qualities that make you describe Gabbilam as an 'epic'? Or are we seeing – as in the choice of the stigmatized bat – a subversion of the form itself since it is a Dalit epic?    
CJ: Thank you for this question.  You summed it up nicely. It is a Dalit epic precisely because of everything you have listed as part of the work's canvas. Gabbilam is the first Dalit text that is not inward-looking, limited to defining the Dalit self through a narrative of oppression. Instead, it is forward-looking – in terms of the future and in terms of possibilities. At the same time, it is firmly based on the country's historical and cultural roots. Its claim to this heritage makes it unique as a true Dalit epic. Moreover, the text empowers the most stigmatized creatures, including a bat, by relating it to the existential condition of Dalits. It humanizes all aspects of natural creation and inaugurates Dalit universalism. That is why I call it a Dalit epic.
GH: Gabbilam has an important subtext about language and power. You write that Jashuva learnt to use the Sanskrit meter to prove himself equal to Brahmin pandits. But he also makes his work accessible (to be read and heard) by using the 'people's language'. In Gabbilam, Jashuva makes a case for the mother tongue as the best medium for poets, as opposed to any foreign language. Today we may point out that our languages are caste-ridden. How do we reconcile these apparently conflicting choices?
CJ: Yes, the subtext of Gabbilam involves challenging the hold of Brahmanical supremacy on the Telugu language. That is why Jashuva made the choice to write in the classical tradition – to dismantle Brahmanical power. Also, he liberated the language from Brahmanical hold by using the people's everyday language, and making it accessible to the illiterate. The text is written in the context of anticolonial nationalism and it expresses love for the mother tongue and the nation. In that context, there was no conflict regarding national liberation and the assertion of affinity to the mother tongue Telugu. But in post-independent India, the Savarna obsession with English language-centric education devalued education in the mother tongue. The Dalit Bahujans were left out, and felt marginalized as they saw no future in pursuing education in regional languages. The irony lies in the attitude of Savarna elites towards the local languages. Even now, vibrant literature in most of the regional languages is produced by Dalit Bahujans and minorities; the Brahmanical elites left this sphere a long time back.
---
Read an extract from the English translation of Gabbilam
---
GH: We often talk about the politics of translation in the sense of what is chosen to be translated and disseminated to a broader audience. And that definitely applies here, because poets such as Jashuva and Yogi Vemana are not known to too many people, especially outside the Telugu readership.  But what you have written about the politics of translation takes this exclusion to another level. Would you describe how a translation of, say, Gabbilam could focus on the 'poetic' or the 'literary' to 'cleanse' the poem of its political intent and articulation – its rage against casteism, its passionate narrative of resistance?
CJ: To answer this question, we have to look at colonial history – in which colonial and Brahmanical elites collaborated to eulogize Brahmanical texts and define them as everything 'Hindu/ Indian'. The history of translation in colonial India revolved around reviving the Brahmanical texts. Even in regional languages like Telugu, Brahmanical elites and colonial elites reproduced Brahmanical texts. The Madras School of Orientalism and its translation projects of classical Telugu centred on the revival of Brahmanical classics to valorise and present Brahmanism as the cultural aesthetic.  Poets like Jashuva faced an uphill task – writing poetry to meet the standards of classical Brahmanism while offering a distinct Dalit voice as a challenge. Till recent times hardly any Dalit text was translated by an established scholar. The time has come to produce socially and intellectually engaged and meaningful translations that pay attention to the voices of the oppressed instead of the privileged few.
GH: In the poem, Jashuva says, "Condemn old and ignorant traditions, and spread education/ like alms." Other than education, what would you say are his prescriptions for a more egalitarian India?
CJ: Across India, the Dalit tradition of emancipation believed in education as a tool of liberation, and Jashuva reasserts this belief powerfully. Along with education, Jashuva demanded an equal share of the nation's resources and freedom from exploitation and dignity. He considered himself a vishwanarudu, or a universal human being. 
GH: Gabbilam is replete with allusions, historical and literary. But perhaps the most significant strand of allusions would be to anti-caste traditions. Would you describe a few of these traditions and histories which have, all too often, been rendered less visible?
CJ: If you read the text carefully, Jashuva consciously revives the anti-caste traditions erased by the Brahmanical texts. For example, he writes eloquently about the Palnati hero Brahma Naidu who tried to open temples for all castes, including Dalits. Jashuva also talks about the egalitarian ethic of Buddhism and writes fondly about the Buddha. Within the Telugu historical context, Jashuva writes about the anti-caste imaginaries; about Pothuluri Veerabrahmam and Yogi Vemana. Interestingly C.P. Brown collected Vemana's poetry, and the Brahmins tried to prevent the dissemination of this poetry. 
GH: Would you say Jashuva writes something of a primer for poets in Gabbilam, covering the use of language, folklore, and themes?
CJ: Yes, he does. But it is difficult to follow his path as his poetry is written in the classical meter. No other Dalit poet could write like him.
GH: Gabbilam raises a poetic voice against the erasure of people, lives, and histories because of their caste. The poem was written in 1941. Today, in 2022, we find NCERT textbooks diluting accounts of caste discrimination, anti-caste figures and movements, and dalit lives. For instance, an account of the life of a manual scavenger, invariably Dalit, has been dropped; and this at a time when there is a campaign called Stop Killing Us to protest manual scavenging. What does this disconnect tell us about our journey toward equality? 
CJ: India is walking backward in terms of social justice and the equity agenda. The aggressive push of Hindutva is undoing all the progress made in the last seventy-five years. Moreover, the Indian state under BJP is in denial of every form of oppression. They are pretending to sleepwalk to superpower status. But in a few decades, India will witness significant upheavals by the Dalit Bahujans as they are being left behind, and crushed under the weight of both Brahmanism and the crony capitalism flourishing with the nefarious nexus between state and global capital. 
GH: Anticolonial nationalism is very much part of the context of the poem. (It brought to mind your earlier book on the dalit role in the freedom movement.) Jashuva talks about 'the chariot of independence', but also asks if he will 'get a place in the mansion of independence'. He asks, 'What share does each community get in independent India?' Would you comment on the tragic resonance of Jashuva's questions for us in India today?
CJ: The future looks bleak for the oppressed in India, as the state is withdrawing from its primary responsibilities and acting as a facilitator to the rich and powerful.  In the last eight years, Dalits, Muslims, Adivasis, and Human Rights defenders have been subjected to hatred and violence. More than ever, people have been excluded and demonized for asserting their right to equality and freedom. In this context, a Dalit text like Gabbilam reminds us of the threat to the foundations of our nation, built on the principles of justice, liberty, equality, and fraternity.