Ashwini K.P is the first Dalit and Asian woman to be ever appointed as the United Nations Special Rapporteur for Racism, Racial Discrimination, Xenophobia and Related Intolerance. Ashwini's research areas include UN Mechanism, Descent and Occupation-based Discrimination.
Her appointment will be made by the United Nations Human Rights Council at its 51st session in November.
As a doctorate fellow, she has engaged, both in the field and academically, in various human rights issues related to caste, discrimination and other similar issues. She was also a part of the UN delegation that represented Indian Dalits.
The Leaflet interviewed Ashwini to know about her struggles and how she will address the upcoming challenges through her new mandate.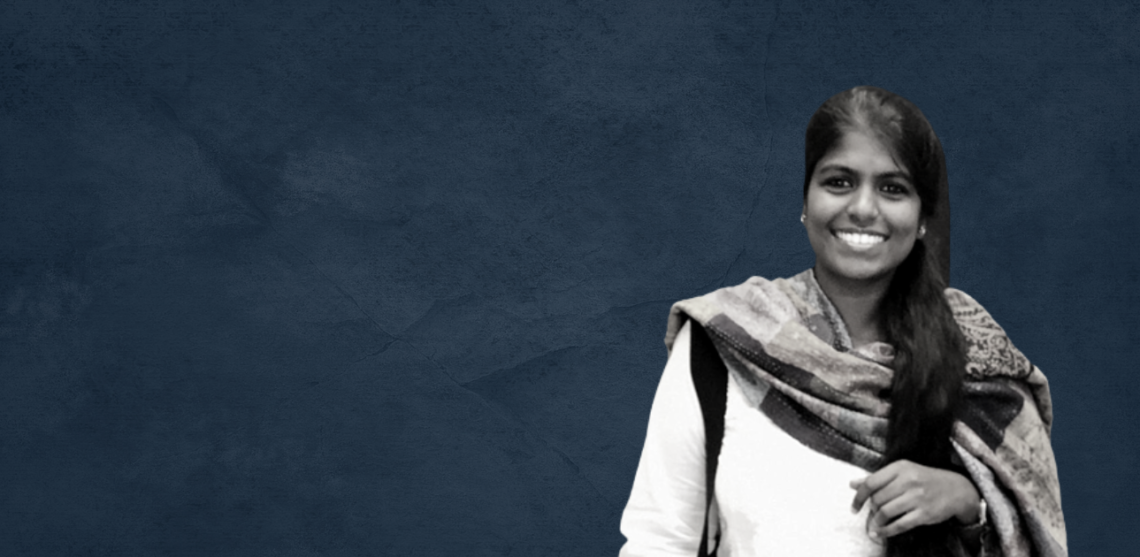 Excerpts from the interview:
Q: Congratulations on your appointment. Can you tell us about yourself, and your work including your struggles?
A: I hail from the Kolar district in Karnataka. Most of my schooling was in various districts across Karnataka. Thereafter, I completed my graduation from Mount Carmel College, Bangalore and my Masters from St. Joseph's College, Bangalore. I pursued MPhil and PhD from Jawaharlal Nehru University (JNU).
I come from an Ambedkarite family and because of this, I received academic and activist orientation at a very young age. My parents made sure that I received exposure to Dalit and other progressive movements. This exposure has had an immense impact on developing my understanding of progressive movements, particularly Ambedkarite philosophy and the Anti-caste movement.
As a student, I was active in the student movement at JNU. I was part of the United Dalit students forum at JNU. My PhD thesis was on the international dimension of the human rights of Dalits. And I have closely worked with several grassroots organisations.
These experiences gave me immense exposure and helped me develop both academic and field experience. I have worked as an assistant professor at Mount Carmel College and St. Joseph's College in Bangalore. I worked as a senior campaigner at Amnesty International.
Also read:  Why is there a surge of violence against tribals in India?
In terms of my struggle, though not overtly, there have been several instances where I have faced hostility for being assertive and vocal about anti-caste issues. There have been several instances where I have been denied opportunities. In urban and progressive areas, caste and gender discrimination manifest in the most nuanced manner. Being assertive always comes at a cost.
Q: What has been your unique lived experience in India as a Dalit woman? How significant is intersectional discrimination when it comes to explaining the challenges faced by vulnerable communities?
A: Being a Dalit and a woman always adds to the discrimination one is subjected to. I hail from an educated family that gave me a certain privilege in terms of receiving higher education and exposure. However, there have been several instances where I have experienced discrimination based on my social identity.
For the longest time, the concept of intersectionality was least discussed or never taken into consideration. At present they cannot afford to neglect intersectionality owing to the emergence of the discourse of marginalised women, or of Dalit, Adivasi, Muslims and so on.
It is important to remember that women are not homogenous. The struggle of every woman and other gender binaries in India differ depending on the communities, religions, and regions they belong to. It is significant to incorporate the concept of intersectionality, be it in gender, caste, class, region or both in the Anti-caste and feminist movements.
Q: So, do you think this will change now that you hold this prestigious position?
A: I strongly believe in social transformation through representation. My representation in a reputed position like the UN rapporteur will surely help me address my experience as a Dalit woman on a global platform. Representation and presence of marginalised women in prominent positions will surely transform the perspective and approach towards gender, caste, inclusion and marginalisation.
Q: Talking about India, there have been numerous recent instances where Dalits and Adivasis have been at the receiving end of the violence unleashed by non-state actors. How would you explain India's current position in addressing these issues?
A: Dalits and Adivasi have been at the receiving end from time immemorial. Despite protective legislation for Dalits and Adivasis, violence against these communities goes unabated. One of the primary reasons is also the apathy that exists within law enforcement agencies and the impunity certain communities enjoy.
At the end of the day, I believe that the state of mind of individuals matters a lot. We are still in a situation where individuals believe in the supremacy of caste and patriarchy. Therefore, we continue to witness the worst of caste atrocities and gender violence. This only displays the state of mind of individuals who adhere to the conservative thought process.
Also read: Tribals rights and ecological concerns off the radar for Modi regime
In terms of legislation and policies, we have one of the most progressive constitutions in the world. There are several protective legislations and policies in place to address violence against Dalits and Adivasi communities. There are numerous policies to address the socio-economic empowerment of Dalits and Adivasis. However, the gap that exists in the implementation of the legislation needs to be addressed.
Q: In India, there are more than 1200 denotified tribes (DNT), nomadic tribes and semi-nomadic tribes who have been given limited recognition for affirmative action. During the colonial period, they were treated as criminals. What they face is historical discrimination.  Can you share your thoughts on this issue?
A: DNTs, nomadic and semi-nomadic tribes are one of the most marginalised communities and have been subjected to utmost discrimination and exclusion owing to historical prejudice and stereotype. These communities are spread across India and they are not a homogenous category. I feel it is important to focus on these communities not only at the central level but also at the state level.
For instance, in Karnataka, there have been initiatives by several activists to recognise DNT communities as marginalised groups. The Karnataka government has sent a proposal to the centre to categorise the Kaadu Golla community, (which is classified as an Other Backward Class at present) which is one of the pastoral nomadic communities, as a Scheduled tribe.
Various State government initiatives play a significant role in addressing the marginalisation of DNT communities. In addition, there is a dire need for DNT population surveys, research regarding their socio-economic condition and also representation.
It is essential to implement constitutional policies and protective legislation to empower the community at the centre and state levels.
Q: Since a lot of your work has been related to caste-based discrimination, how would you address that through your mandate?
A: I have worked on caste as well as race. My mandate specifically focuses on race, racial discrimination and other related intolerance. At the UN, there are several Conventions and Working Groups that focus on descent and occupation-based discrimination, which is similar to caste-based discrimination. There are specific mandates created so that there is clarity on issues that every mandate-holder handles.
However, descent or caste-based discrimination is no more confined to a particular country or region. Caste-based discrimination is a global issue that many marginalised communities are subjected to across the globe. Domestic policies of every state make a significant difference in addressing issues like caste-based discrimination. Therefore, it is necessary to analyse and assess the policies and legislations and their effective implementation at the country level.
Also read: Forest Rights Act case:  Supreme Court directing eviction of over a million tribals is gross injustice
Q: Lately, there have been growing instances of racism against the Indian diaspora.  How would you address these issues through your mandate?
A: Racism and violence against the Indian diaspora have become a common phenomenon across the globe. Technological advancement and the rise of social media and the internet have enhanced the space for engagement. However, this has also resulted in hate speech and provocative language towards the Indian diaspora in several states.
This highlights the vacuum of protective legislation in several states towards diaspora or migrant communities. The approach to addressing racism against Indian diaspora communities will vary from state to state depending on the existence or absence of protective legislation in any state pertaining to diaspora communities. In order to address racism against Indian diaspora communities, it is essential to assess the existing policies that safeguard the rights of diaspora communities.
Q: Is there any specific issue that you would like to address through your mandate?
A: It is essential to adopt a diverse and inclusive approach to address racism and other related intolerance. I would like to focus on intersectionality and gender within my mandate. It is vital to address the impact of racism and other related intolerance on women and LGBTQI communities.