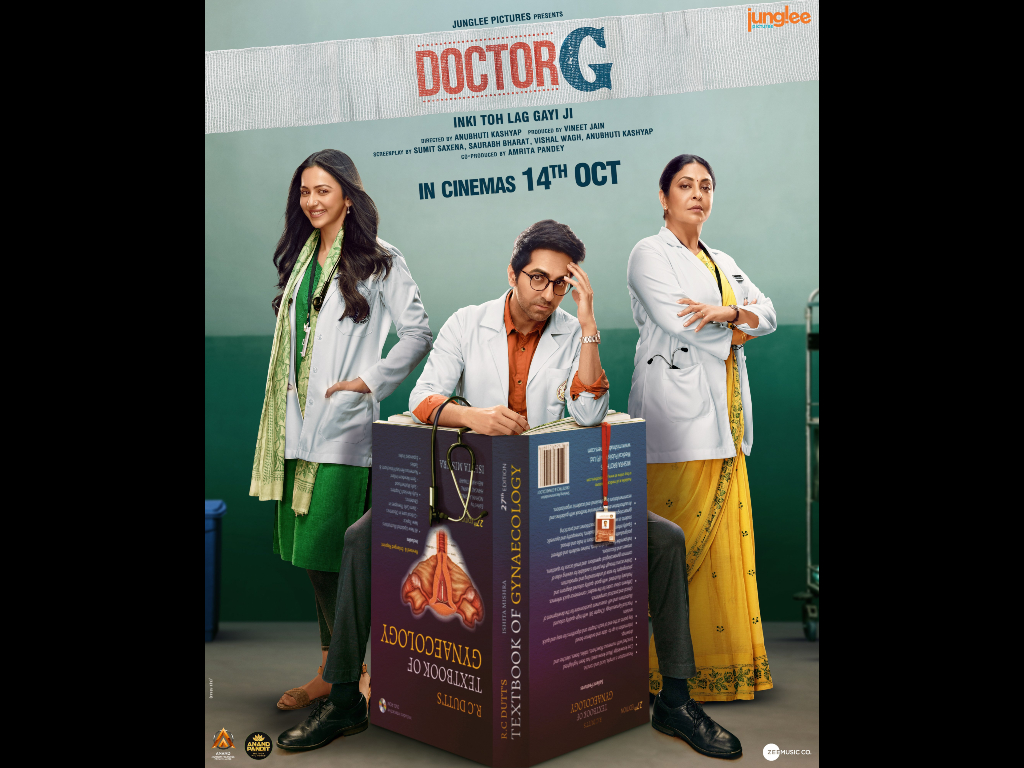 Ayushmann Khurrana has always been known for doing different kinds of cinema, and the subject of his films is always around some social issues.
If we talk about his previous films, like Article 15, Shubh Mangal Zyada Saavdhan, Vicky Donor, etc all of them were somehow touching social issues.
His recently released Film 'Doctor G' is also a similar film that attempts to force society to think in a new way.
This film is about a male doctor who studies to be an obstetrician (gynaecology). The gist of the film is like this: a boy from a middle-class family wants to become an orthopaedist but ends up getting admission to the gynaecology department. Ayushmann Khurrana who plays Uday Gupta in the beginning doesn't seem to be interested in this subject, Uday has defined various gender roles in his mind, boys play only cricket and girls badminton, Uday constantly justifies that women don't want to take treatment from a male doctor. At one point, he says, "Jo cheez mere paas hai hi nahi, uska ilaaj kaise karoon (how will I treat what [organ] I do not have)."
But over a while, Uday's character changes from one with a narrow view of women's health to that of a budding doctor who gradually becomes passionate about this specialisation.
How does this happen? Thanks to all the strong female characters in the film who change Uday's perception: Shefali Shah plays the character of Dr Gayatri who makes Uday understand that a doctor is just a doctor by profession, and this can't be defined as a gender role or gender bias.
In Indian, especially Hindi cinema, this film is a good initiative about women's reproductive health but it is not enough; the problem is bigger than that which needs to be outlined.
Even today, women's diseases are not taken seriously in our country, and a large number of women are still deprived of the use of menstrual equipment, according to a report. A 2021 study by Toybox, a UK-based charity for street children, states that at least 1 in 10 girls in India below the age of 21 cannot afford menstrual products and end up using unhygienic alternatives.
As India went into a lockdown in 2020, women and girls in India experienced a shortage in the supply of sanitary products as manufacturers focused on producing face masks. For a while, in the study states, these women-hygiene products were not on the government's list of essential items. This aggravated the issue of period poverty, driven by the fall in supply and rise in costs.
This in turn increased the risks as they turned to unhygienic alternatives. The study added that about 70% of reproductive health issues are the result of poor menstrual hygiene. According to a TOI report published in May 2022, around 23 million girls in India drop out of school every year due to a lack of menstrual hygiene management (MHM) facilities, which include access to sanitary napkins, awareness of menstruation, and access to clean toilets with running water and disposal facilities.
Around 23% of these girls drop out of school after they start menstruating, According to a report published in DW. A recent study by the UN's child protection agency, UNICEF stated that 71% of adolescent girls in India remain unaware of menstruation until they get their first period. When they do so, many drop out of school.
According to another report, over 90% of women in India, suffer from vaginal infection periods or genital diseases. Since this topic remains a taboo in our society that is rarely discussed and perhaps not-at-all in rural or second-tier cities, this problem has exacerbated. Lack of information is also a big reason for such diseases.
Furthermore, according to a report in Down to Earth, More than 77% of menstruating girls and women in India use old cloth, which is often reused, ashes, newspapers, dried leaves, and husk sand during periods.
During their menstruation days, women are prohibited from participating in day-to-day activities.
India could learn something from Scotland in the matter of the menstrual hygiene system
Recently, in Scotland, Monica Lennon, a member of the Scottish Parliament asked the government what it was doing to improve accessibility to menstrual products. And she didn't just stop there. She worked hard to make period products accessible to everyone at relatively no cost. And after relentlessly pursuing the matter for a few years, she finally got Scotland to enshrine the Period Products (Free Provision) (Scotland) Bill into an Act. The law came into effect on August 15, 2022.
India should also take steps in this direction, providing free sanitary pads to women, reaching more information about diseases related to reproductive or genital diseases, discussing educational institutions related topics, and opening gynaecologists government clinics on a large scale.
The film Kabir Singh, which came in the year 2019, did good business at the box office. In this movie, the hero of the film was a doctor, who physically abuses his girlfriend, considers her his fiefdom, is a patriarchal and misogynist person, and such a film earns more than 100 crores in Indian cinema! We should ask ourselves these questions, in which direction are we taking our country and society?
It is said that literature and art are the eyes of society, they show us what society wants to see, where on one hand, when the earnings of propaganda films reach 100 crores in Hindi cinema, on the other hand, Doctor G, which shows a genuine problem in the film, is not getting that good a response at the box office.