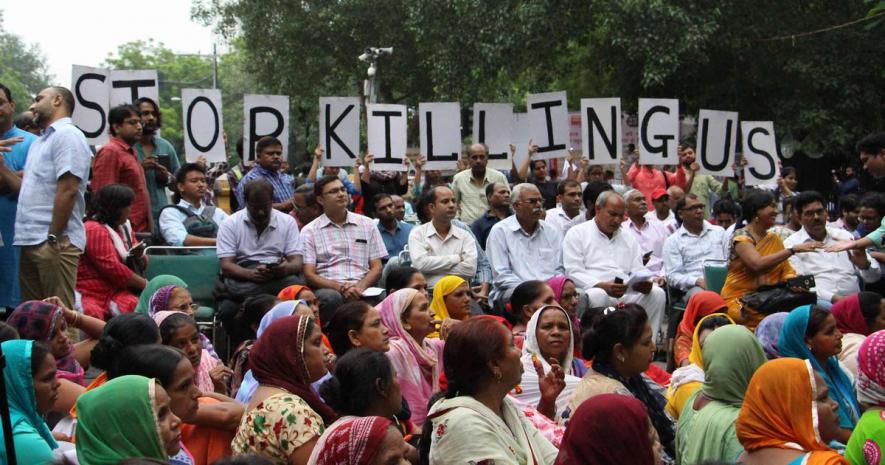 New Delhi: The #Action2022 campaign, a national awareness drive to press the government to prevent deaths due to manual scavenging, is set to enter its fourth week as activists hold 'Stop Killing Us' placards in protest in different cities across the country.
Initiated by Safai Karamchari Andolan (SKA), a movement to eradicate the practice of removing human excreta by hand from sewers or septic tanks, the 75-day long campaign held its first demonstration earlier this month in Delhi.
The awareness drive is being carried out when the country is preparing to celebrate the 75th anniversary of its independence in August this year, even as recent news reports highlight that the practice remains prevalent in many parts of India and continues to take the lives of sanitation workers.
Flayed by several social activists for being a "dehumanising practice" for many years now, manual scavenging is legally banned "in all forms" under the Prohibition of Employment as Manual Scavengers and their Rehabilitation Act, 2013. The Act bans any individual's use for manually cleaning, carrying, disposing of, or otherwise handling in any manner, human excreta till its disposal.
Although employment of manual scavengers had begun to be outlawed in 1993 itself, the definition of manual scavengers broadened in 2013 to include people employed to clean septic tanks, ditches, or railway tracks. The law also recognises the need to "correct historical injustice and indignity suffered by the manual scavengers."
However, it remains only on paper as the 2013 law is found to be not enforced strictly by state governments across the country, thereby letting the exploitation of sanitation workers continue, social activists have argued.
According to one estimate, 2,021 people have died in sewers or septic tanks across the country since 1993. Last year, Bezwada Wilson, national convener, SKA, claimed that 472 died in the country from 2016 to 2020 due to manual scavenging.
The deaths in sewers and septic tanks continue even to this day, Wilson said, while speaking to NewsClick, when asked regarding the recent 'Stop Killing Us' campaign.
After Delhi, Uttarakhand and Rajasthan, #Action2022 campaign reaches #Haryana today with a powerful protest at #Shahbad against sewer and septic tank deaths | #StopKillingUs | #JaiBhim pic.twitter.com/YQm28FMNtK

— Bezwada Wilson (@BezwadaWilson) May 26, 2022
In March this year, four people – three private contract workers and a rickshaw driver – got trapped in a sewer line and succumbed due to it in Delhi's Rohini; the driver died while trying to save others. In the same month, six people died in accidents at a sewage treatment plant in the Kondli region.
In May, after inhaling toxic gases while cleaning a sewer line, a sanitation worker died in Uttar Pradesh's Bulandshahr. According to the reports, the deceased workers were not provided with adequate safety equipment by the agency either.
By April 2022, a total of 971 people have lost their lives while cleaning sewers or septic tanks since 1993, according to the Social Justice and Empowerment Ministry. However, the government's death figures have often invited flak for under-reporting the cases.
'Stop Killing Us' campaign demands that the government provide dignified occupations to people who currently work in sewers or septic tanks, Wilson said. The campaign, which started in Delhi, has covered Rajasthan and Uttarakhand and has reached Haryana, the human rights activist said.