In September 2013, a large detail of more than fifty policemen and officials from the National Intelligence Agency raided the house in Delhi where Prof G N Saibaba was living with his wife and daughter. The swoop was in aid of investigating a theft at a village called Aheri in the Gadchiroli district of Maharashtra – so claimed the warrant. Nine years later, Prof Saibaba, his family, and we, the public, are yet to learn what had been stolen at Aheri, what led the investigators to him, or what they were seeking to discover at his house. If the motive of the raid was obscure, its conduct was blatantly illegal: the raiding team impounded electronic devices without sealing them first. The family would be raided again, twice, with a more showy outlay of manpower and vehicles. These events set the tone for Saibaba's abduction in May 2014, when he was ambushed on his way back home from classes, driven to the airport and taken to Maharashtra, without his family being informed. Held in Nagpur Jail since 2014, he was convicted by a court in Gadchiroli and sentenced in 2017 to a life term.
As A S Vasantha Kumari writes in the Introduction, the case against her husband depends on white noise. Armoured vehicles and commandos accompany him to court and hospital, implying that he is a figure of dread – a message amplified by media houses aligned with the government. Saibaba has the right to be shifted to a prison in his hometown, but continues to be held in the notorious 'anda cell' of the Nagpur jail. He has developed multiple life-threatening conditions, including a cyst in the brain. Due to a bent spinal cord and stones in the gallbladder and kidneys, he lives with extreme pain in the lower back and hips, and has also twice contracted covid. He has been losing the use of his hands and struggles for weeks to complete a single letter. For years, he was denied the right to receive material in Telugu or write in the language that he and his wife share. Amid this regime of sensory, medical and nutritional deprivation, in 2021 he was terminated from employment by Ram Lal Anand College. That year, he was also denied permission to attend his mother's funeral – the pandemic, when prisons were meant to be decongested, was cited as the reason he couldn't be released temporarily.
On May 10 this year, the jail authorities placed a camera directly outside his cell, depriving him of dignity and privacy even in the bathing area and toilet. In protest he has announced his intention of going on a hunger fast.
In Why Do You Fear My Way So Much? we meet G N Saibaba as his intimates know him. We see here a student who did not allow childhood polio to come in the way of his ambition, and went on to top his district in the tenth grade. A man who married his friend from childhood. A teacher who lived for his classes, for conversation and reading, and somehow even found money to help financially weak students. A proud man who would use the wheelchair provided by his college during work hours, but could not afford one of his own till 2008, instead steering himself around by his arms when he was back home, his hands stuck into a pair of slippers.
The poems gathered in this volume left his cell as letters written in prose, since the jail authorities would permit written communication only in paragraphs.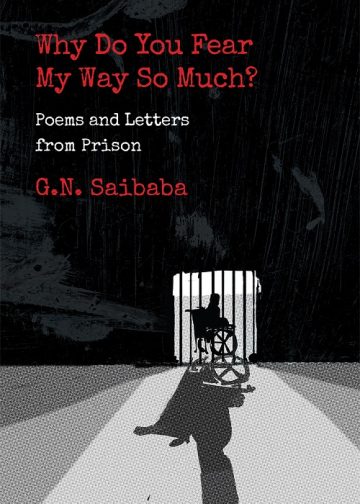 A Delirious Dream
I had a dream
as the delirious virulence
of the virus shook me.
I failed in mathematics
in the Second Year Intermediate.
Now what to do
with my MA, PGDTE and Ph.D
or even with my BA?
Do they still stand,
or get cancelled automatically?
I was gripped by the intensity
of the microbe's attack in my throat.
We were still in our home town
My little brother thrust a letter
from you in my hand
It read: 'Forget me;
let's not continue this relationship'.
Sweat flowed down my spine
drenching my prison clothes.
The next day,
in my next moment
of delirium,
I stopped you at the college gate
pillion-driving Murthy's cycle;
You turned your face away saying:
'I don't want to talk to you'.
I was shell-shocked
under the pathogen's war on
each of my limbs.
Tens of thousands of people
turned up in our city of love
for a right to livelihood.
The police came with a sheaf of papers
The order stated:
'Permission is not granted
to the rally and public meeting'.
What to do with the sea of people
already in communion?
Does the order still stand?
My feverish body
shivered in pain and anxiety.
Your words on the prison phone
the other day started ringing
in my head again and again:
'An exodus of migrant workers
has been walking back to their villages,
hundreds of miles away'.
Shockingly,
the attack of the virulent
bug flew away with
your voice vibrating in my mind.
*Wishing you all those days of love and freedom back soon into your evergreen smiling face.
25 July 2021
(Written to Vasantha)
Go Shouting Aloud in the Streets
O friends,
the hearts of my heart!
When so much of love is
deeply hidden in your hearts,
why don't you break
your silence at this
moment of crisis?
Why do you lose
all momentous times
every time?
If such a burden
weighs down your eyelids,
why don't you sing
of love this dark night?
This isn't the time to sleep.
Listen to me, my friends,
Kabir always says,
To declare your love,
you should go shouting
aloud in the open streets.
4 July 2019
(Written to Varalakshmi)
The Way to the City of Love
O sisters and brothers,
My fellow wayfarers,
Why are you treading
this weary path?
If you don't know the way
to the city of love,
how'll you reach it?
It's not enough
to have the desire to go there.
My companions, no doubt,
there are dozens of highways
But don't deceive yourselves with the idea
that every path leads to the city of love.
Kabir, the servant of love, says,
The city of love
isn't on the far-off shores
All true lovers find it
in the villages of their heart's vicinity.
20 October 2019
(Written to Rajendrababu)
From a World of Forbidden Things
I breathe hard
fluttering my lungs
in a world shorn of love.
Banished for life
from my life away
from the beautiful people
I love and cling to
like the ones who flock
at your Jannat Guest House.
I am cursed to live
in a hell of forbidden things.
To talk to my love,
to my daughter, mother
or brother without a meshed wire,
a fibreglass screen,
and a pair of surveilling ears
in-between—
forbidden.
To seal a letter to post
or to receive a sealed envelope
from my loved ones;
to speak, read or write
in my mother tongue;
and to read uncensored books,
letters or newspapers—
forbidden.
To switch off lights
before going to bed
where there is none,
to turn on music
where there is no rhythm in life—
forbidden.
To attend to the calls of nature,
brush your teeth or bathe,
and change your clothes
without a pair of eyes watching—
forbidden.
To see your face in a mirror;
to talk to ants, prison birds,
ghosts of people who died within the four walls
or to fallen leaves brought by a stray wind—
forbidden.
To pour out the burden
of your heart to someone close;
to express a feeling of your
hunger, anger or pain;
or to share a dream
you have had last night—
forbidden.
To smell the cheeks
of your child;
to care for the nape
of your love's neck, and
to shake the warm hands of a friend—
forbidden.
This winter,
a sweater with green
stripes of affection
brought by my daughter;
a white shirt with tiny spots
of red brought by my love—
forbidden.
I am told
I should only wear white clothes
spun on Hell's looms
like a Hindu widow
forbidden to touch the colours of life.
After all, the sentence is rigorous,
albeit without evidence,
under the holy laws of national security.
You are reminded
time and again:
You aren't like all other captives.
*This letter was written long ago, on 22nd November 2017. It seems to have never reached you. I am sending it again now with a hope that it will reach you this time.
22 November 2017
(Written to Anjum, a character in The Ministry of Utmost Happiness, a novel by Arundhati Roy.)
These are excerpts from Why Do You Fear My Way So Much?: Poems and Letters from Prison written by G N Saibaba and published by Speaking Tiger Books. Republished here with permission from the publisher.