On 15 December 2019, the police unleashed massive violence against the students of one of India's premier universities, Jamia Millia Islamia, New Delhi, for protesting against laws the Citizenship Amendment Act, which discriminated against Indian Muslims. This attack led to one of independent India's most striking and creative peaceful protests, with its epicentre in Shaheen Bagh. Nehal Ahmed's Nothing Will Be Forgotten: From Jamia to Shaheen Bagh is an eyewitness account of the students' protest, the ensuing state violence against them, and the citizens' movement against the discriminatory laws. 
The following is an excerpt from the book.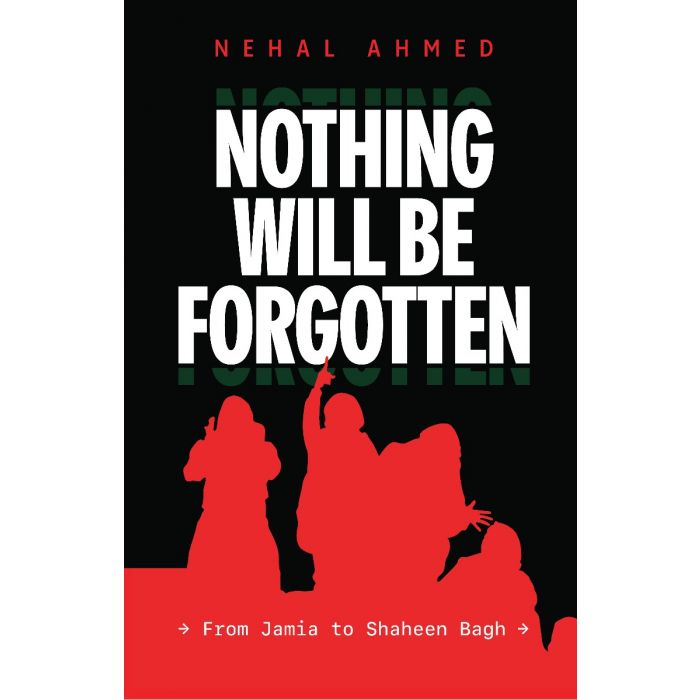 Our songs were poems, the poems of resistance that came from the pens for the oppressed.
As with other movements in India, poetry and other art forms became essential in the anti-CAA movement. Art played a pivotal role to bring in non-political people to bring politics into their lives. The old poets resurfaced: Avtar Singh Sandhu (Paash), Dushyant Kumar, Faiz Ahmed Faiz, Muktibodh, and Sarveshwar Dayal Saxena. And new poets were born: Aamir Aziz, Arivu, Nabiya Khan, Puneet Sharma, Rahat Indori, Sabika Abbas Naqvi, Shivangi Pandey, and Varun Grover.
Faiz wrote Hum Dekhenge in 1979, two years after the military coup of General Zia ul Haq; his poems of resistance were banned in Pakistan. In 2020 India, the iconic Hum Dekhenge was revived, quoted widely in speeches, songs, postcards, pamphlets, everyday conversation, and even on an armada of paper boats in the heart of Shaheen Bagh. It also created unrest in India and was labelled anti-Hindu after IIT Kanpur students recited the poem in solidarity with the Jamia student. A faculty member complained to the administration by calling the recitation anti-Hindu anti-national. A committee was created to investigate the matter. The expert panel focused on these lines of the poem:
Jab arz-e-khuda ke kabe se
sab but uthwaye jayenge
hum ahl-e-safa mardood-e-haram
masnad par baithaye jayenge
Former Supreme Court judge Markandey Katju translated these lines in the following way: 
When from the abode of God (Kaba),
all idols will be removed
then we the faithful, who were debarred from sacred places
will be placed on the royal seat
Katju analysed these lines and then wrote, 'It is alleged that these lines are anti-Hindu as Hindus worship idols, and these lines are clearly against idol worship. But this is only a superficial understanding. Faiz was a lifelong communist, and he could hardly have meant that he wanted the Islamization of society. In fact, it was his antagonist General Zia who wanted this'.
Faiz's poem from Pakistan (1979) to India (2020) captured the oppressor's anxieties and the confidence of the oppressed. People might forget the exact events that led to something, but the poem that emerges from that something and that pain remains eternal; it's alive waiting to be reintegrated into the world through other events. In the film The Postman, a character says, 'Poetry doesn't belong to those who write it; it belongs to those who need it'. Rahat Indori's famous line — Hindustan kisi ke bap ka thodi hai (Hindustan is no one's property) — can move from the anti-CAA protest to a protest against communal violence to a farmers' protest. Such poems — including Varun Grover's Kagaz nahi dikhayenege (We will not show the papers) and Puneet Sharma's Tum kaun ho bey (Who the hell are you!) — have the same character. These poems became tools against government repression. Aamir Aziz, a young Muslim, a Jamia alumnus, wrote the poem that best captured the moment.
Here's an extract:
Sab Yad Rakha Jayega
Tum jo mangte ho mujhse mere hone ke kagzat,
apni hasti ka tumko saboot zarur diya jayega,
yeh jung tumhari akhri sans tak karha jayega,
sab yad rakha jayega,
ye bhi yad rakha jayega kis-kis tarah se,
tumne watan ko todne ki sazishein ki,
ye bhi yad rakha jayega kis-kis yatan se,
humne watan ko jodne ki khwahishein ki
Everything Will Be Remembered
You who ask for papers to prove my citizenship
you will be shown evidence of my existence.
This war will/shall be fought till your last breath
and everything would be remembered.
We shall also remember in how many ways you plotted to
break the country
and it shall also be remembered by what all means we tried to
keep the country united.
/ / /
And then, there was this gem from Varun Grover:
Hum Kagaz Nahi Dikhayenge
Hum kagaz nahi dikhayenge
hum kagaz nahi dikhayenge,
tana-shah ake jayenge,
hum kagaz nahi dikhayenge,
tum ansu gas uchhaloge,
tum zehar ki chai ubaloge,
hum pyar ki shakkar gholke isko,
gatt, gatt, gatt pee jayenge,
hum kagaz nahi dikhayenge.
Ye desh hi apna hasil hai,
jahan ram prasad bhi bismil hai,
mitti ko kaise bantoge,
sabka hi khoon toh shamil hai,
tum police se latth pada doge,
tum metro band kara doge,
hum paidal-paidal ayenge,
hum kagaz nahin dikhayenge.
Hum manji yahin bichhayenge,
hum kagaz nahin dikhayenge,
hum sanwidhan ko bachayenge,
hum kagaz nahin dikhayenge,
hum Jan-Gan-Man bhi gayenge,
hum kagaz nahin dikhayenge,
tum jat-pat se bantoge,
hum bhat mangte jayenge,
hum kagaz nahin dikhayenge,
hum kagaz nahin dikhayenge.
We Won't Show the Papers
We won't show the papers
dictators may come and go
we won't show the papers
you may throw tear-gas bombs
you may brew poison in our tea
adding love to it
slurp, slurp, we shall drink it all
but we won't show the papers.
This nation is all we have
where Ram Prasad is also Bismil
everybody's blood and sweat has made this land,
how will you separate it then?
You may get us beaten by police
you may stop the trains
we will come walking on foot
we won't show the papers
we will pitch our tents here
we won't show the papers
we will protect the Constitution
we will sing Jan Gan Man
you may divide us into caste and religion
we will keep asking for bread
but we won't show the papers.
There is a difference between Varun Grover's Kagaz nahi dikhayenge (We will not show the papers) and Aamir Aziz's Sab kuch yad rakha jayega (Everything will be remembered). Aamir Aziz expressed his pain, the helplessness that made him write this brilliant poem, and that pain and helplessness gives intensity to his words and images. It matters how one's identity is located. Pink Floyd's Roger Waters picked Aamir Aziz's poem and read it out at a protest in London. It moved him.
On his Facebook account, Puneet Sharma published his poem — Tum kaun ho bey (Who the hell are you!). His poem is an account of an individual and their unique relationship with their country. Nobody can dictate how one should love their country. That's how Puneet Sharma summed up the poem.
Another poet and Jamia student, Shivangi, a friend, wrote this poem about helplessness. She is not as well-known as the others, but the political chaos impacted her relationship with her Muslim partner.
Mile bhi ho to us kharabe mein
jahan tumhare aur mere bad
shayad cheelon ko hamari haddiya nasib na hon
mile bhi ho to ab mile ho
jab bahar ka bas khayal bhar
meri aur tumhari yadon me baqi hai
mile bhi ho to ab
jab main andar se khali hun
jab mujhme se sab kuch
beh gaya hai
sadak par bahte khoon ke sath.
Ab milne ka kya matlb hai
jab hamare milne ko bag nahi hain,
jab nadiyo ke kinaron par
lasho ki badbu hai,
jab jeth ki dhoop me
tum, main, hamara sab kuchh
jal raha hai,
hamare sab log jal gaye hain
ab milne ka kya matlb hai . . .
You have met me now, in this ruckus
when after we are gone
even vultures may not find our bones to gnaw at.
You met me, but it is now you have met me
when the season of spring
merely exists in our distant memories
you have met me now
when I am hollowed from within,
when everything has flown away
with running blood on the streets
What may come of such a meeting?
when no orchids/gardens entice
when banks of the river are strewn with stinking corpses
when you, me and everything belonging to us
is melting away under the sun
all our people have burnt to ashes
what may come of such a meeting . . .
/ / /
On 14 January 2020, a rap song written and sung by a Tamil rapper, lyricist, and singer Arivarasu Kalainesan, famously known as Arivu, released a piece on the anti-CAA-NRC movement titled Sanda Seivom. His poetic imagination defines this movement from a different standpoint. The song begins with the Ambedkar and Periyar, and he describes the minority and majority politics from a Marxist perspective and stating:
'Who is a minority here? Working-class is the majority around the world'.
In his Youtube description, Arivu defines this song as:
Sanda Seivom
In solidarity with the CAA protests happening all over the country and to the students who are sacrificing their valuable time and energy for a SECULAR SOCIETY and to SAVE THE CONSTITUTION OF INDIA.
"We are Indians, firstly and lastly." ~ Dr B. R. Ambedkar
He performed this song in solidarity with the anti-CAA protest. However, this song did not gain popularity in North India, probably because of the language barrier and Hindi 'supremacy'.
Let us fight
come forward Tamizha
let us fight
in the streets
let us fight
united as one
let us fight
if our rights are taken away
let us fight.
They call me Arivu
I'm one in your family
equality is my dream
Ambedkar and Periyar live forever live on forever
and my rap is the product of their rationality!
Democracy is the face of a free nation
true religion should respect all
law is law only if it supports equality.
The foundation of our constitution is against religious
discrimination
killing secularism a foolish act
so, it's important, to tell the truth.
It's the birthplace of thirukkural and the land of peace
we lived here as so many tribes
then, some people came here on their horses
they subjugated us from then till now
they grabbed our lands, exploited our resources.
Generation after generation, they refused to touch us
they segregated us into separate religions and castes
they getting rich by exploiting our work is what's history.
We cannot forget that,
who is a minority here?
The working class is the majority around the world
but, the reality is that we stay divided!
Those who came after us is after our lives,
while those who are struggling for us are getting shot.
Who should live here?
Who is a citizen?
Who is Indian?
Who is Tamizhan?
Who are you to tell me what I am?
One's motherland is not in their birth.
Hey, kamachi and meenachi,
could you ask what the matter is?
Our motherland is in great crisis
who am I?
Who are you?
Who is your grandfather?
NRC coming to dig all that
Aadhar and voter ID are all useless
now you have to dig out your great,
great grandfather from their grave
do you have brains? You, halfwit
is there any logic in your law?
Do you even have it? do I have it?
Is there any religion to the baby that is yet to be born?
Citizenship is our fundamental right,
to deprive us of that is a great tragedy
feeding fanaticism in the name of religion or language
is none other than a foolish act.
All Indians are not Hindus
and Muslims are not the enemies of Hindus
there is no such a thing as an alien immigrant
this is our earth!
CAA is here to divide us
our people will come forward to question it
do not forget that, it will threaten us very soon
do not subscribe to religious divisions.
All of us are immigrants on the earth
whoever is inciting this war is a businessman!
This is an excerpt from Nothing Will Be Forgotten: From Jamia to Shaheen Bagh, written by Nehal Ahmed and published by LeftWord Books. Republished here with permission from the publisher.