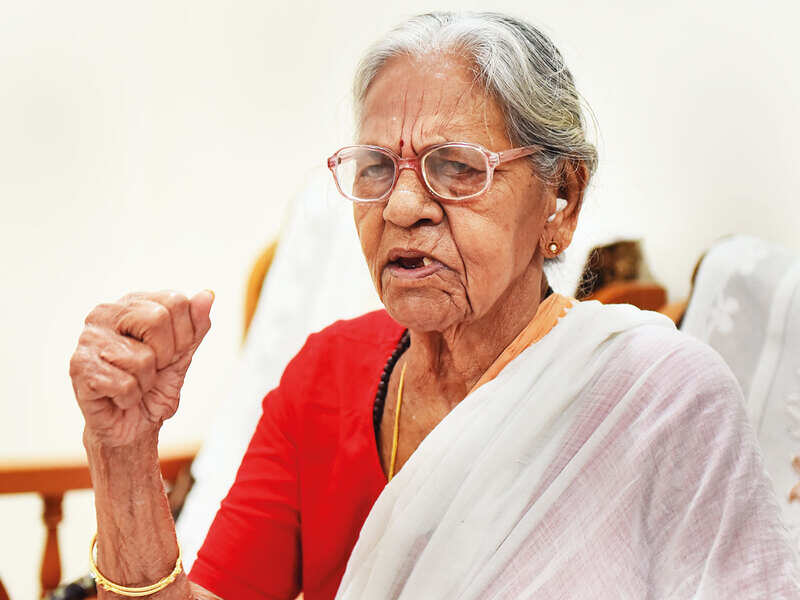 Comrade Mallu Swarajyam passed away yesterday at the age of 92. I met her briefly at the AIDWA office in Hyderabad during my M.Phil. field work days in 2018. I still remember the moment when Swarajyam walked into the room draped in her off-white cotton saree, she embodied decades of revolutionary work in Andhra Mahasabha, mahila sangham and dalams. Her wrinkled but well-built hands carried memories from the time when she held a rifle in one hand and a dappu drum in the other. I was in awe of her, instantly. As soon as comrade Devi told her that I am researching Praja Natya Mandali's work, she said, "Andhra Mahasabha days were the best days." She immediately began singing a vuyaalu (cradle song).
Her contribution to the communist movement cannot be forgotten. She, along with her other comrades began work in the mahila sangham and the Andhra Mahasabha in her pre-teen years and brought thousands of women into the political and cultural sphere of the Left who carved out space for themselves through various cultural forms of Andhra. Following her brother's ideological path, she joined the Communist Party of India at a very early age. These women performed, sang and danced while liberating themselves from the secluded family world, domestic labour and class and gendered repression. In Swarajyam's mind the two spheres — cultural and political — continuously ran parallel, diverged and more often than not, converged into each other while making the binaries fade away between the two.
Swarajyam, along with others, radicalised local wedding songs and vuyyalu by revising the lyrics. Comrade Sawarajyam and comrade Suryavathi learnt these songs from local women during mahila sangham meetings and transformed them into political vuyyalu. She composed one of her most famous vuyyalu songs calling out a landlord who prohibited labouring women in his fields from breastfeeding their babies. Women would sing vuyyalu songs on occasions like childbirth, death, girl reaching puberty and even during the peak of the Telangana Armed Struggle. The reception of their cultural performances among the women audiences produced responses that were emotional, intellectual,  social and political. Mobilising people through performances (songs, dance and theatre) opened up the possibility to imagine an alternative world that could exist for both performers and their audience beyond the organisation building work. Throughout her life, Swarajyam transgressed from conventional norms of gender, caste and class and progressed from being a subordinate to becoming a tall leader of the communist movement. In her interview published in We Were Making History, she recounts, "It was not that we conducted the struggle, the struggle took hold of us… It was the people who made us move forward." Her enduring legacy will always remain an inspiration for women fighting against patriarchy and socio-economic oppression.
I was hoping to do a long interview with her for my PhD research but couldn't visit her due to the pandemic and now that she is gone I can only cherish the one meeting I had with her. Farewell, comrade Swarajyam. Your revolutionary legacy will live long.
Here is a rough translation of her Vuyaalu song that I recorded during my conversation with her.
who are these Landlords (doralu)?
why these difficulties? Vuyyalo…
they are dragging away mothers.
babies are dying of hunger. Vuyyalo…
we sowed the land, we cultivated it,
but the harvest went into the godowns of the landlord Vuyyalo…
while we are dying of hunger.
those who are behind the ploughs, why don't you resist? Vuyyalo…
don't you have courage in your blood?
they are forcibly squeezing the breast milk from mothers. Vuyyalo…
they are molesting our young women.
the day when everyone from the village Vuyyalo…
and fight back the landlords will run away from the village. Vuyyalo…
if every village forms as a union holding the red flag and resists Vuyyalo…
the landlords will run away from the state. Vuyyalo… Vuyyalo… Vuyyalo…
Disclaimer: The views expressed in this article are the writer's own, and do not necessarily represent the views of the Indian Writers' Forum.