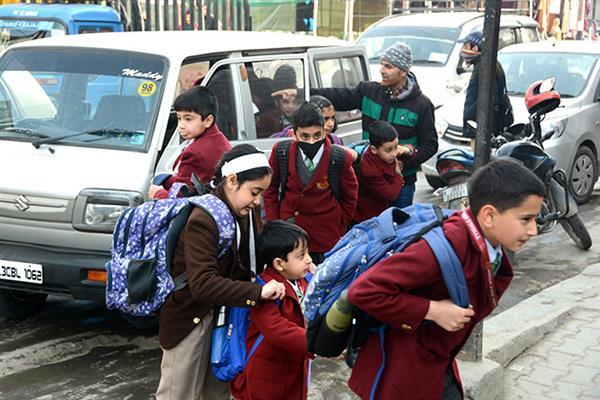 Schools in Kashmir valley resumed class work on Wednesday after a long break of more than 30 months as students and parents heaved a sigh of relief from back to back lockdown since August 2019.
The students were happy to join their schools and meet with their friends. The school administrations warmly welcomed the children after spending months outside the premises.
"I am happy to re-join the school. I participated in the online classes but going to school is something I was looking forward to," said Afifa, a student of class IX.
Students in school uniform proved to be a sight of joy for many in the region, especially parents concerned about their children losing time and school experience.
"It was becoming difficult for children stuck inside homes, glued to phones. I realised the formative years in school are very important, and my children were missing out a lot. I felt for them as they could not join their friends and be involved in school activities physically. I am happy that the schools have reopened," said Irfan Ahmad, a resident of Srinagar and father of two.
Even as the schools were shut globally in the past two years in the wake of the outbreak of the COVID-19 pandemic, the students in Kashmir had already spent a year in lockdown as the authorities in Jammu and Kashmir enforced a clampdown in the region with the abrogation of Article 370 and 35 A. Since then, the students have been dealing with internet clampdown or outages that also hampered their online classwork. The reopening of schools in 2022 to many is a sign of hope, especially for those who have enrolled their wards in school but did not send them due to the lockdown.
"This is for the first time that my daughter will see her school. She went there for a couple of classwork but had not really joined her school. I thought it would be difficult for her to go to school today, but she is as excited as I am," another parent from Srinagar said.
The students are required to wear face masks, their body temperatures were checked with thermal scanners and sanitisers were applied on their hands as they entered the schools.
However, the UT administration made wearing masks mandatory for the students coming to the educational institutions.
"Regarding the offline mode of teaching for other classes in all schools of J&K, the Heads of Institutions shall be responsible for adherence to Covid Appropriate Behaviour in their respective schools and prepare proper plans for the same," a government order issued on February 27 read.
The administration has also asked students above the age of 15 who wish to attend regular offline classes in the universities, colleges, polytechnics to carry a vaccination certificate.
The order also added that students should be allowed inside the school premises with masks only and that the symptomatic students should not be allowed to attend school.
"They shall also screen any symptomatic student and ensure his/her testing to contain any possibility of spread of the virus in their institutions," the official communication read.
The school teachers were also happy to see children back in school. They hoped that the situation would remain feasible for regular classwork, which has been hit for years in Kashmir due to COVID and political turmoil.
"It is good to see students back in classes, and most of us feel renewed with this development. The energy is positive, and we hope that we see more such happiness as the past few years have been difficult," a school teacher, Mehfuza, said.