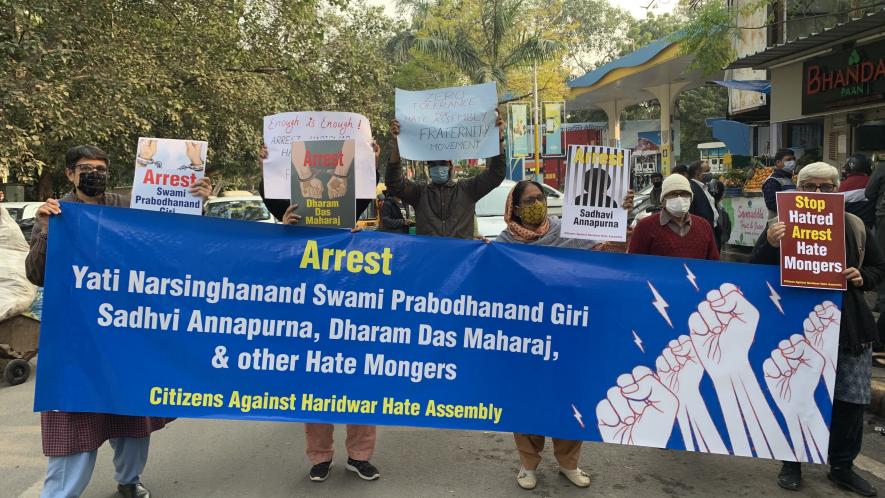 New Delhi: Hundreds of protesters including students, teachers, activists and professionals gathered at Uttarakhand Sadan in the national capital to demand the arrest of organisers of a religious congregation in Haridwar where speakers notorious for their hate speeches made calls for ethnic cleansing of Muslims in the country on the lines of the holocaust of Nazi-era Germany. Holding placards and raising slogans, the visibly enraged protesters said the heightened hate campaign and increased attacks on religious minorities are particularly crafted to polarise upcoming elections on religious lines by the Sangh Parivar.
The religious congregation in question was organised from December 17-19 in Haridwar by Prabodhanand Giri, president, Hindu Raksha Sena where he made the statement "every Hindu must pick up weapons and will have to conduct this cleanliness drive. There is no other solution in sight." Another hate monger Annapurna, general secretary, Hindu Mahasabha – the organisation responsible for the killing of Mahatma Gandhi – told the congregation that the children of Hindus should put aside their books and pick arms to kill Muslims. She said, "We must dedicate ourselves to kill 20 lakh Muslims by deploying 100 soldiers in the battle. Through this endeavour, we would be able to save sanatan dharm."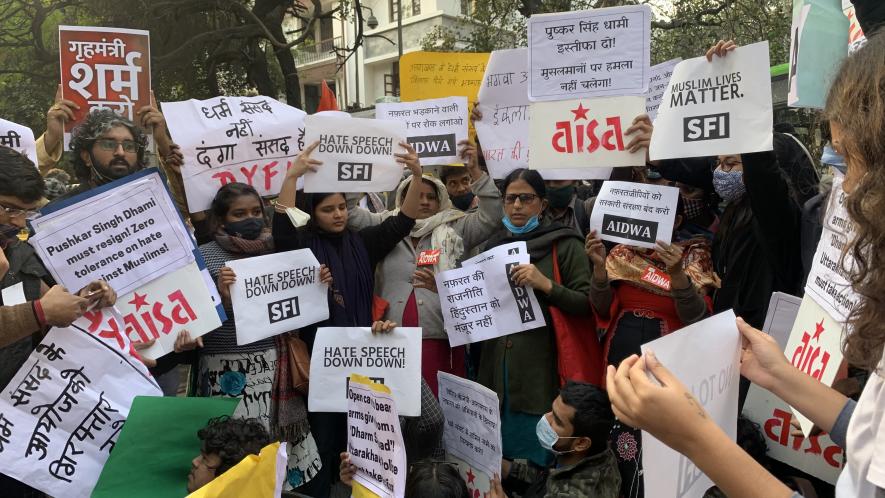 The profile of Giri at his social media handles show the influence the man exerts on the leadership of the Bharatiya Janata Party in the state. In one such photo, Pushkar Singh Dhami, chief minister of the state could be seen bowing in front of Giri.
Shabnam Hashmi, a leading activist working with victims of Gujarat pogrom, told NewsClick that the new campaign for ethnic cleansing should perturb every wise citizen who is concerned about democracy and religious freedom in India. She said, "The religious congregation took place a week ago and we are still awaiting any action from the Uttarakhand Police in the matter. This delay explains the impunity enjoyed by the culprits of making hate speeches where they do not fear any action from law enforcement agencies, openly challenge the Constitution and our prime minister has maintained a deafening silence on the matter. The global community is mocking us for our silence. However, we cannot remain silent on this absurdity. It is our silence which has been strengthening these forces."
However, Hashmi is disappointed with opposition parties who have not come against in open against the assembly. She said, "If the opposition parties are of the opinion that they will survive amidst this violence by employing their soft Hindutva methods, they are living in a fool's paradise."
Kawalpreet Kaur, a lawyer by profession too has joined this protest to show her anguish. Kaur, who talked to NewsClick on the sidelines of the demonstration said that the moment is now to reclaim the democracy which is already in tatters.
"What sort of irony is this that Muslim women and men remained incarcerated in jails for year for their protest for asking for equal citizenship in literal terms whereas the organisers in question are getting police protection by the state. How can a society develop where men donning saffron robes are calling for ethnic cleansing. If the majority population thinks that it will survive in a society steeped in violence, its understanding of society is flawed." She was referring to Yati Narsimhanand Saraswati, chief priest, Dasna temple who got the police protection even when the state police demanded the permission of Ghaziabad district administration to apply the Gunda Act on him on a slew of charges of stoking hate crimes. He too addressed the congregation. The young lawyer warned against the trend and emphasised that opposition to hate assemblies is necessary to save the majority from the clutches of injustice. "If you want to ensure that the people get justice from the secular institutions like the Supreme Court, it is necessary to oppose this hate and violence. If these institutions to crumble, nobody can save us."
Apoorvanand, a professor of Hindi at the University of Delhi who participated in the protest said that violence dehumanises the society and if we become party to it, nations only repent. He said, "Ethnic cleansing happened in Germany, Rwanda and Myanmar. History shows us that hate campaigns by the ruling parties has dehumanised people after a period and these societies never develop. Even if they do not agree with the Constitution, they cannot call for killing innocent people. It's immoral!"