Drawing on the material from his life, Kolakaluri Enoch's Aprishya Ganga and Other Stories, translated from Telugu by Alladi Uma and M Sridhar, jolts us out of our complacency to ponder over the questions of caste, class and gender; of love, friendship, power games, exploitation and politics. Enoch's characters infuse self-confidence and a sense of pride in their work and culture. In their incessant struggle, they strive to survive equally with others.
Below is the story 'Danger' from the book.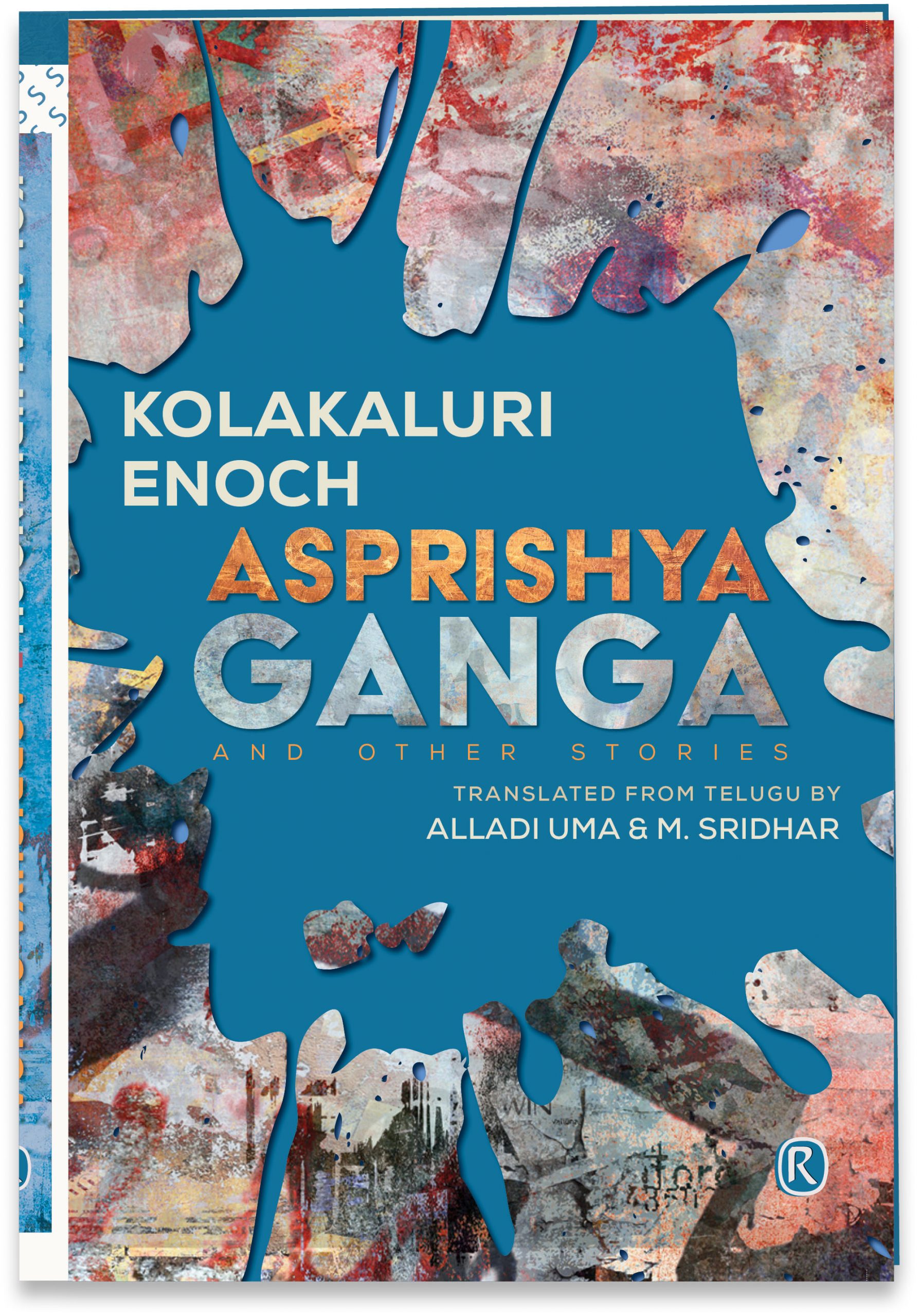 Sudhakararao who had been drinking toddy in the Aanaati palm grove from morning till noon, fell asleep under the shade of the palm fronds and did not wake up even
till late evening.
When Rattamma, six months pregnant, carrying her one-year-old son in one arm and dragging her two-year-old son with the other, was searching all over the village for her husband, toddy tapper Gamalla Pedthaatha told her, 'He's sleeping in the Aanaati grove.'
Leaving her children under the care of her neighbour in Madigapalle, Rattamma set out to the grove after dusk which was some distance away.
In the grove, where insects and such roamed about at night, she searched for her husband, found him still sleeping in an intoxicated state, woke him up, made him walk when he could barely stand, placed his head on her shoulder when he was about to collapse, held his waist with her hand, pulled
him up as he was falling off, dragged him home, and made him lie down on the cot.
The two of them had got married three years ago. She came immediately to live with him. Now, she was twenty, he was twenty-two.
Four years ago, his father had passed away. Mother had died in his childhood.
Father was a bonded labourer in the village. When the son was asked to join in that vacancy, he did. When a good man of the neighbouring village asked him to marry his daughter, he agreed.
Five years ago, when his father was alive, Sudhakararao appeared for the Engineering and Medical Common Entrance Test (EAMCET). He appeared for it again the year his father died. Wanted to do medicine. He did not get the rank to study medicine. So he did not join. The desire to become a doctor was not fulfilled. He did not feel like studying any further. Left it. Job, marriage, children, toddy. He had no time to turn back. If not toddy, arrack; if not arrack, rum, brandy, whisky.
Sudhakararao sold what little piece of land he had. Drank it up. Having sold off all the animals and tools he had, he drank and caroused and experienced heaven.
As he could not study medicine, did not want to pursue any other studies, he gave up college studies, and was drowning and floating in the ocean of family life and the sea of toddy.
No one to advise him. He was not the kind to listen to anyone anyway.
He would have sold his house and everything else for
drink if his father-in-law had not prevented him!
With the wages he got from toiling as a bonded labourer, he could not lead even a hand-to-mouth existence. It was enough for his toddy. If it wasn't, it wasn't as if there were no magnanimous people in the village who would not help! If that too did not come by, Gamalla Pedthaatha would not but be kind.
He would come and throw rice and dahl every month. The father-in-law who gave his daughter in marriage!
Rattamma was an intelligent woman. An adjusting girl. Loved her husband immensely. She would cook and feed him something.
The people in the village would be upset. 'What has happened to such a good person!' Sudhakararao who would be clean – have a bath, comb his hair well, wear washed clothes – and go to school and college like a landlord's son – had changed completely.
He was always covered with dust. Would not bathe. The same clothes for bonded labour, the same clothes for drinking, the same clothes in bed. He could not walk without a stick in his hand. When one saw him, who once had dreams that he would hold a stethoscope, wear boots and coat, and walk about briskly in the hospital veranda, walking in the rugged thicket and grove without slippers, holding a stick, one would feel distraught.
'Not all that we desire happens. Life need not collapse. It's only fair that he searches for another path.'
The munasabu (village officer) advised him many times. Sudhakararao would nod his head as if he had heard him. But he did not give up toddy.
When he was told,'Toddy ruins the body,' he would agree. But he did not give it up.
When told, 'Didn't you pass inter with eighty percent? Why don't you take up some job?' saying, 'Find me one,' he would remain silent. He would mumble, 'When I can't become a doctor, whether I have a job or not, it's all the same.' Sudhakararao used to be very handsome and robust. Now,
all that had come to nothing. His physique lay hidden in the pages of the books, sat in the bag hung on the nail in the wall where it would keep swinging.
The man had thinned down. He would be stinking of toddy. Stench of filth. Rattamma continued to live with him because of the wretched fact that she was married to him.
When his mother had died, when everyone was crying that had there been proper medical attention she might have survived, he was determined and studied hard so that he could become a doctor, so no one in the village ought to die due to diseases, they should be saved through proper medical facilities.
Sudhakararao, whose sole aim was to become a doctor, could not study medicine, not because he lacked intelligence, but because of the courts.
The munasabu, who thought that the boy of their village would study medicine, come back to the village, cure people's illnesses, and that he would also be able to get medical attention for himself, was worried that that boy was now a bonded labourer with him, but what else could he do?
The munasabu advised him with love, with anger, and admonished him, 'Don't get disheartened! Be content with what you have. Don't get spoilt!'
Nodding his head like a decorated bull, Sudhakararao would go away quietly like a foolish cow-mother.
He would not spew out anger at his condition. Would not get enraged. Would not abuse anybody, would not hit. He would be upset with himself. He would be depressed. He got into drinking thinking it would cure him of anxiety and worry.
If the volcano inside erupts, a man can heal. But it would not erupt. He would bury his unhappiness within himself. Would burn. Would turn to ashes.
'You have a wife and children. Don't kill yourself with self-loathing and make them orphans. 'The munasabu would keep parroting to him.
Sudhakararao did not say yes, did not say no either. Did not reply. He went away with a heavy tread.
With suicide, the result is out in seconds. But this prolonged, this death-like existence was very painful. No one could understand why he had opted for this violent, dangerous route.
Drinking might not in itself be that dangerous. But it was not possible to rescue a man who had made up his mind that there was no purpose in his life, that there was no path that led to life, that there was no need to live, and that he must die. All kinds of people tried to advise him in many ways.
There was no effect.
No one's advice worked.
Whether he drank liquor or he drank water, when he was leading a family life with such vehemence, such vengeance, such revulsion, people started to feel he had gone crazy.
He had no love for anything. Wife's love, children's love, sweet nothings that made one happy – nothing seemed to touch his heart.
Vengeance, anger, revulsion – these were not towards anyone. Towards the court. Could he bash up the court? Could he abuse it? Could he beat it with a stick? Could he slice it with a knife?
The vengeance of one who was harming oneself could only make him squeeze his own throat, but could not do anything to another.
Even if he could do something, what could he do to the court? Moreover, what could he say to the High Court?
He was not angry as such at the High Court. He was angry at the verdict. He believed that the verdict was wrong.
What ought he to do if the verdict was wrong? Had to appeal to the Bench. Did he have the wherewithal to go to the full bench and the Supreme Court?
Even if he had, how long would it take to get a favourable verdict? Would life wait till that time? Would studies stop? Would admissions stop? They would not.
If justice were done after ten or twenty-five years, would he remain eighteen?
What was he to do till then? Bonded labour! Lead a family life! Toddy! Arrack! Harm! Harm the body! Harm the soul! Suicide, slowly but surely!
Rattamma sat leaning against the wall looking at her husband, who had not eaten anything and was sleeping a drunken slumber, after she put her children to sleep. Shutting her eyes, she slid against the wall and slept with her hands as a pillow.
He dreamt that when his mother was calling out to him from heaven with arms outstretched, he tried to run but slipped and fell, and lay there crying unable to get up and go. Even then, Sudhakararao did not wake up.
The world of dreams did not let go of him. He dreamt that with a stethoscope around his neck, wearing a coat and boots, he was walking briskly in the general hospital veranda from the outpatient room to the ward.
He got up with a start and looked around. His wife was sleeping against the wall. The children were sleeping on the mat, with their arms stretched and legs wide.
Sudhakararao was alarmed. Silence. Tears were streaming down his face. He tried to imagine what must have happened. He spread a sheet over the children, lifted Rattamma, and lay her down on the cot, sat at the edge of the cot and kept
looking at her face. She was looking at him, wide eyed. Sudhakararao was lost in his thoughts. She held his hand. Eyes filled with tears.
The eastern rays were opening out.
Her husband seemed different. He wiped his eyes, crossed the threshold and went outside.
The wife followed him.
He broke off a twig from the neem tree, and started to brush his teeth.
She was surprised.
He washed his face and began to pour the water from the stone tub over his head.
Rattamma soaked the clothes he had removed, brought a towel and stood near him.
With a piece of coir, he scrubbed his head and body, washed them, and bathed.
Rattamma was happy. She was able to perceive some change in the man.
She brought a washed pair of pants and shirt. Handing over the towel with which he had wiped his head and body to his wife, he wore the washed clothes.
Rattamma wiped her husband's head again. She wiped his eyes, nose, ears and neck. When he sat on the rock, she pressed his legs and hands.
He was once again lost in thoughts.
Five years ago, four years ago, everyone had said he would get a seat in a medical college.
The court gave an interim order that till the time the final verdict was given, the norms for reservation that prevailed two years earlier would apply. This was the verdict five years ago.
The final verdict was given four years ago. That sub-categorization was not valid.
As a Scheduled Caste (SC) B category candidate he would have got admission both times he wrote the exam. He would have become a doctor.
As an SC, he would not get admission. He did not get it. He missed the seat twice.There were no other opportunities for him to become a doctor.
'Who got admitted in your place?'
'One of those who filed the case and had a judgment in their favour.'
'Aren't you angry with them?' 'Aren't they my brothers too?'
'If the sub-categorization had come to be? If there had been an SC-B?'
'I would have become a doctor.' 'If not?'
'It equals death.' 'Will you die?' 'I'll live!'
'Will you wreak vengeance?' 'I'll see to it that I get justice!'
(2009)
This is an excerpt from Kolakaluri Enoch'sAprishya Ganga and Other Stories translated into English by Alladi Uma and M Sridhar and published by Ratna Books. Republished here with permission from the publisher.