What does resistance mean in one of the most heavily militarized zones in the world? More than 70 years of ongoing conflict has made wars, state repression, militarisation and enforced disappearances routine in Kashmir. Around 8000-10,000 Kashmiri men have disappeared since 1989. The activist women who form the Association of the Parents of Disappeared Persons (APDP) organise protests every month in a public park in Srinagar to remember their disappeared loved ones.
Drawn from Ather Zia's ten years of engagement with the APDP as an anthropologist and fellow Kashmiri activist, Resisting Disappearance: Military Occupation and Women's Activism In Kashmir follows mothers and "half-widows" as they step boldly into courts, military camps, and morgues in search of their disappeared kin. 
Through an amalgam of ethnography, poetry, and photography, Zia illuminates how dynamics of gender and trauma in Kashmir have been transformed in the face of South Asia's longest-running conflict, providing profound insight into how Kashmiri women and men nurture a politics of resistance while facing increasing military violence under India.
The following is an excerpt from chapter 7 of the book, 'The Convergence of Grief and Joy.'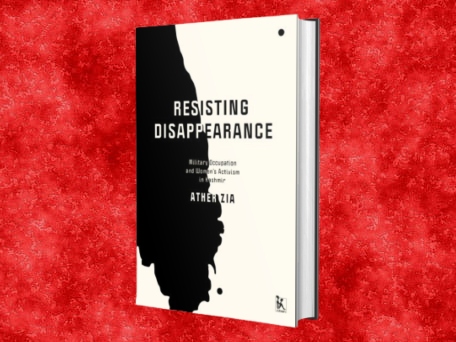 Sharifa's house stood in the midst of tight alleys in one of the humbler parts of the old city in Srinagar. The tight ramparts are often filled with the aroma of collard greens and onions being cooked, snatches of songs on the radio, and gurgling gutters, which although putrid, strangely seem in place with the centuries-old ambience. When her son, referred to as Munna at home, disappeared, Sharifa had been trying to arrange his marriage. "I thought I would be busy chasing grandchildren," she said, "and here I am chasing courts, police, army At this age, I am wandering on the roads looking for my son. Inside here [pointing to the room], my home is not a home anymore."
Sharifa and I arranged to go to a protest together. As we prepared to leave, she pulled her large plastic bag from behind a bolster, saying, "This needs to go with me." She gingerly cradled the bag in the nook of her arm and bent uncomfortably to lock the door. I offered to hold the bag. She shook her head, tightening her arm a bit around it. "It is okay with me," she said. She was reluctant to hand the bag to me. The weathered wooden door to the home let out an ancient yelp as Sharifa cinched the iron crossbar into place. Her invalid husband was inside the house. Her married daughter would let herself in when she came to be with her father while Sharifa was away. Sharifa's husband had suffered a heart attack after their son was disap- peared, and his health had deteriorated to the extent that he had lost the use of his legs.
We traveled to the protest venue in a noisy auto-rickshaw with the bag between us like a third passenger. Sharifa patted it as she pulled the bag to her side. "This should be with me," she said. "A lot of people interview us; we show them these; documents speak." We reached the park, where most of the APDP activists had gathered sitting in the shade of a few trees as the August sun glared. The fountains in the park were dry, and the grass withered in places. The women had water, children, and their document bags at their sides or in their laps. The park's metal fence was emblazoned with a giant plastic poster displaying an outline of a male face with side-parted hair. It was a featureless visage; in place of a nose or a mouth, it had the names of men who been disappeared. A giant rectangular poster made out of newspapers stood in the middle; the silhouette of a man, representing the disappeared, had been cut in the middle.
[…..]
Soon Parveena rose up to give a speech. She wanted to use the bullhorn, but a staffer advised against it: "They [the police] will unnecessarily get irritated." Parveena persisted in using it, however—a decision that other activists supported. The air began to echo with lamentations:
The light of my eyes, I will rock you.
My hermit-sage, I will rock you.
Son-stealer, may you turn to ash.
O Saint Dastgeer, I will rock you[i].
O Dastgeer, turn son-stealers to ash.
All the women, including Sharifa, joined the chorus. Azi, another mother- activist, took the lead and improvised the lyrics:
My golden earring, I will rock you.
My Hamido, my Hamido, I will rock you[ii].
Son-stealer, may you turn to ash.
Saja, who had brought Heena to the protest, pushed her in front. "Who will care for her?" Saja wailed, sobbing uncontrollably, gasping for breath. Another mother, Rehat, fainted and several activists rushed to revive her. Photographers swooped down on the group, jostling for angles: close-ups, long shots, and weeping profiles of the women of the APDP. The wailing continued. A policeman approached to say that the activists must wrap up soon.
The afternoon sun ceaselessly beat down on the women, who continued to mourn. Sharifa led a new song, an improvisation on a popular wedding song. Buried in the lyrics was a direct barb against the enemy (the government) of those disappeared, who they referred to by a collective epithet of "my beloved bridegroom." Use of the word "bridegroom" for the disap- peared person is meant to reinforce the magnitude of the tragedy of those who had been killed in their prime. It is a paradoxical way of mourning the joyous possibilities of a life that has been snuffed out.
I will give you my life, my bridegroom.
I look for your shadow. I will give you my life, my bridegroom.
I will light up (zool) for the love I have for you[iii].
I feel you coming often. I will give you my life, my bridegroom.
May your enemies do waay, waay[iv].  I will give you my life, my bridegroom.
The bells on my hemline are tinkling. I will give you my life, my bridegroom.
The women sang about imaginary scenarios of weddings of the disappeared men who had been bachelors. A stray lyric was inserted to curse the "enemy,"  who had "disappeared" them. The women invoked the names of  a few men who had disappeared as they progressed with the song. The funereal atmosphere had a patina of forced levity as the women repeated the lyrics to a lighter tune. This scene was in juxtaposition to the wedding  at Saja's house, where the celebrations had turned funeral, but in protest the weddings of the disappeared were being envisaged.
---
[i] "One who holds hand/helps" is an epithet for the medieval-era Muslim scholar and sage Syed Abdul Qadir Jeelani (may Allah be pleased with him) of Baghdad, who is revered by Kashmiri Muslims.
[ii] Hamido is the name of someone else's son, whom Azi names for commemoration.
[iii] Zool means "to light up" houses especially during wedding celebrations.
[iv] This is an expression of pain and regret.
This is an excerpt from inResisting Disappearance: Military Occupation and Women's Activism In Kashmir written by Ather Zia and published by Zubaan Books. Republished here with permission from the publisher.