Aamer Hussein is a short story writer and critic. Born in 1955, Hussein grew up in Karachi, spent most of his summers in Indore, studied in Ooty for two years, and moved to London in 1970.
Restless: Instead of an Autobiography is his latest book. The following is an excerpt from the same.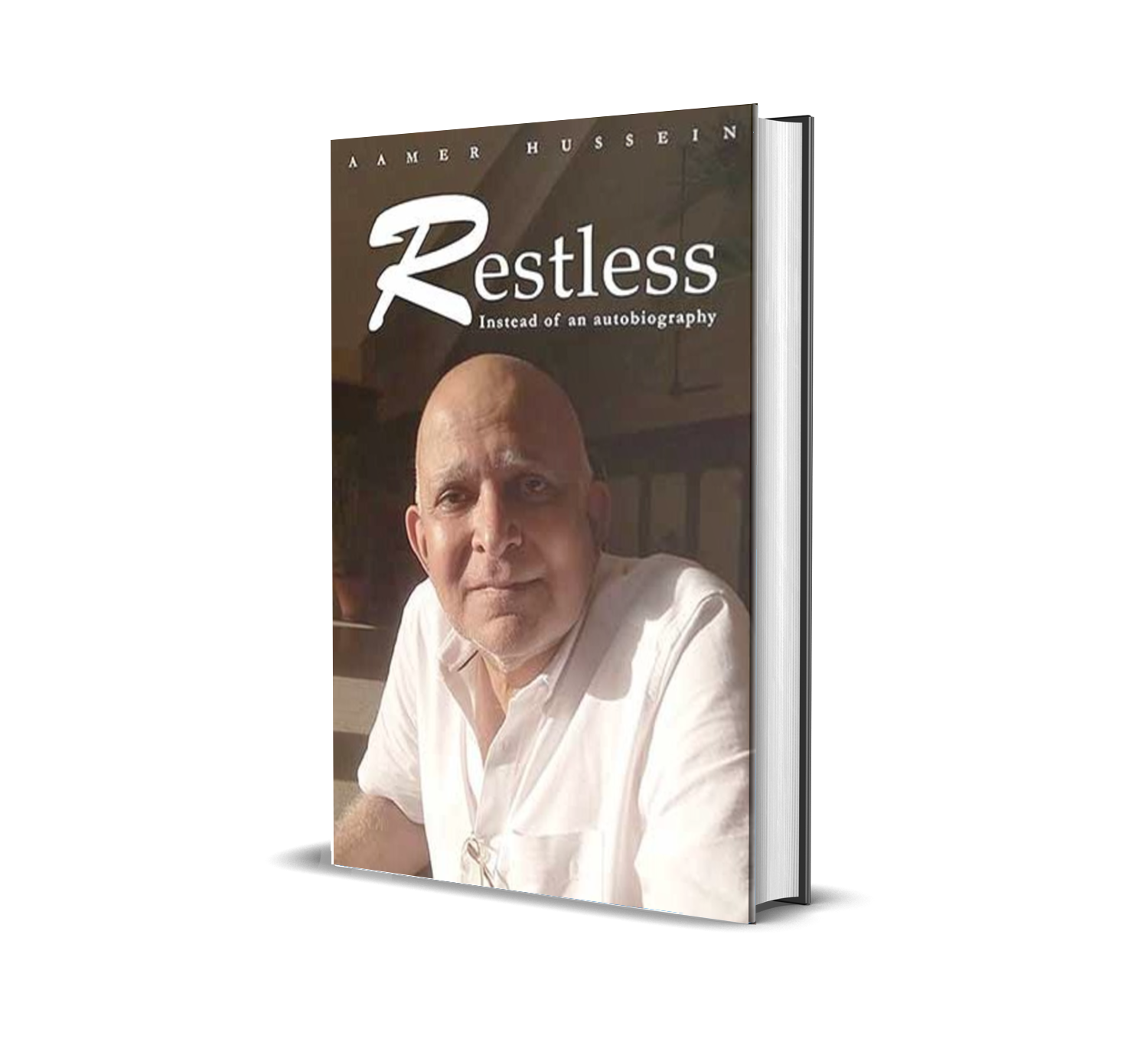 Teacher
Translated into English by Shahbano Alvi

Rubbing sleep-filled eyes, his gigantic frame attired in loose pajamas and purple robe, Shah sahab would come to open the door at my persistent knocking. I would reach his home at 8 or 9 in the morning after a long journey; it was springtime, I was twenty-one years old and I had only then started preparing for my Urdu examination; at Shah sahab's insistence.
Syed Moinuddin Shah, whom we had given the title of lambe Shah sahab, was originally from Agra. Many years later Asif Farrukhi informed me that when he migrated from there to Karachi, he had worked in Radio Pakistan for a few years and then had come to London and joined SOAS, where he was working on a thesis on the writers of Fort William. As far as I know this thesis was never completed, but Shah sahab did become the favourite teacher of the offspring of London's Pakistani elite.
He knew my parents. I had been meeting him for three or may be four years. When we shifted from Central London to a house in the suburbs my mother's friends would sometimes request her to hold a musical evening or a poetry symposium at our place. So he must also take part in these soirees in his usual humble manner along with well-known personalities like Jamiluddin Aali and Yawar Abbas. For me these evenings were like the treasure trove of Ali baba's cave, the doors to which would not open by simply saying khul ja sim sim, the treasures within were the miracles of the elusive Urdu language. I had learned to write Urdu when I was young but had forgotten a lot of it for lack of use and practice. In London when I reached the age of sixteen I read (with difficulty) some poems by Faiz in Urdu with translations. I had also read Saif ul Mulook and Heer in Pakistani-Punjabi script with the help of neighbours so that I could sing their songs along with recordings by Reshma and Shaukat Ali, although I didn't know any Punjabi at all. Likewise, I listened to Shah Abdul Latif Bhittai with great reverence but have never been able to learn Sindhi even though it is my paternal language.
---
Also Read | Between languages and landscapes: In conversation with Aamer Hussein
---
That was the time when Shah sahab must have suggested that since I was free and hadn't got admission at any of the universities I had applied to, why didn't I study Urdu with him and then apply for admission at SOAS? I would go to his class, which was in one of the Central London colleges, in the icy and foggy winter evenings. I was the only Pakistani student. We would converse in Urdu, and orally translate a few essays. In March during the spring break he asked me to come to his house where I would read Umrao Jan Ada with him. I had already read Khushwant Singh's translation of this book when I was fifteen. I had bought a cheap edition from one of the roadside hawkers in Mumbai before coming to London; some secret pages of history that I had not come across in any English book were revealed to me in this book. My eyes opened to the imagery of an intriguing past; the imposition of the British Raj in the 19th century and the downfall of the Oudh culture of which I'd been only vaguely aware. Brought up in the Westernized circles of Karachi, I had been exposed for the most part to history books written by the Western historians.
So now I went through this precious book with Shah sahab in Urdu and was mesmerized by the nuances of the Urdu language and the unique composition of the story. Listening to and singing the ghazals and poems in Urdu had exposed me to a little understanding of the poetry but I still missed the deeper significance of many words. I don't recall reading any ghazal or nazm with Shah sahab but he would give a critique on my favourite poet Faiz Ahmad Faiz:
Dard ke kasni pazeb! Mauve anklets of pain! Ridiculous, absolute rubbish!
I would control my fiery response in deference to my teacher and stay quiet. When Shah sahab criticized my pronunciation, though, I didn't mind at all. I had spoken in English since I was young and was also used to people laughing at my Urdu pronunciation ever since. Roof, grass, newspaper, yogurt, ice, carpet — I had little notion of the gender of these words in Urdu.
When I went to Gwalior for the wedding of my maternal cousin, I was thirteen and had no idea that I'd be packed off to school in South India for eighteen months and then, on my way to London, I would be staying with my Nani for many months due to an epidemic of chicken pox in India. While there I not only learned to speak in Urdu; I'd learned to read and write Hindi with some fluency along the way. Shah sahab would hear my maternal influence in my dialect:
'Why do you say "faraq, fikar, and umar"? What do you mean by "Dheeray dheeray", you should say "Ahista"? I must say it is very evident that you have picked up the language from the ladies of the house'… Well.
My pronunciation improved and I also got an A in my examination. (I seem to recall writing a piece titled 'Jheel' which could be called my first Urdu short story). If I remember correctly that was the time when Shah sahab insisted on my taking admission in SOAS but because of lack of time and a couple of twists of fate I joined SOAS two years later, in 1978. I studied in the department of Persian for a year and then afterwards I studied the gems of Urdu prose and poetry in the third year. I am amazed that I don't remember reading Bagh-o-Bahar at university, which I like very much now. I believe Shah sahab must have also written an essay on it but I never got my hands to it.
Later Shah sahab's image blurs in my mind as I stepped into the realm of English literature and for the next ten years the world of Urdu seemed a distant one even though I taught Urdu in SOAS for six years. I don't remember bumping into him in the library or on the stairs. I do recall having a cursory meeting with him at aLondon underground station where I met him with a lot of enthusiasm but he was cold and distant and started criticizing a random writer loudly. (With age he seemed to have developed a hot temper or perhaps he didn't recognize me). In the year 1991 he was publishing a magazine, Urdu Adab, in London. He might also have given an issue to my mother. That was the year when I started reading Urdu stories and articles with great relish and read in one of the issues Qurratulain Hyder's essay 'Lady Changez Khan' which she had written especially at the request of Shah sahab for the magazine. But in that meeting I was unable to mention either the magazine or my new passion.
Today as I found out about the death of one of my old students from Covid-19, I realized that I hadn't seen her for the last two years; in fact we were not in contact for the last fourteen months after she wrote to tell me she had cancer. The moving apart of a student and teacher after some time is not unusual; the intricacies of life are unfathomable and in this journey friends are often separated without getting a chance to say goodbye. Yet I feel sad about not having asked Shah sahab more questions. Why is his story of life incomplete in my book of life's experiences? A sage has mentioned somewhere that there are nine…or twelve?… teachers in each person's life among whom one stays hidden. Sometimes I wonder if that unrevealed teacher of mine was Shah sahab, who set me off on my path of Urdu?
Then we heard that he passed away in his ancestral town of Agra. I recalled that I had shaken his hand for a split second at a London mosque when he came for my father's funeral prayers, after which the new century sped on, taking me on its wings, away from my past, at such a speed that I didn't even glance back for many years.
This is an excerpt from Aamer Hussein's Restless: Instead of an Autobiography, co-published by Ushba Publishing International and Reverie Publishing, Karachi 2021. Republished here with permission from the author.