Aamer Hussein is a short story writer and critic. Born in 1955, Hussein grew up in Karachi, spent most of his summers in Indore, studied in Ooty for two years, and moved to London in 1970. He has written several collections of short stories, including, Insomnia (2007), 37 Bridges (2015) and Hermitage (2018). He has also written a novella titled Another Gulmohar Tree (2009) and a novel, The Cloud Messenger (2011).
In this conversation with Daniya, Hussein talks about his latest book Restless: Instead of an Autobiography; his relationship with Urdu language; the continuous process of relearning histories and language; and the feeling of loss.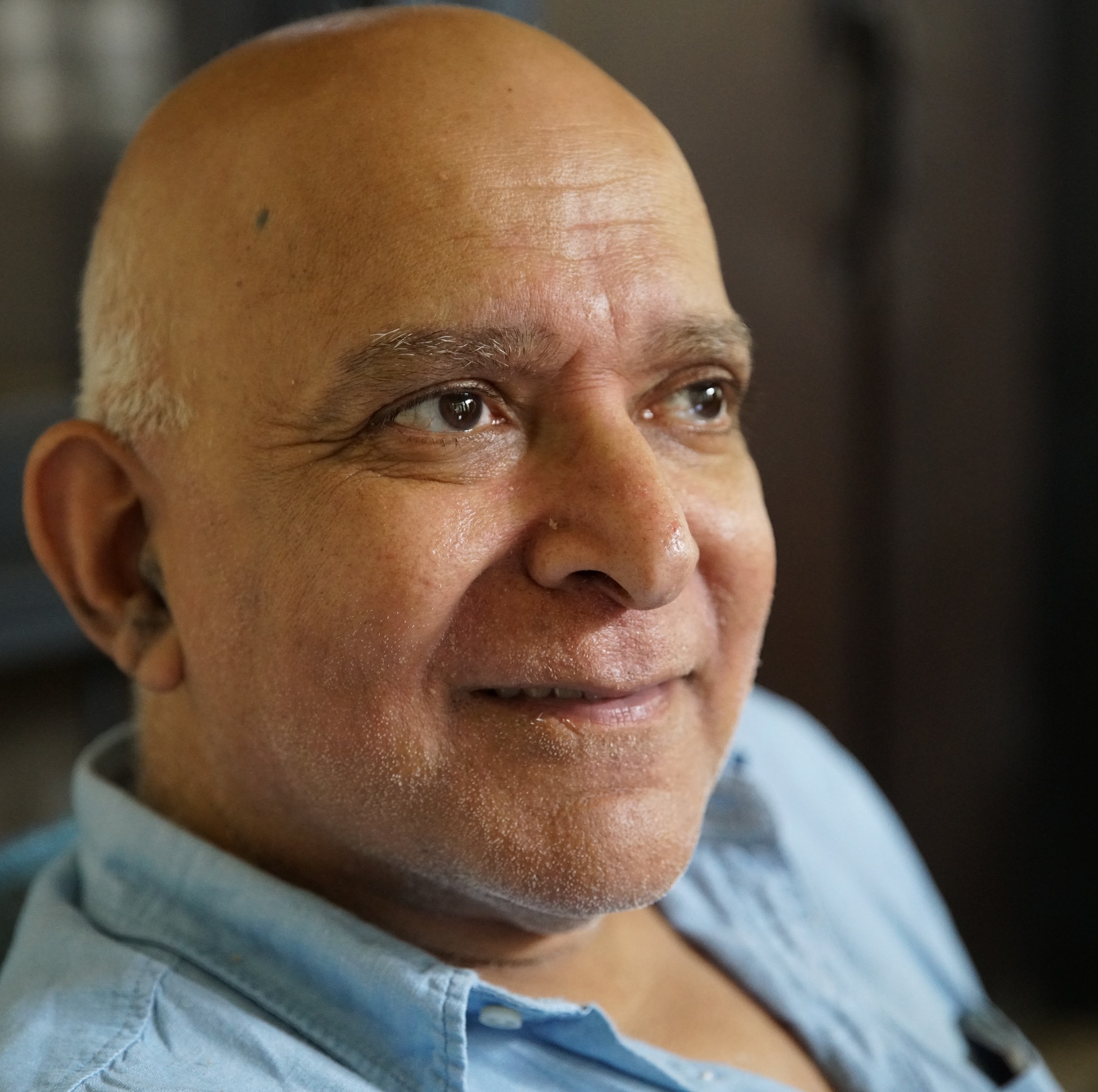 Daniya Rahman (DR): While the book defies the "traditional" form of writing an autobiography, it does follow a chronological sequence. I remember asking you in our last conversation, about writing an autobiography in the form of short standalone and yet interconnected narratives and you'd said that that's exactly the form that you envisage. Could you tell us more about this style of writing and why you chose it for Restless?
Aamer Hussein (AH): Interesting that you should remember my comment, as I hadn't even started work on this book, and life was different then before this period of mishaps, mourning, cancer and COVID. I wonder if you were partly responsible for the concept! Looking back, my answer is that the structure rose organically from the generic differences in the pieces and how we put the sections together with the occasional overlap in those genres of life writing, fiction, reminiscence and near-reportage .
Again, choosing the form was, to an extent, happenstance, and also a result of having thought in stories, rather than in long narratives, for most of my life . There were texts I'd written over the last few years that I wanted to collect in one volume; later, my editor Shahbano Alvi and I envisaged the sequence of the book while I was actually working on some of the stories, because I had nothing like a complete book at the time I began, only scattered pieces in diverse genres and two languages that were connected by the thread of my life. There was also an urge to memorialise which grew during a time of personal and public tragedy; even recently I'd shied away from direct reminiscence until I wrote about Qurratulain Hyder some five years ago.
The separate sections are interconnected by the narrator's voice but the pieces in each of them are arranged to stand together to make sense chronologically of my parallel lives, private and professional.
Actually there are two nearly simultaneous chronologies, aren't there? My reminiscences of people (and my trip to Palestine) cover my life from the age of 15 to when I was 60, and the short fictions in Part 2, which was the core of the book as I worked on it, are written and set, without exception, in the two crisis ridden years from 2019 to 2021 beginning with my accident and ending in a summer lockdown in London. Then there's a third sequence of personal essays or reportage that I wrote between my late fifties and the present day, which are usually located in the moment and have an immediacy to the writing rather than an elegiac quality, so that even the piece about the death of friends like Fahmida Riaz and Judith Kazantzis appears very close to the event; but they often frame memories and flashbacks. And then the final section , again, is set during two lockdowns. There is generic intercutting between the sections, too, so that 'A Convalescence', which is included among the fictions, has no invention in it at all except the quoted folktales; and the story about my teacher Shah Sahib was written (in another version) as a column for DAWN, Karachi. I feel that the separate sections are interconnected by the narrator's voice but the pieces in each of them are arranged to stand together to make sense chronologically of my parallel lives, private and professional. I think you can switch the sequence of parts 2 and 3 when you read the book and the effect might be interestingly different, but parts 2 and 4 can't be shifted – Part 4 is again taken directly from life but the epistolary style echoes fiction.
Speaking of the style, I imagine there must be an interplay in the book between darkness and light, but I'm a lover of music and my editor a visual artist, so tone, especially when we very carefully selected the personal essays, was of vital importance, balancing a certain energy and even humour with sorrow. There were many previously published pieces that just didn't make it into the book , and one or two that remained unwritten but have appeared since, for example a brief memoir of my dear friend the legendary writer Attia Hosain. Writing my life is still a work in progress.
DR: One can feel a sense of restlessness resonating on so many levels while reading the book. Restless as a title seems very apt for this reason. So I will not ask why the book is called Restless. But I do want to know a little bit about the lingering feeling of restlessness in your life – as a writer and as someone who's always been on the move.
AH: It's hard to answer, but yes. As a boy in Karachi I kept wanting to go to Malwa where my grandparents lived but after some weeks I'd miss my native city. Then at a certain point and almost whimsically I stayed on in India at the age of 13 to study in Ooty, before deciding – more rationally this time – to shift to London two years later. My book begins with my arrival. After that, my mind has been on the move between languages and landscapes even when I'm physically in one place, but over the past two years I I feel most comfortable in Little Venice, near a canal and not far from a park, where I live surrounded by books and two floors up from my niece and her family, but the siren call will summon me again. Recently an academic and writer in Islamabad asked me if my move between genres, on display in my new book, came from a sense of dissatisfaction or incompleteness within any one form but that isn't the case, though my move to the longer form in Another Gulmohar Tree and The Cloud Messenger did come from a feeling that I'd done all I wanted to do with the short story in Insomnia (one of my own favourites) and didn't know where to go except on a journey that just got longer. When I abandoned the novel for 37 Bridges the stories I wrote were often brief and absolutely contrary to novelistic conventions. Then I moved to writing fiction in Urdu 9 years ago, and after that to illustrating two of my collections with photographs of myself; and in Hermitage I was working on the line between fiction and biography and reminiscence as well as on fables borrowed from Buddhist and Sufi antiquity as well as popular folklore. As for physical restlessness, I've just returned from speaking about Restless, and restlessness, in three Pakistani cities, and though I don't think I'll see Java again I have an intuition that I'll be back in India. I want to visit Manipur.
My mind has been on the move between languages and landscapes even when I'm physically in one place.
DR: I was watching the discussion organised by the Arts Council of Pakistan on Restless and you said, "I have been to many countries but spiritually I didn't feel connected to any place". As someone who has lived in many places and reflected upon the meaning of 'home' over and again, there must be a continuous process of relearning histories, perspectives and language. Can you talk about that?
AH: It's a very hard question, but did I really say I didn't feel spiritually connected to any place? I must have been referring to my teens and early 20s when I really felt like an outsider and adopted Italian as a kind of mask to conceal what I perceived as unbelonging to England. I made Italy a second home throughout the late 70s and 80s, right into the 90s . I've had different epiphanies in a number of places from Yogyakarta in Java to Assisi in Tuscany, Bhit Shah in Sindh to Jaisalmer in Rajasthan. Last weekend I was sailing in Karachi under a full moon and didn't want to go back to land. But I just find it hard to connect to a stifling sense of self-defining nationhood and especially to any one region. Even linguistically my loyalties are double. My friend the poet Amar Sindhu remarked last weekend that though I seemed entirely at home in Hyderabad (Sindh) where we were, it would be very unfair for any one place to lay full claim to me – even my native region.
Yes, of course there has been and continues to be a continuous process of relearning, even at 66. Firstly, there was the zigzag dance with Urdu which began with improving my skills in the 70s and culminated in my writing it, and speaking it in public, in the past decade; a journey of about 45 years. Each successive phase of acquiring and studying the language opened gateways to new historical vistas. There was the rising tide of postcolonial studies, awakened awareness of continuing neocolonial hegemonies, and encounters with its giants, notably Edward Said, though I began to find its literary terminology and its historical canvas restrictive.
I feel very English in certain moments, Pakistani in others, and when I speak or listen to Urdu I feel deeply aware of my mother's Indian roots (and Shah Sahib's teaching)
When I began to write, my inspirations were largely my own background in Karachi and Indore, but also 20th century Italian and French literature, which I read in the original, for structure and metaphor. All that changed when I came upon Ismat Chughtai, Nirmal Verma and others in Hindi and Urdu, and even before that translations from Chinese, Japanese and Arabic, so in many ways I've written English as a kind of renegade stepson almost from the start – my first fiction was a riff on Amir Khusrau's wedding songs with a frame story . With my trips to Pakistan, and also to India, Bangladesh, Hongkong and Indonesia, I evolved in my 30s from a very Europeanised self, who spoke Italian as a second language, to someone who felt gradually but increasingly connected to Asian realities; in the decade before the lockdown I was visiting Pakistani cities every month or two and Bangladesh once or twice a year. I feel very English in certain moments, Pakistani in others, and when I speak or listen to Urdu I feel deeply aware of my mother's Indian roots (and Shah Sahib's teaching) as I haven't mastered the contemporary urban idiom of Pakistan.
But these are fleeting moments of identity – or even loss of it, when at times I feel deeply frustrated with the countries that lay claim to me, as you see in my story 'What is Saved'. Most of the time I'm just in the pre-linguistic space of image and feeling and right now I have absolutely no sense of belonging anywhere except to the sentences I'm writing. But the word 'spiritual' immediately evokes the landscapes of Java, where I was haunted by déjà vu, and of course the writings of Sufi seers in the Persian language and chapters of the Quran.
DR: You've described beautifully your relationship with Syed Moinuddin Shah and through him, with Urdu language, in 'Teacher'. Did his death affect your association with Urdu? From getting acquainted with the language for the first time to writing in it, how has your relationship with the language evolved?
AH: That story is also how people – particularly those like me who've been transplanted – make strong relationships but then easily escape them through contingency. Interestingly, I wrote 'Teacher' in Urdu . Shahbano, who translated it, forget to mention her own name, and no one has mentioned a discrepancy in style! (There was an earlier English piece about him, 'The Tall Man', which I discarded in favour of this more detailed version, which my friend and colleague Sheeraz Dasti asked me to write.) However, to answer your question, Shah Sahib's tutorship took me to SOAS two years after his tuitions ended though the months in between seemed interminable. I'd say my leaving SOAS affected my relationship with Urdu, though not for long; by the time I heard of Shah Sahib's death I was reading very widely in the language and consciously or unconsciously knew I'd write in it one day, but one day at the start of the pandemic I realised what I owed him. Now that you ask, writing about him in Urdu was my tribute to him, and the starting point of the memoir section, it immediately seemed to form a triptych with 'Restless' and 'Suyin'.
---
Also Read | Restless: Instead of an Autobiography
---
How has my relationship with Urdu evolved? When I first read Ismat Chughtai in the late 80s I was a published writer in English, and my reading skills had gone rusty because I had been reading in three European languages! But I was entranced by her writing and decided then I would one day conquer my fear of writing the language. I became an inveterate reader of contemporary Urdu fiction from Pakistan in the early 90s, and on a trip to the country in 1996 where I was invited by the late great poet Fahmida Riaz, I was befriended by many writers, including Asif Farrukhi who has also gone and Fatema Hassan who, in 2012 , challenged me to write in the language which I did the next day (it was as I was on fire, a feeling I've rarely experienced); Asif commissioned me to write five stories for his pioneering journal Dunyazad, which were well received by writers such as Intizar Husain and Masood Ashar (also gone). My English collections since then have always included translations of my own Urdu stories, though after those first few stories writing in Urdu was quite sporadic until two years ago. But public speaking wasn't, and after overcoming my tongue-tied hesitation I became the mouse that roared at seminars and in festivals (well not quite, but I can talk away in public forums now about other writers and their work as well as my own.)
In 'A Convalescence', I tell of how Shahbano encouraged me to write in Urdu for children, which I did lying on my back, and then another dream came to fruition, because less than a year later, and just before the pandemic, my first Urdu book was published. Its title story, 'Zindagi se Pehle', is like a premonition of times to come, as it is full of images of wounded bodies, and of death as artistic creation. The missing word in the title, 'maut', hangs over the story, which was also a prelude to the tragedies in my own life, as I lost my mother and a sister in 2020, and was diagnosed with cancer between these deaths. I've translated it as 'What is Saved' for Restless, the first time I ever directly translated a story of mine from Urdu to English, to return to your question from another angle. I haven't written in Urdu this year but I will.
DR: There's a line in Derrida's The Work of Mourning, "…surviving, would be left to bury, to commemorate, and to mourn." Does writing about someone you've lost help with the process of mourning their loss? Isn't it difficult to put into words, the heart wrenching feeling of loss?
AH: Funny I was just talking about 'What is Saved' — a title which probably reflects your quote — which deals with how art manages to represent loss and death in figurative images. I don't know that writing helps me at all but I was certainly driven to write what for me are the key texts in Restless by the loss of my mother and sister; 'The Garden Spy' seems like a long lament for the dead though I can't write about those two beloved absences yet. 'The Yellow Notebook' echoes collective grief.
It is difficult to put into words; but the heart wrenching feeling is transposed to other locations, other dreamscapes, sometimes of ravishing beauty which words can only attempt to capture . I think grief and mourning probably underlie much of my work, and if I ever managed catharsis I'd probably cease to function as a writer. But if we turn to our master singers , Kabir and Meerabai and Bulleh Shah and Shah Abdul Latif, longing is the source of their work, like Maulana Rumi's reed flute torn from its bed, and longing, rather than afflicting us with stasis, can often be a way forward rather than a backward journey; so if you asked me, my longing for tomorrow (which I often represent as the sea) rescues me, time and time again, from the paralytic grip of mourning.
DR: In these times of uncertainty and struggle, is there any message that you'd like to pass on to our readers?
AH: My book ends with my friend Shahbano telling me her prayers will bring me back. I made it. My advice? Live with compassion. Cultivate patience. Tolerance. Nurture love. Friendship. Writing is useless if engagement with life doesn't precede it even if, as we learned during lockdowns, communication is only telephonic or virtual. Immerse yourself in natural beauty, and art as its reflection. Chashm ko chahiye har rang me va ho jana! Work hard at what you love most. I taught on zoom throughout the worst months. Platitudes? They keep me and my loved ones alive and constantly in hope of a new day.