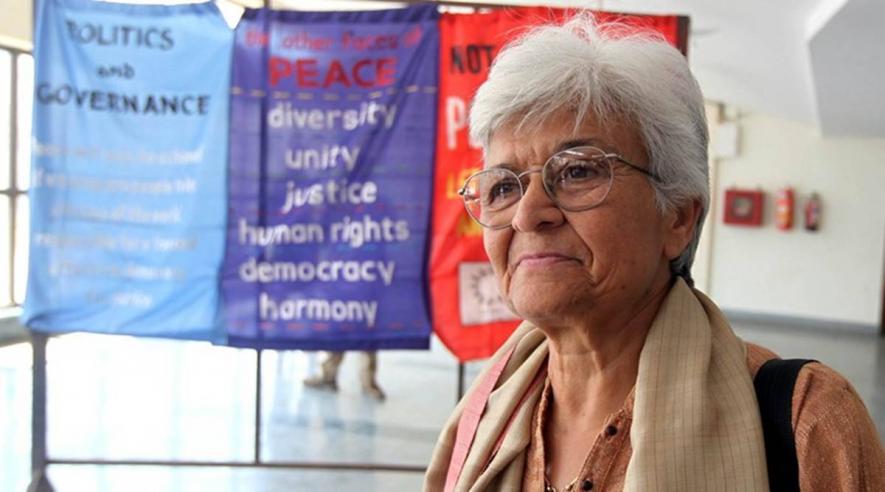 New Delhi: Eminent feminist, author, poet and a stalwart of the women's rights movement in India, Kamla Bhasin, passed away on Saturday, aged 75. Bhasin was reportedly diagnosed with cancer a few months ago.
Activist Kavita Srivastava shared the news of her demise on Twitter.
"Kamla Bhasin, our dear friend, passed away around 3 am today 25th Sept. This is a big setback for the women's movement in India and the South Asian region," she tweeted. "She celebrated life whatever the adversity. Kamla you will always live in our hearts. In Sisterhood, which is in deep grief."
Bhasin was born in Shahidanwaali village in the Gujrat district of Punjab – now in Pakistan – in 1946. She completed her graduation and post-graduation from Rajasthan and later went to West Germany to study  'sociology of development' at the University of Münster.
Bhasi played a prominent role in the women's movement in India and South Asia since the 1970s. She was best known for her work with the feminist network 'Sangat' which she founded in 2002. The network works with "underprivileged women from rural and tribal communities, often using non-literary tools such as plays, songs and art."
She also worked for the United Nations Food and Agriculture Organisation and was an integral part of the One Billion Rising movement in South Asia.
Bhasin has authored several books on gender theory, feminism and understanding patriarchy, including Understanding Gender, What is Patriarchy, and Borders and Boundaries: How Women Experienced the Partition of India (the latter co-authored Ritu Menon). She was also known for her poem Kyunki main ladki hoon, mujhe padhna hai.
I always thought #KamlaBhasin was invincible n so she remained till the end…
There was no dichotomy between what she said and what she did.
We at ActionAid will be poorer by her loss as will the thousands whose life she touched! Lets celebrate her life and contribution RIP

— Azmi Shabana (@AzmiShabana) September 25, 2021
She believed that feminism is a fight against the ideology of patriarchy. She has been credited with bringing the 'Azaadi' poem to India in 1991, which, at the time, was used by Pakistani feminists to protest against the Zia-ul-Haq regime. Bhasin, accompanied by a group of women, first sang the poem at a 1991 conference at Jadavpur University in Kolkata as a war cry against patriarchy. The poem reads, "Meri behane maange Azaadi, meri bachhi maange Azaadi, naari ka naara Azaadi…" (My sisters want freedom, my daughter wants freedom, every woman's slogan is freedom).
Since then, she performed the poem across the country for three decades. It has been sung by different movements and groups, famously by Kanhaiya Kumar during JNU protests in March 2016. Director Zoya Akhtar's movie, Gully Boy, also used it for a song, titled 'Azaadi'.
She is survived by her son Neet Kamal, with who she lived in New Delhi.
We express our deepest condolences on the sad demise of peace activist, feminist #KamlaBhasin ji in New Delhi , India.
She was a friend to all and advocated IndoPak Peace.
(Pic: Aaghaz-e-Dosti Archive 2017) pic.twitter.com/935YKxXnoT

— Aaghaz-e-Dosti (@aaghazedosti) September 25, 2021
Tributes poured in from across the country and abroad saluting Bhasin's life and spirit for the cause of women's equality and sisterhood.