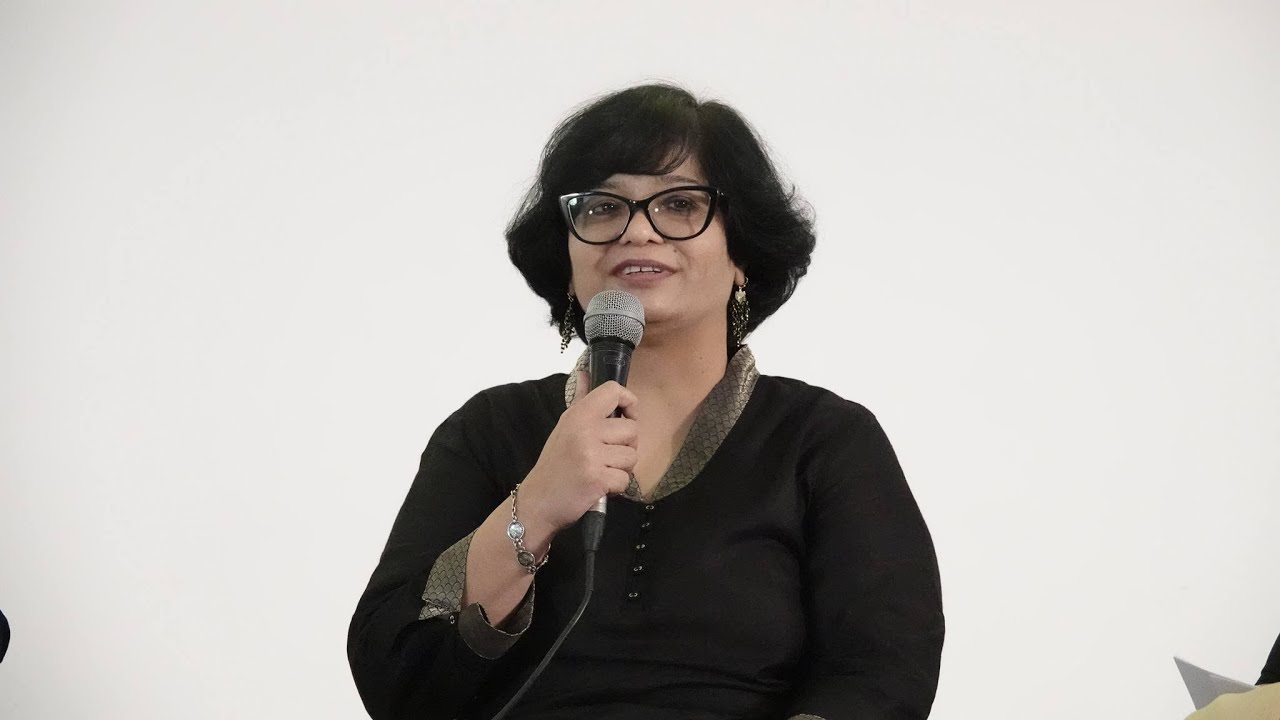 Fierce and perseverant, Manjula Pradeep dedicated her entire life to fight for and preserve the rights of the oppressed marginalised class. To most of us, the gruesome events of discrimination and violence only sting when it happens to our acquaintances or when we watch the news. But to Manjula, it's a daily battle for justice. It was an honor to get the opportunity to interview her. Listening to her ambitious mission of fulfilling Dr. B.R. Ambedhkar's dream of establishing a Prabuddha Bharat (Enlightened India) truly gave me shivers. 
She was sexually abused when she was only four years old. She comes from a conservative family who imposed all kinds of female-oriented customs and traditions on her. She was bullied in her school because of her lower caste status. Despite having such a traumatic childhood, nothing deterred her from voicing her opinions on the prevalent caste and gender prejudice. 
She made the brave decision to pursue a Masters degree in social work and, in 1992, became the first woman to join the Navsarjan Trust. The organisation brought her closer to the victims who were exploited by societal discrimination on the grounds of caste and were denied access to basic amenities. She not only sensed their anguish, but also saw the zeal in their eyes to strive for equality. That fuelled her determination to fight for their rights even harder. 
There were just five of them when she joined the organisation. While at Navsarjan, with very limited resources, she dared to deal with sensitive cases which received several backlashes. Among her notable works were instances of exploitation of agricultural women by dominant caste landlords in 1999, gang rape of a young minor girl in2008, murder of a dalit youth by Gujarat police in 2016, and filing petitions on behalf of manual scavengers in Gujarat, as well as the implementation of land reforms for dalits. She witnessed the crude social reality of India up close and empathised with every victim she met while working.
Between 2007 and 2009, as the Executive Director of Navsarjan Trust, she undertook the most extensive research on untouchability in Gujarat, including 1589 villages, and released a report titled "Understanding Untouchability". Several reports were published in the press. To invalidate their work, the chief minister called in a government-funded university to organise another research to crosscheck their assertions. They conducted a year-long study in just four villages and concluded that Navsarjan's findings were false. After this tragedy, hundreds of aspersions were cast on Navsarjan. Manjula added, "Navsarjan became the most established organisation. We were recognised nationally as well as internationally. The right-wing parties who don't want to provide equal status to everyone in the society tend to label organisations like Navsarjan who did genuine work." 
Even within Navsarjan, when she contested for the position of director and won with a majority, her male opponents made derogatory comments about her. They protested outside her office. While she was bringing together the agricultural labourers and bonded laborers in Vadodara district, her office was attacked, she was probed by the CID, and the local media slammed her. Even her father had abandoned her. When she was assisting a tribal family who had been wrongfully beaten in Vadodara district,  the police came after her, and the collector shooed her out of his office. Despite all this, she didn't give up. "I am never afraid of the negative impact which comes around my work. I love to relate with the ones who are sufferers of the atrocities committed by the dominant class. They give me the courage to keep going", she says.
The year 2016 marked a watershed moment in her life. The Una case was still underway when four dalits were brutally assaulted in the guise of cow protection. It was difficult for her because she came from a Hindu home. She decided to convert to Buddhism. Post this, she was asked to resign from Navsarjan. It was a significant setback for her. It was challenging to cope with the grief, so she sought the help of Vipassana (inspired by Buddha) to heal herself. This break provided her with a fresh perspective and she decided to try a bottom-up approach. 
In 2017, she resumed her travels and visited the youth in Nagaloka Institute. She aspired to effect long-term change in society by grooming young men and women. During her tour, she met with women from various communities — dalits, adivasis, Muslims, LGBTQ, sex workers —  who broadened her knowledge. She realised that a large organisation needs to be built to impact the grassroots level. This led to the formation of WAVYE foundation, wherein she educated women from the marginalised communities through workshops and connected with women's rights advocates. They collaborated with other working class organisations in Chhattisgarh, Karnataka, Uttar Pradesh, Rajasthan and Gujarat. She raised the subject of mental health as a critical problem because many women suffer from mental trauma due to mistreatment.
Every weekend, she holds training sessions so that they can take up small initiatives and become self-sufficient. She collaborated with Zubaan on a study project in Uttar Pradesh called – No Space For Women's Work. After the outbreak of COVID-19, she is leveraging online resources to continue her campaigns on social media platforms. Recently, she has set up a National council of women leaders from fifteen states, who have launched their first campaign on caste-based sexual violence in July'21. 
She believes the solution is to educate the perpetrators about the harm they are causing to the social fabric. According to her, there needs to be a robust mechanism to address the social inequalities through both awareness and legislation. There is a long way to go. Our country needs more role models like her to lead. She is doing everything she can to build a just society. We must all draw inspiration from her and try our best to treat everyone equally for the sake of humanity.  
Disclaimer: The views expressed in this article are the writer's own, and do not necessarily represent the views of the Indian Writers' Forum.