Generations is an intricate tale, simply told by a master of fiction about a community of Tamil speakers who live on the borders of modern-day Kerala. Set in the 1940s, it is a novel of generational change and conflict, and how the boy Diravi grows up to take charge of his family, which embodies a distinct culture. Amidst the background of language, myth, and ethnic consciousness, we are offered a sensitively drawn profile of the passing of a traditional way of life into modernity and the nostalgia that comes with change.
Below is an important excerpt from the book: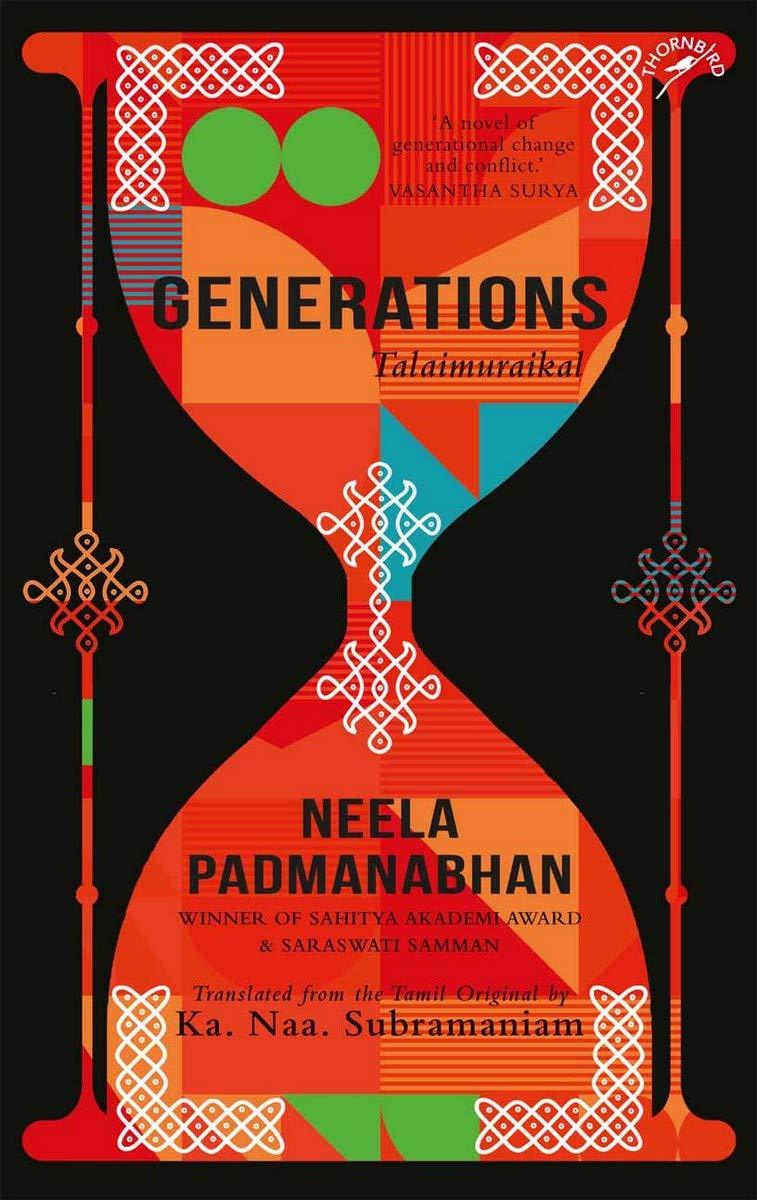 Even sorrow seeks a rhythm in expression. The songs of sorrow are as rhythmical as the songs of joy and marriage. In the 16 days following, Diravi became aware of the many types of songs with which women expressed their sorrow, chanting it at the same time, in chorus. How beautiful some of the expressions were, how evocative. One woman sang:
If she waited for a golden chariot,
the day would dawn
Oh my mother.
You set out on a chariot of flowers.
You set out all by yourself
Waiting for none of us, your dear ones
Oh my mother.
You did not wait for a silver chariot
The mother of virtue is gone
On her journey alone …
The mourning song went on and on in waves of expression. It seemed that all the memories of Aachi would be exhausted in these 16 days, so that no one need remember her afterwards. The funeral and post-funeral ceremonies proceeded duly, Father doing everything with great devotion for the immense love he had borne his mother. On the 16th day, wailing was loud, long, and high pitched; it seemed it would never cease. It was almost like a wedding feast, except for the weeping. Father was made to shave, bathe, and wear new clothes. Kuttalam too was present at the 16th day ceremony. And those assembled noted the regard in which he was held by the whole family.
Diravi's school teaching continued as usual; when Aachi died, he had taken leave for just two days. He asked for another two days later, for Nagu's wedding.
Teacher Moses came to condole with them and gave Diravi the information that he was likely to be transferred to Shencottah. It was a shock, but on reflection Diravi thought it was for the better. He was glad when he overheard Moses discussing Nagu Akka's fate with Father. Father had accepted the idea already, but after talking to Moses, he was surer than ever that it was the right thing to do.
It was rumoured that Sevantha Perumal's shop had not been opened for two or three days. No one, not even Vadivu, knew where he was. But when he returned, he behaved as if he was slightly out of gear, as if his mind was unhinged. He spoke to no one but went to the shop and returned mechanically, lost within himself. It was said that Papathi even tried to have him treated for insanity.
But Diravi noted that Sevantha looked angry and bitter when he saw him by chance. Kuttalam reported that he looked at him as if he would have liked to kill him. Reporting it, he laughed happily.
Secrets could not be kept long in that town. Everyone minded everyone else's business. Like the rats and bandicoots that scurried from house to house in the dark, secrets too were common property. Everyone now seemed to know that Nagu's second wedding with Kuttalam had been arranged and they talked among themselves about it. The fishwife and the head-shaking old woman added fuel to the fire. If they had known of it before Aachi's death, they might not have spared the family even at the moment of death, thought Diravi. No one dared to talk of it to Diravi, but it was said that the community trustee, Vinayaka Perumal, told Kuttalam, "If they plan to celebrate a discarded girl's second wedding, did you not have enough self-respect to say 'no' to the offer. If you marry her, you will be set aside by the community." But Kuttalam was not to be daunted. He said, 'You and your community and trusteeship! You are all fools and knaves. What did you do for the family when that eunuch brought shame on a young girl. You come and talk righteously to me, you fool. Shut your foul mouth."
The town too heard it and talked even more about the coming event. Vadivu's mother was the only person who said something about it all in Diravi's hearing. "This Kuttalam is a useless fellow. Who can control him?" But Diravi did not want to pick a quarrel with an ignorant woman. He kept quiet. But he was sorry that he had to do this against the wishes of the town; if they were with him, instead of against him, how good it would be! The only thing left was to stand firm in his decision and to see it through, whatever the opposition.
This is an excerpt from Generations written by Neela Padmanabhan, translated by Ka. Naa. Subramanyam and published by Niyogi Books Pvt Ltd in 2020. Republished here with permission from the publisher.