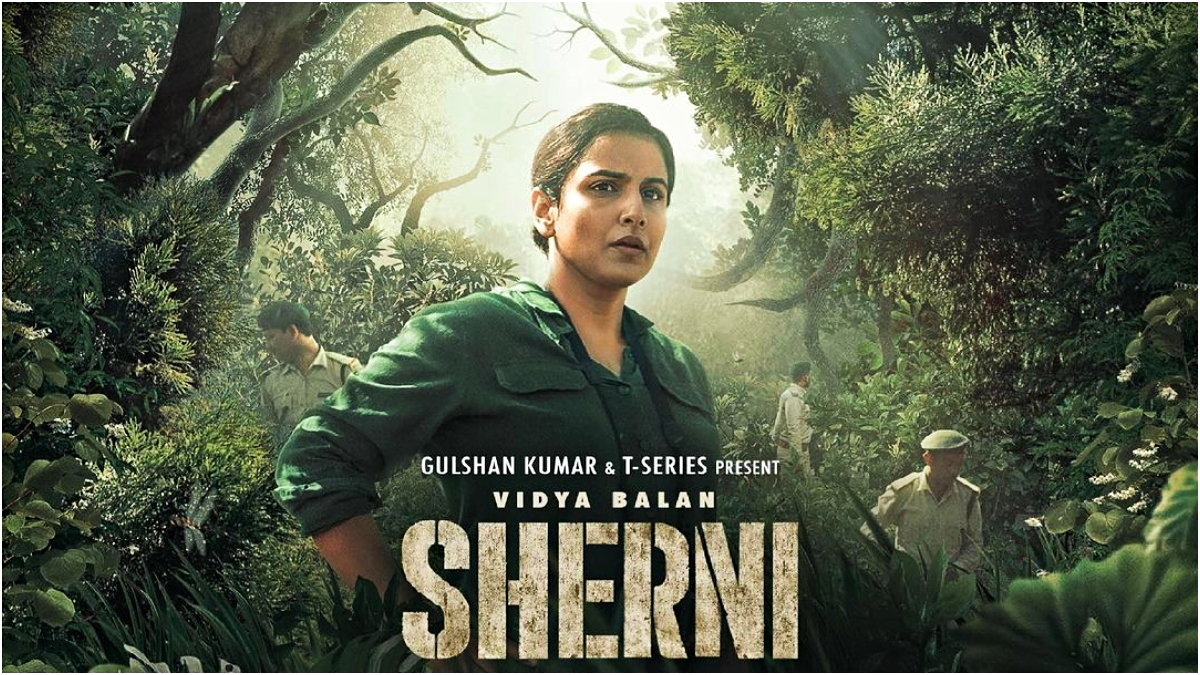 Let me just begin by saying that we need many more films like this one. In fact, if we saw films like this, there would be less problems with the environment. 
Sherni (2021) is directed by Amit Masurkar. "Sherni" means lioness, but in this context, it's a tigress. Of course, it's about a man-animal conflict and how politicians are involved in the process of creating mines in forest areas, to actually hunting down animals and killing them.
I've always insisted that I take my students to forests every time I took them on photography tours. I can never forget the peace of the forest, the excitement of spotting a tiger or leopard or a pack of wild dogs — which I was told was very unusual. Each time I saw shots of forests in the film, my heart would leap with joy. The monkeys, the deer, the vast top angle shots of the forests, the trees near the river — I felt that I was there. I thought the cinematography of the forest was spectacular, especially the close-ups of the chameleons, spiders and leaves.
Actor Vidya Balan plays Vidya Vincent, the "lady officer".  I cannot of course understand why she cannot just be called "officer". Each time she is introduced, it is as a "lady". Balan of course is someone who has played free-willed women in many films like The Dirty Picture (2011), Tumhari Sulu (2017) and Shakuntala Devi (2020).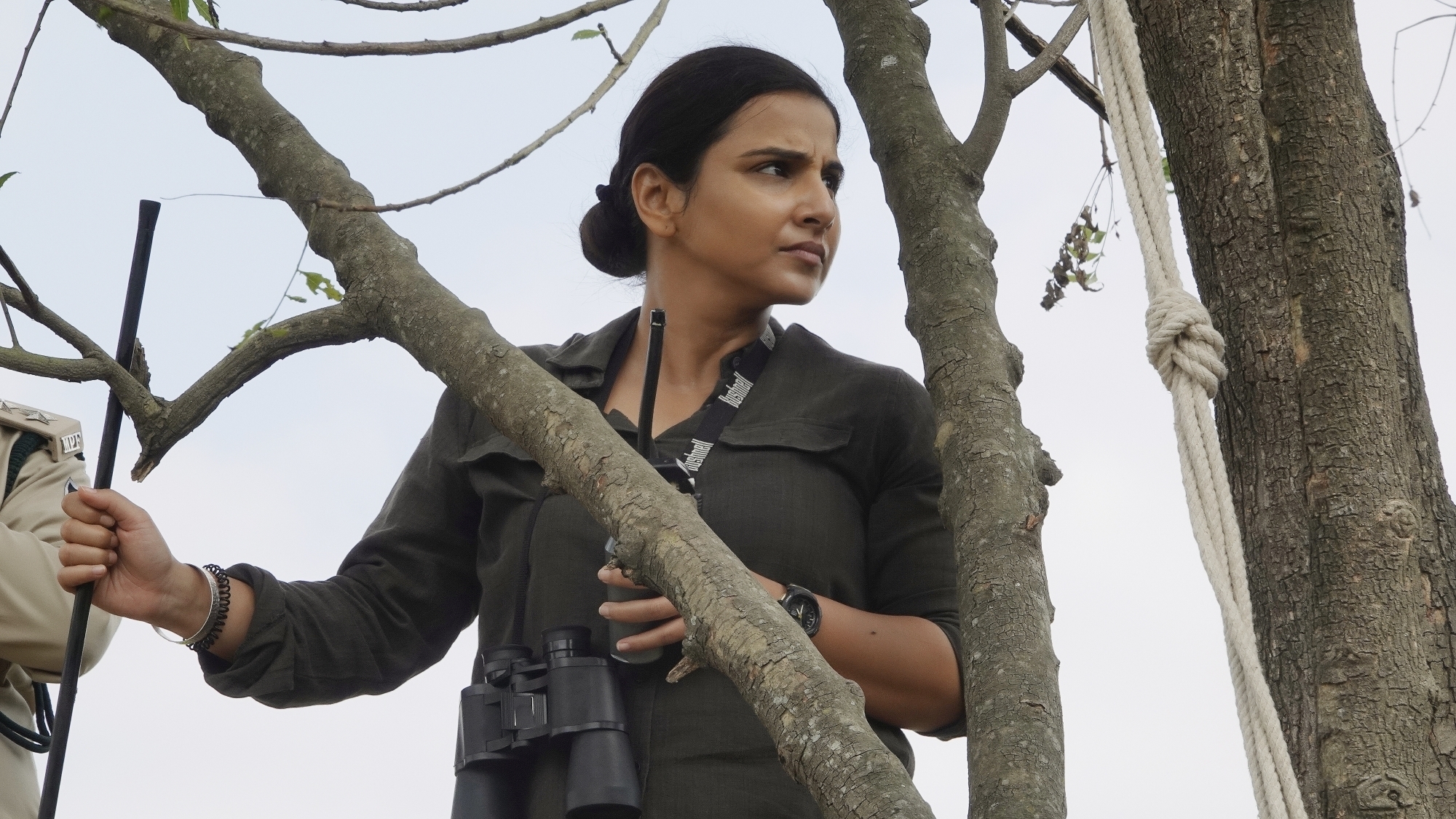 Bansal (Brijendra Kala) is the head, but rather ineffective and slow when it comes to taking action. He introduces Vidya to Hassan Noorani (Vijay Raaz) as an "authority on butterflies". Noorani corrects him saying that he is an expert of "moths", and not butterflies. Vidya and Noorani are the only two who are in support of saving the man-eating tiger's life, which the entire department is after. Initially, Vidya is full of admiration when she meets Nangia (Neeraj Kabi), but towards the end when Pintu alias Ranjan Rajhans (Sharat Saxena) kills the "T-12" tiger, the man-eater, she calls Nangia a coward for supporting Pintu.
Vidya's husband, Pawan (Mukul Chadda) is extremely supportive of her. Though at first he asks her not to quit her job as his company might go into loss during the recession, he later tells him that they will manage somehow even if she wishes to leave. When Vidya's mother (Suma Mukundan) and mother-in-law (Ila Arun) try to persuade her to have children, both Pawan and Vidya say it's not necessary. This is remarkable in this day and age. 
When Vidya first enters her residence in the forest, she finds a kitten. She immediately tells her domestic help to leave it outside on the verandah, but as time passes, she gets attached to the kitten and is often shown petting her saying "I will not leave you". The kitten, a symbol of the tiger. 
So, "T-12" is identified as the killer by Noorani, from a sample he takes from the first victim. Now enter GK, the politician, and Pintu, the "great" hunter — an extremely macho man, who claims to know everything and brags about killing many tigers. He tells Vidya that he can tell if a tiger is a man-eater simply by looking into its eyes. Vidya replies that maybe they should have "T-12″'s horoscope prepared so that they will be able to find the exact location of where she is, which I found quite funny.
The forest officers are very helpful, most of them natives of the region. Once when Pintu points to some excreta in the forest and claims it's a tiger's, a female officer corrects him and says it's a leopard's. Pintu, of course, the macho man that he is, says, "are you trying to teach me?" The lady just exchanges a look with another officer.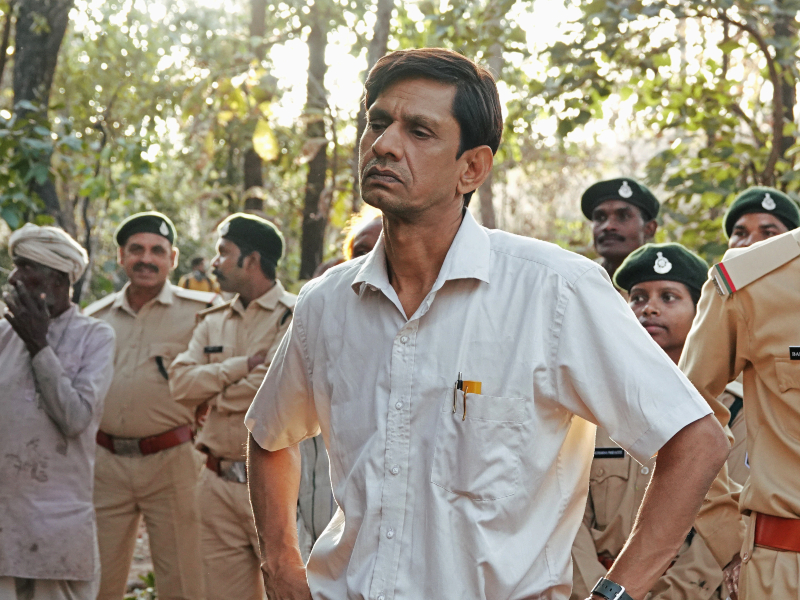 A man is eaten by "T-12", and then a woman. Later another man (Shagun) is found dead. Most claim that it was "T-12", but Noorani insists that it's a bear, and manages to take a sample which later Vidya talks about.
There is a scene where Bansal promises some special oil to GK. One day, GK's driver comes to pick it up. But Vidya sees the bottle and pockets it. Whether it is to continue the meeting or whether she doesn't want GK to have the oil, I am not sure. But I thought it was quite brilliant.
One night, they are all celebrating and dancing foolishly (including Bansal), and he introduces Vidya. As Vidya begins to address them, the politicians arrive and take over. Vidya then moves away and goes to get something to drink. The waiter asks her to select a soft drink. But she asks for whiskey — another great touch. That's when she meets Nangia and praises his work. 
Noorani calls the villagers and asks what would happen if there was no forest. A villager replies that if there were no trees, there would be no rain, and that if there was no rain there would be no water.
At another point, Vidya goes to meet the widow of the man who was killed by the tiger. She hands her a cheque but the woman refuses. So she hands it to the woman sitting next to her.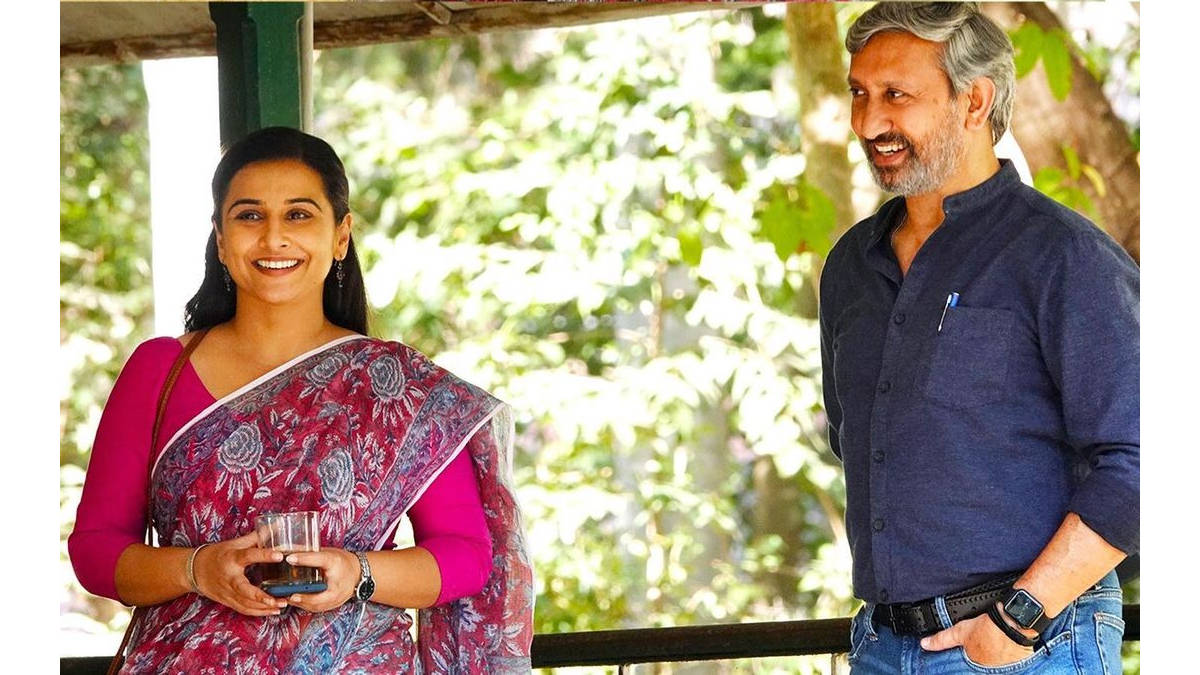 Vidya tries to find land for the villagers which they can cultivate and for their animals to graze on. While assuring them that she will find the plot, one of the women tells her that they weave baskets and put colour on them. She says the forest department will help with that, and gets the entire forest department to do so.
While tracking, Vidya suggests that "T-12" will head back to the National Park. But Noorani points out a problem — a copper mine in between. Vedanta, for example, has mines in states like Goa, Karnataka, Rajasthan and Odisha. They were going to start mining operations in Gujarat as well, but there have been protests. I had sent one of my students to Odisha once for work. When she returned, she made a presentation on the Vedanta mining company and how they had ruined the whole area. Of course, the villagers were protesting, but who was listening?
In the course of tracking "T- 12", the forest officers find that she has two cubs. Pintu then asks one of his henchmen to get a male tiger's urine. This is obtained from a zoo. With this, he traps "T-12". Pintu first kills "T-12", and then asks the forest officers to tranquilise him. He says "beautiful" to describe the dead "T -12", which made my blood boil.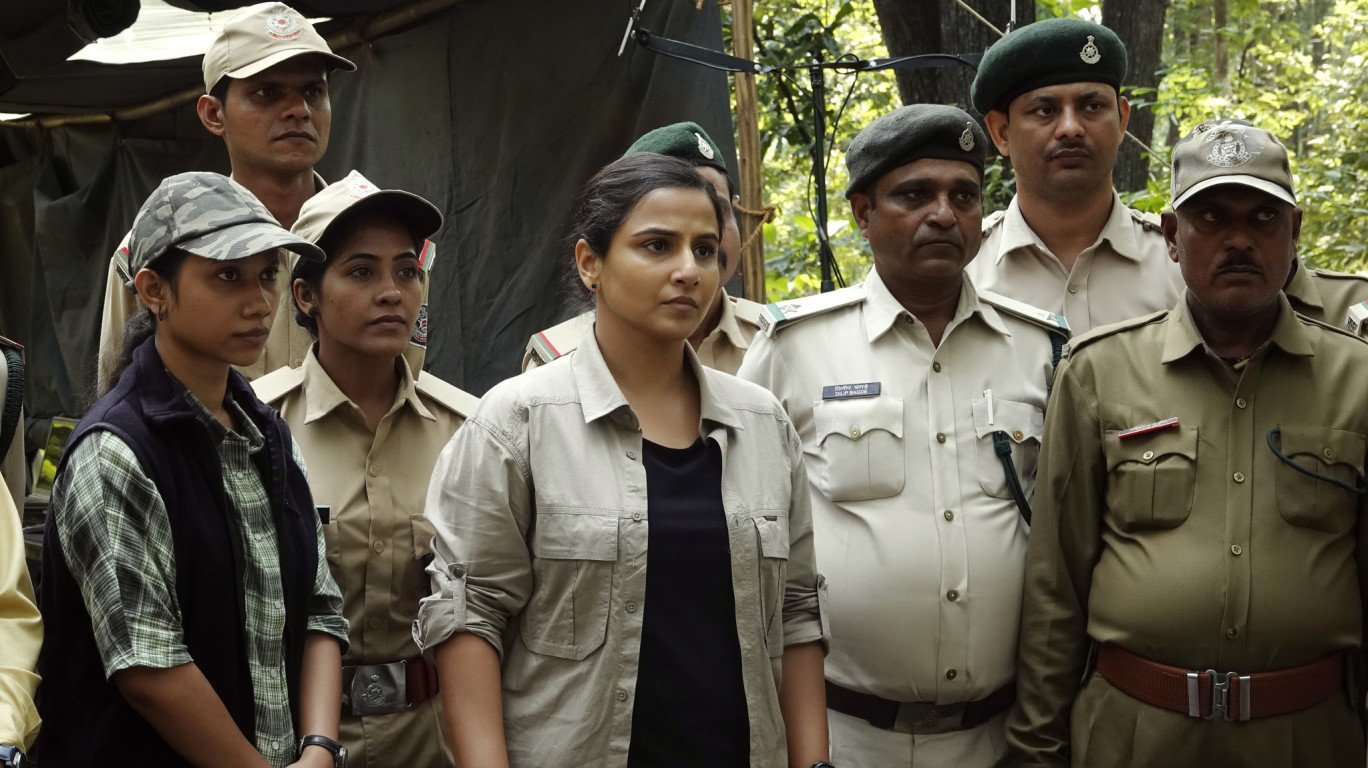 Then the hunt starts for the little cubs. Vidya gets a call and she races there. She has written a letter of resignation, which she then tears up. The villagers take her to where they had found the cubs. One of the village women says that they ate two chickens, because their mother was not there to feed them. The cubs look adorable and this statement makes one feel like crying. She then asks if anyone else knows and they reply "no". She hugs the woman and then says, "thank you".
Of course, Vidya is transferred to another location. A new man comes in her place. The forest officials tell him that his predecessor was "very strict". Remember, she had given a show cause notice to the contractor. The officers also say that she was a "superman" — which means there were two shernis!
Even in her next job, at a museum, she is as particular as before — all the security cameras are turned towards a single direction, focusing on a crack on the face of a stuffed animal. She is then shown as staring at a tiger, clearly thinking of the dead "T-12".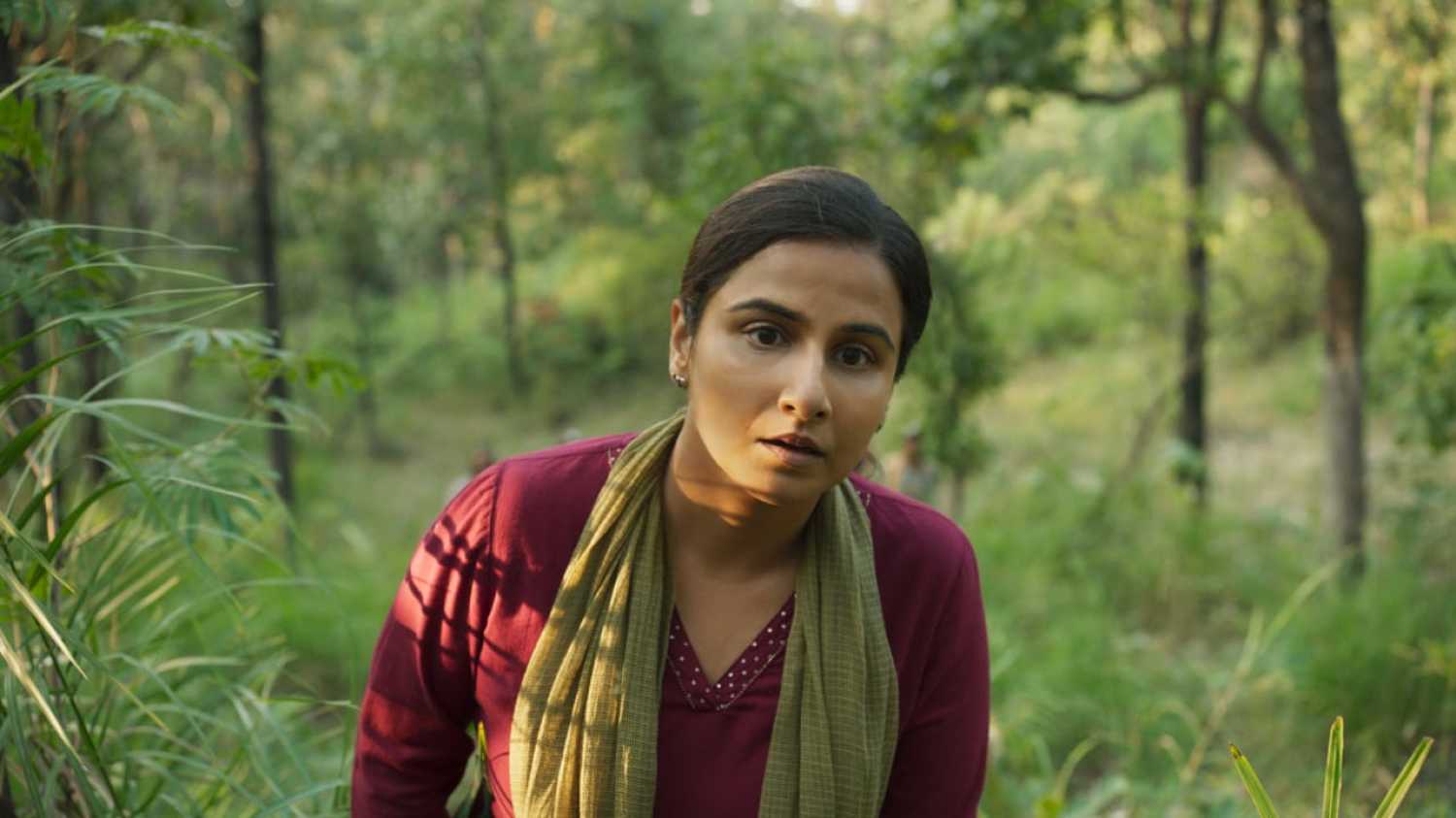 I think there is a strong connection between women and nature. Like a protective instinct. The Chipko Movement was largely a women's movement, it was Wangari Maathai, who got women to plant more 3 million trees in 20 countries, and  today we have young Greta Thunberg protesting against climate change. In fact, India has its own Greta — Licypriya  Kangujam from Manipur, who demands climate-change literacy be made compulsory in schools. 
I wish we get to see more such films, for it so skilfully exposes the problems in the nexus between bureaucracy and politicians in India's forest management.
Disclaimer: The views expressed in this article are the writer's own, and do not necessarily represent the views of the Indian Writers' Forum.