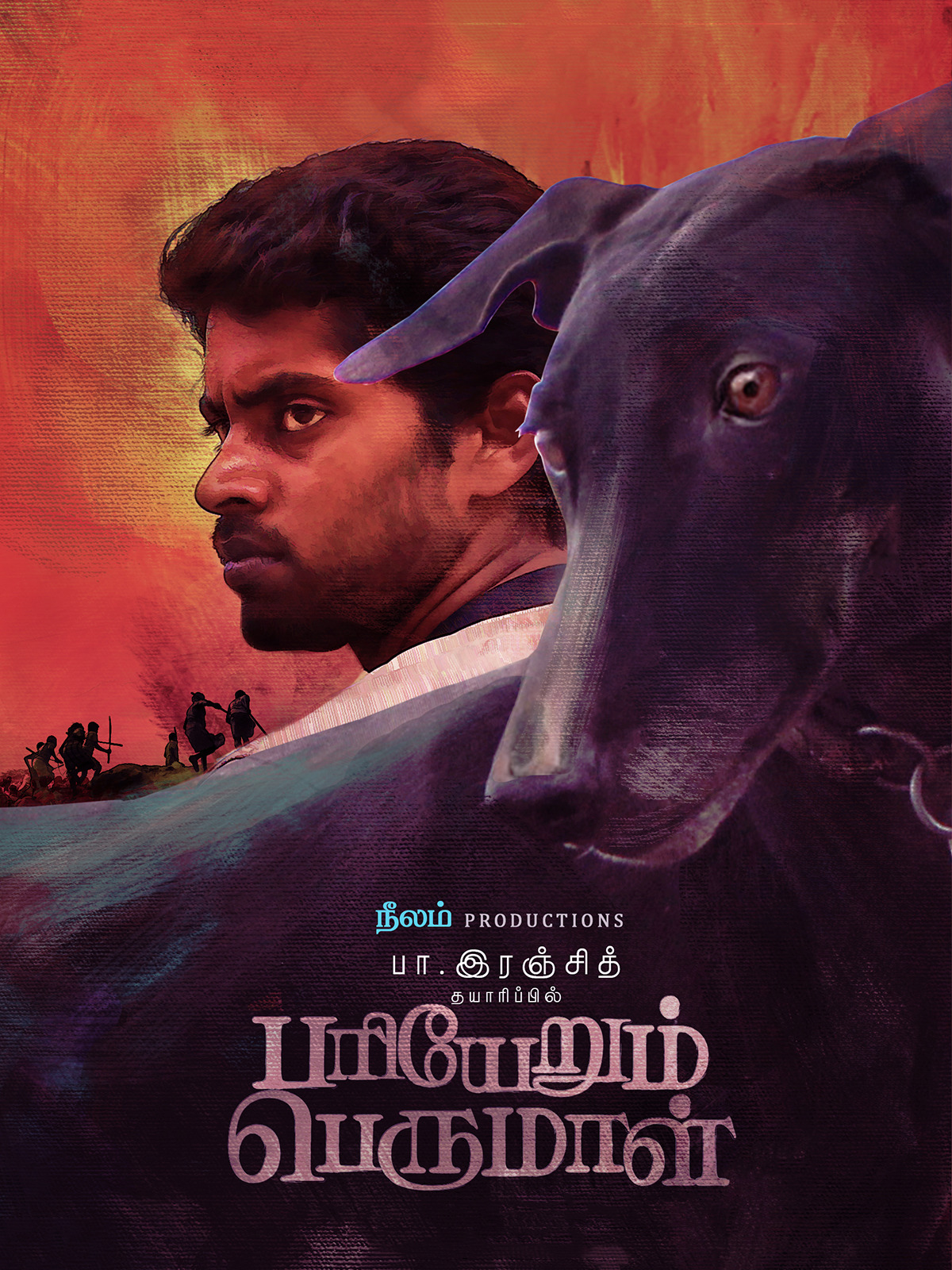 Pariyerum Perumal (2018), which translates into "horse-mounting deity", is Tamil director Mari Selvaraj's directorial debut, which has received a lot of critical acclaim and won many awards by now. The film, produced by Pa. Ranjith, opens with the statement "caste and religion are against humanity", setting the tone for what's about to come. Shot mainly in districts like Tirunelveli and Thoothukudi of rural Tamil Nadu, the film is Selvaraj's attempt to talk about the lives of people in these places. Selvaraj himself had studied law there, after which he left to make films. 
The film begins with a beautiful shot of a black hunting dog walking through a forest. The name of the dog is "Karuppi" (black) and it belongs to Perumal (Kathir Kavin). The dog is tied to a railway track by the upper castes of the village and no matter how hard Perumal tries, Karuppi is unable to run. It soon dies. This is the first instance of caste-based discrimination that we are shown in the film which is peppered by it.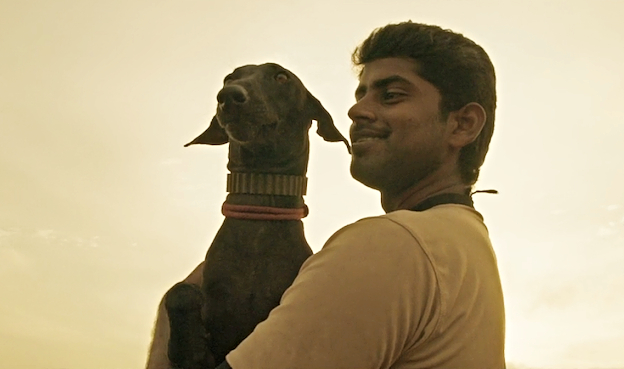 At Karuppi's funeral, we hear a haunting yet beautiful chant as the background score with lyrics by Selvaraj himself. "Your paw scrapes are my trails. In the wilderness, without you how will I find my way? Did you think of me when you were dying?" These are inter-cut with moving shots of Perumal hugging Karuppi. "Can you hear my call, can you hear me cry? Can you hear my heart under the train tearing apart. I want you now. I want to cuddle you. I want you to lick my dirt clean. Who tells you that you went away? How many times have I told you that all humans are not the same. They pamper you and then choke you to death. Are you alive? Am I dead? I know who killed us. Did he laugh when he killed you? Did he hear you bark?" All of these are extremely moving shots that are difficult to watch without tearing up. When I read up, I came to know that honour killings on  the railway tracks are a common sight in that region of Tamil Nadu.
Later on in the film, we see that the village elders push Perumal to study Law and he applies to a Law College in the city. During the interview with the college principal (Poo Ram), Perumal tells him that he wants to become a doctor. The principal replies that this is a Law College. To which Perumal explains that he wants to become a doctor like Dr. B R Ambedkar. The principal, anticipating trouble, asks his assistant to note his details down.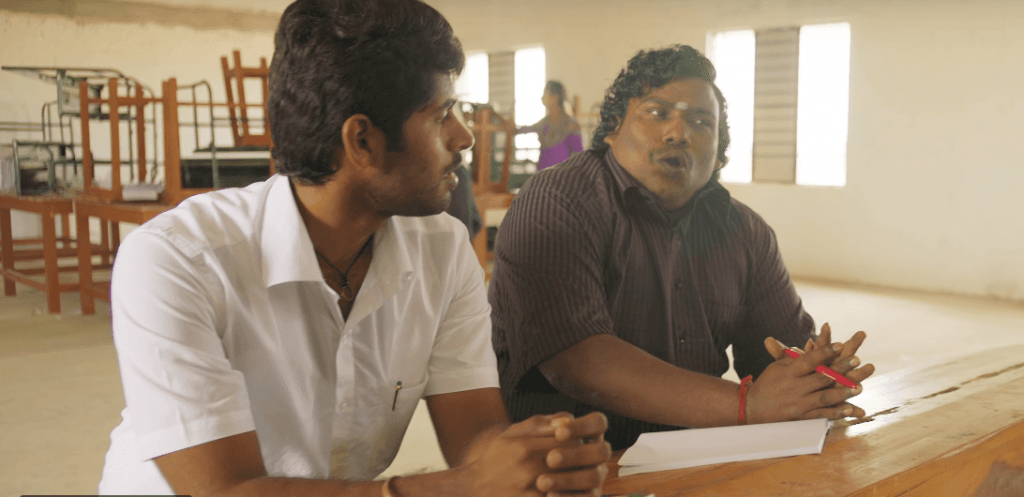 At college, Perumal and his friend (Yogi Babu) are unable to understand English. He falls in love with Joythi Mahalaxmi or "Jo" (Anandhi), who belongs to an upper caste and the relationship irks Joythi's family. She is shown as a naïve girl from the Ambasamudram town in Tirunelveli and falls for Perumal's innocence and honesty. As she sees him struggling, Joythi agrees to teach him English.
Let me digress a bit here. I went to one of the best schools in India, but sadly, even there, we used to mock our teachers' accents if they were not "proper". Once at college, we were training some Marathi teachers to teach science on television. We were dealing with the parts of the eye and instead of "sclerotic", one of the teachers said "clitoris". All of us laughed loudly in front of her in the control room. It was only then that I understood the true meaning of colonisation and the sheer pressure to speak a language that was one's mother tongue. The British forced their language on us many years ago, and now the elite among ourselves make fun of those who can't master the language. This is a sad state of affairs. This is especially why when I teach, I make sure that my students understand what a mess the British really made of our country!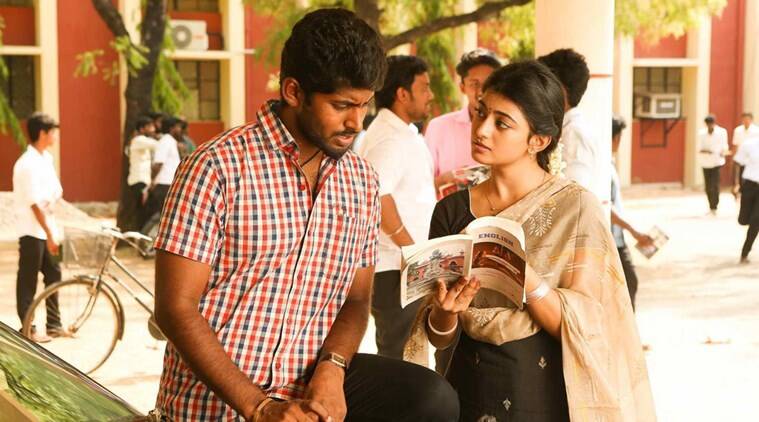 So, Jo's English lessons for Perumal begin and they soon fall in love with each other. Up until then, the story is wonderful but the problems begin soon. Jo's sister is getting married and she invites no friends except Perumal to their home. He comes home and Jo wants her father (G. Marimuthu) to meet him. The father sends her to get some jewelry at the time and so, when Perumal comes dressed up with a wedding gift wrapped in blue, she is not there. Jo's father soon goes up to him and begins to chat. Later on, Perumal is taken to a small room where a rather revolting scene takes place. The father tells him to stay out of Jo's life. Following that, Jo's cousin and his group of friends soon enter the room and start beating Perumal up very badly and then go on to urinate on him. It is unbearable to watch. He is then locked up inside the room.  
The following day, Perumal says nothing about this to Jo and she believes that he did not turn up for the wedding. Since the father has demanded that he stays away from her, Perumal lies and tells Jo that he went to play kabaddi and got bruised. Perumal soon starts drinking and even comes to class drunk. Seeing this, the teacher sends him to the college principal, who demands that he bring his father. He goes to the village and brings back someone who is not his father. At the principal's office, the man hits Perumal badly and seeing this, the principal lets him off.
At another point, Perumal decides to occupy the front bench somewhere. The cousin sees this and makes a scene declaring that it is "his place". Perumal asks him where it is written and the cousin shows him. The next time Perumal sits on the bench, he carves his own name on it. When he returns to class, Perumal sees that his name has been scratched out. Annoyed, he smashes all the benches in the classroom and walks out, but someone pushes him into a toilet.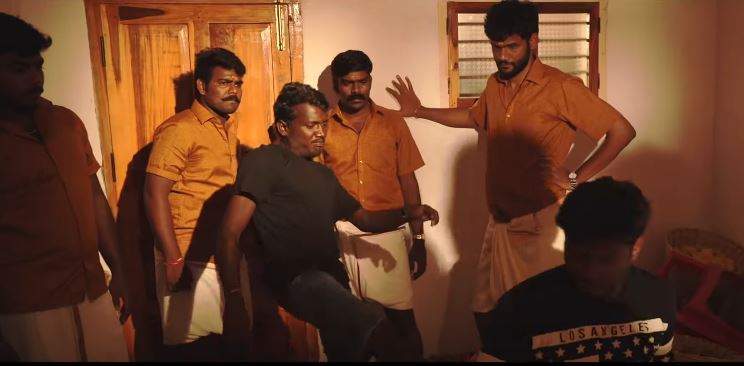 After some days, Perumal returns to college. He is yet again asked to bring his father for his absence the previous days. He goes to the village and brings back his real father (Vannarpettai Thangaraj), who plays female roles in plays. The principal gets confused and asks him who he is, to which he replies that he is Perumal's father. Naturally, the principal asks who the other man was and asks the father to wait outside while he speaks to Perumal. Inside, the principal tells Perumal that he too is a cobbler's son, but everyone respects him now and even touches his feet because of his education. He then advises Perumal to study and that "everyone will respect him if he is educated".
However, a more important scene takes place parallelly outside. The father outside is mocked as a eunuch by the same gang that had attacked Perumal. They make fun of him, rip off his lungi and chase him publicly. Hurt and furious, Perumal goes after them. He is soon taken to a hospital. As he lies there with a knife in his hands, his mother insists on taking it away. She tries to pacify him by telling him that the father has been through far worse.
---
Also Read | Caste in Indian Cinema, 1930s to 2016: Jeroo Mulla
---
After this, we see that the problems worsen. Seeing that Jo keeps following him around, the cousin travels to Perumal's village and orders an old man to kill him. The old man does as he is asked and one day pretends to have hurt his leg in front of Perumal, who offers to help him. They both get on to a bicycle after some time, the man pushes the bicycle and Perumal falls down a ditch. They get into a fight but the man succeeds in dragging him to the railway track and leaves him there. Perumal is in a daze and dreams of Karuppi who appears in front of him in blue colour. She licks his wounds gently and then as the train draws near, the blue Karuppi disappears. Perumal gets up and manages to drag himself off the track just as a train is nearing. As he runs away, some men try to attack but he fights back. Finally, Jo's father appears in a car and Perumal throws a stone, smashes the wind shield and then tells him what he thinks of him. We then see that the old man, who tried to kill him, sits on the track and waits for the train to kill him.
When Perumal returns to college after this humiliating episode, he is told that he has cleared both the English papers. He goes to thank Jo for the help where a moving scene takes place. They sit together and Jo, with closed eyes, tells him that she loves him, giving him a bar of chocolate as a gift. He breaks it and gives her the first piece.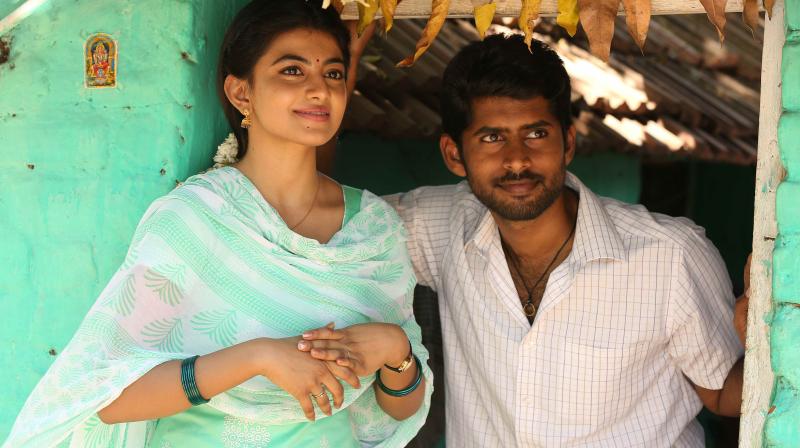 She then arranges a meeting between him and her father, and makes the cousin apologise to Perumal. They shake hands reluctantly.  Jo goes to fetch something to drink and signals to Perumal to keep talking. The father asks Perumal why he has not said anything to Jo. He replies, "she loves you more than she loves me", and so he couldn't tell her. The father is slightly embarrassed, but tells Perumal that his daughter likes him as much as she likes the father. "I also know that she wants to be with you. She is so obsessed with you. How do you feel about her?", he asks. Perumal replies, "Before I could understand it, you tore me to pieces. Your daughter is lucky that she can say anything anywhere. Look at me. I have to die so many times before I can begin to say what I feel."  The father says sorry and tells him he is a good person.  "Study well", he says. "That's all I can say for now. Maybe things will change". Perumal replies, "as long as you can say what you want and expect me to be the dog that you want me to be, nothing will change". Jo returns with tea and coffee and the song ends with a lovely song: "Lets run around like little trains. Are you still upset with me? Forgive me, let's go on, why do you stand aside and look at me? Let's hold hands and walk away like we used to. You are my favourite. Am I your team or not?  Tell me if you will come along? I promise you I will. "
There is uncertainty about whether they will get married, but there still seems to be some hope. But one cant help but wonder if things will change or whether as in Nagraj Manjule's Sairat (2016), they will see a tragic end as they dared to challenge the caste system.
Disclaimer: The views expressed in this article are the writer's own, and do not necessarily represent the views of the Indian Writers' Forum.