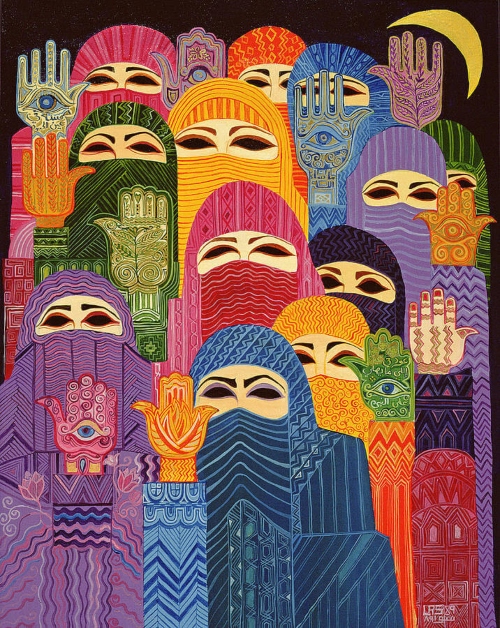 Sheikh Jarrah, the historical figure, was a physician to Sultan Salah al-Din in the thirteenth century; his tomb stands in the East Jerusalem neighbourhood that bears his name. The area is also identified with the ancient Jewish priest Simon the Just, whose cave-tomb started drawing large crowds of pilgrims in the late-nineteenth century. In this period, from around 1870 to the 1890s, Sheikh Jarrah emerged as an affluent, composite residential neighbourhood, most of the homeowners being Muslim Palestinians, Jewish families soon coming a close second, followed by a small number of Christians. Shades of its erstwhile character are reflected today in the presence of the odd luxury hotel along with several consulates. 
With the formation of the state of Israel in 1948 came al-Nakba, or the catastrophe, when 700,000 Palestinians were forced to flee their homes. In 1956, Jordan, in control of East Jerusalem since the Ottoman period, resettled a small number of displaced Palestinian families in Sheikh Jarrah, 28 families in all. But the Six-Day War of 1967 ended with the loss of Jordanian control and takeover by Israel. Over the following decades, Israel revoked the residency of at least 14,643 Palestinians in Jerusalem. 
On May 10 this year, Israel's supreme court was to decide the fate of four Palestinian families who would face immediate eviction from Sheikh Jarrah if the court found against them. The future of 19 Palestinian families threatened by similar proceedings hung in the balance. The claimants to their property were Jewish settlers asserting that ownership had passed to them, via a purchase made in 2007, from two Jewish organisations that had acquired the land in the late nineteenth century. The legal questions this raises have a broad ambit: Is Israeli law applicable to a period when Jordan held jurisdiction over East Jerusalem? Can Palestinian families settled there by the Jordanian government be viewed as squatters? The Israeli human rights organisation B'Tselem has pointed out that courts regularly uphold the claims of Jewish settlers against Palestinian residents. Israeli law skews to favour settlers, who may claim land on the basis of pre-1948 records, even though Palestinians do not have the option of returning to the homes they fled in 1948. Human rights groups have maintained that the prevailing system of discriminatory laws and the manner in which they are implemented meets the definition of ethnic cleansing and apartheid. (Mohammed el-Kurd, one of the residents forcibly removed from Sheikh Jarrah in 2009, explains here why "forced ethnic displacement" and "war crimes", rather than "eviction", is the correct way to describe what has been going on.) The Palestinian residents of Sheikh Jarrah have held weekly non-violent protests ever since state agencies began a campaign to expel them in 2008-09. 
Tension was mounting in the neighbourhood as the day of the supreme court judgement drew nearer. The last Friday of Ramadan, which fell on May 7 this year, has been marked since 1979 as a day of pan-Islamic solidarity with the people of Palestine, Quds Day – al-Quds being the Arabic name of Jerusalem. With al-Aqsa mosque at just a kilometre from Sheikh Jarrah, crowds of people gathered there to pray and protest, but were assaulted by the Israeli police, who fired rubber bullets and threw stun grenades at them, while the crowd retaliated with stones and bottles. At least 163 Palestinians and six police officers were injured. Jerusalem Day celebrations – to mark the capture of East Jerusalem in the Six-Day War – fell on the same weekend, from Sunday evening through Monday, with crowds of triumphalist, flag-waving Israeli youth taking to the streets. By early Monday morning, May 10, violent clashes had escalated on several fronts, with rocket-fire from Gaza, airstrikes by Israel, and the Israeli police storming the compound of al-Aqsa with rubber bullets, stun grenades and tear gas, leaving more than 300 people injured. The war had begun.
Benjamin Netanyahu's government has previously used violence against Palestinians in an opportunistic way, to shift Israeli public opinion further to the right and even to overcome domestic political crises. Following national elections in March, Netanyahu and his Likud party were out of time to form a viable government and, on May 4, it fell to the opposition Yesh Atid party to assemble the required number and stake its claim. Failing that, Israel would head for yet another election, its fifth in two years. In another worry for Netanyahu, a corruption trial against him, on charges of bribery, fraud and breach of trust, had resumed in February. His administration was also in bad odour with the Israeli public after the April 30 stampede at a religious festival of ultra-orthodox Jews, which left at least 45 dead and over 150 injured. Upping the ante against Palestinian protesters, especially during the week of Eid festivities (May 12-13) and Nakba Day (May 15), offered him a chance of political consolidation. It was a tried and tested ploy.
Israel's overwhelming firepower combined with its stranglehold on Gaza and the West Bank have ensured that it holds all the cards in its hand. Declaring war and setting the terms for peace are its prerogative alone. In Israel's military circles, the complacent expression for bombing raids, missile strikes and ground offensives against Palestinians is "mowing the lawn": a periodic and salutary dose of violence that keeps the Palestinians in line. The campaign, in many essentials, was no different this year: by the time ceasefire took hold on May 20, after 11 days of bombardment, Palestinian casualties vastly outnumbered those among the Israelis, while the physical damage to Gaza and the West Bank was of an order that will take years to overcome. In the Gaza Strip alone more than 80,000 people were left homeless, their homes either damaged or destroyed by the bombing. Hospitals in both areas, already overwhelmed, were now swamped by the injured. The electricity and water supply were left in worse repair than ever. 
Yet, the plot had  slipped completely out of Israel's control; Netanyahu's gambit proved an act of national self-harm. For one, the war overflowed its earlier bounds as civil strife exploded within Israel, Muslim and Jewish citizens setting upon one another at Acre, Lod, Bat Yam (near Tel Aviv), Haifa, Tiberias. The Likud and its various allies have for years fomented right-wing aggression against non-Jewish minorities while pushing opposition parties to the wall. All those divisions are out in the open, the political left as well as communities in the Jewish diaspora making it clear that the government does not speak for them. 
While the U.S. government showed its customary support to Israel by blocking, no fewer than five times, UN resolutions for a ceasefire, and President Biden, along with the Democratic leadership in the House and Senate, faithfully repeated the old line about Israel's right to defend itself, the political ground had shifted significantly from under them. Progressive legislators, from Bernie Sanders and Elizabeth Warren in the Senate, to House members of what is called "the squad" – Alexandria Ocasio-Cortez, Ayanna Pressley, Ilhan Omar, Rashida Tlaib, Jamaal Bowman and Cori Bush – were outspoken in their criticism of Israel and on the need to restrict its U.S. arms supplies. The influence of their supporters continues to be felt within the government. On May 25, Secretary of State Antony Blinken announced that the U.S. consulate in Jerusalem, downgraded by the Trump administration, will once again function autonomously of the U.S. embassy in Israel. With this, direct diplomatic relations with the Palestinian Authority have been restored, to Netanyahu's chagrin. 
In 2001, the Global Conference Against Racism at Durban, and its successor conference at Geneva in 2009, had been derailed by Israel's Western supporters and patrons. This was done in order to scupper a proposal recognising Israel as an apartheid state. National governments and their foreign policy interests had trumped the demands of people's movements. This time around, the global impact of the Black Lives Matter and Me Too movements has managed to sideline governments and formal political institutions, as new forms of global public communication and solidarity have emerged. Public opinion in the U.S., Israel's most important and powerful supporter, has been shifting in recent years. "Apartheid state" is now used widely to describe Israel, both by progressive legislators (many of them active in the BLM and Me Too movements), and a call for UN investigation into Israel's apartheid has come from jurists and 700+ Members of Parliament in the Global South, 400+ civil society organizations and in public documents such as the Human Rights Watch report of April this year. Of course Palestinian civil society has been saying this since decades. The scale of public rallies held all over the world in support of the Palestinian people is another indication of this shift. (Look here, here, here, here, for a bare sample.) Israel's targeting of media offices and the extraordinary scale of children's deaths, mostly in Gaza, exposed both the insolence of the bombing campaign and the heartrending scenes that followed, to worldwide shock (here, here and here are reports from three global media organisations).
Whereas right-wing aggression, promoted over the years by Likud and its allies, has brought Israeli society to breaking point, the Palestinians presented a united front. They used grassroots organising and social media effectively to bypass the filters of legacy media organisations and reach their stories to the world at large. A range of online figures and voices countered Israeli propaganda, and whether their sympathies lay with the PLO or Hamas or another idea altogether, little daylight showed between them. (Meet, for instance, Bashar Murad, a young pop and visual artist who challenges Israel's "pinkwashing" alibi of being a liberal paradise for LGBTQI+ people, contrasted with a homophobic Palestine.)
Israel's war crimes did not end with the ceasefire. On May 23, troops escorted a crowd of settlers into al-Aqsa mosque and assaulted worshippers at their dawn prayers. A guard at the mosque who tried to film the incident was arrested. The same day, Israel closed both its border crossings with Gaza. Whether this was petulance, the Netanyahu government trying salvage some lost dignity with a show of force, or an augury of the weeks and months ahead, still remains to be seen. For now, Sheikh Jarrah is under close Israeli guard, but Mohammed el-Kurd, the resident uprooted in 2009, is hopeful, inspired by the unity of the Palestinian uprising. International attention has forced the Israeli attorney general to get involved. Any further expulsions are on hold until June 8. Palestinians view this as a victory: what was treated as a property dispute is now a case with implications under international law.