A few years ago, as part of the Zubaan Oral Archives Project, independent researcher, writer and women's rights activist, Sahba Husain spoke with several other women activists about the women's movement in India.
In the second of this series, Sahba spoke to Indrani Mazumdar, who began her political journey in 1972 as a student activist/leader with the Student Federation of India (SFI) in JNU. Mazumdar later joined the women's movement as a member of the Janwadi Mahila Samiti (AIDWA) and was its general secretary for more than six years. Her research and publications focus on Gender and Migration.
In the following excerpt Mazumdar talks about the women's movement, anti-dowry movement, Uniform Civil Code and more.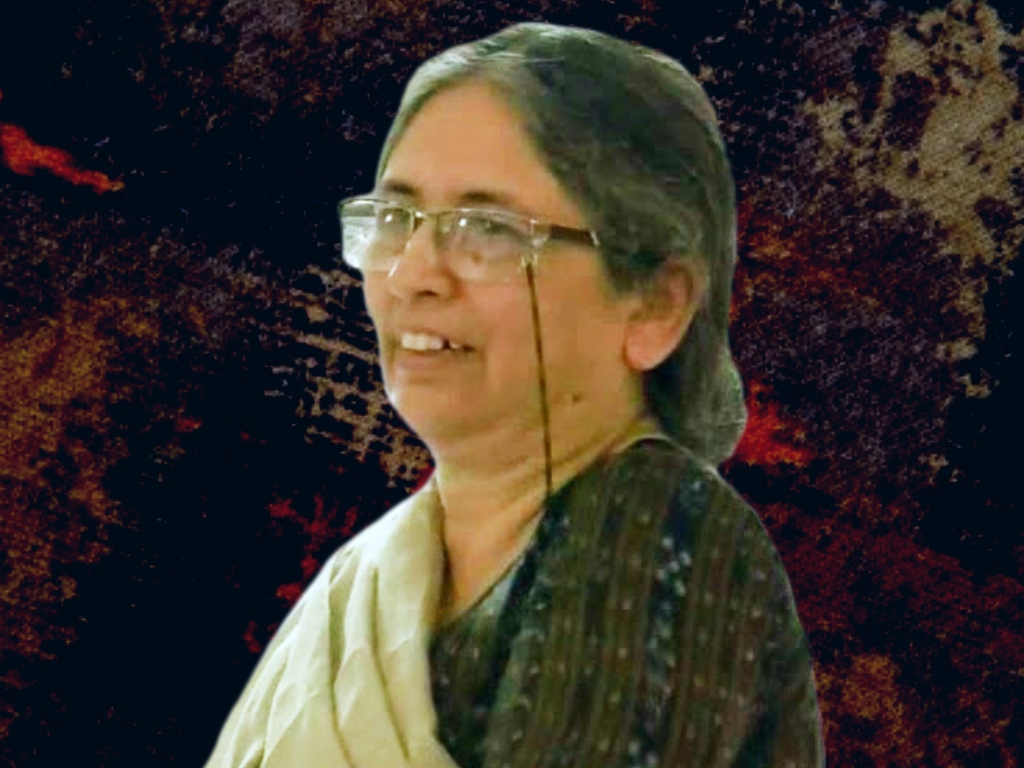 Sahba Husain (SH): How did the women's consciousness develop? Was it through these local issues and struggles?
Indrani Mazumdar (IM): Well, if you go by their conversations or if you go by the issues they think are important, two things would always come up. One is of course the local issue and then it seems to be confined to their immediate surroundings.  On the other hand, there is this feeling that when they come out they acquire an importance that they never had in their lives. Having come out of their homes, they begin to feel empowered. Their feeling of identity also grows, as they become members of the organisation, leading to a sense of empowerment, meaning and significance in their daily lives. It is an immensely important motivational force, which, I do not think, is often realised. So, when you hear their conversation, it may seem confined but at the core of it there is an urge for something more from life and that is really what is the important factor that is brought out by the women's movement. 
SH: Did these women face any resistance from men in their family?
IM: There were mixed experiences regarding this. Some men were very supportive; some were so because they loved their wives and not because the men were political in their outlook. Some men opposed due to the domestic disruption it caused because life is hard for the women as domestic work is quite time consuming and when a woman gets busy outside, something in the house remains un-done. There were also men who were restrictive and felt that their women should not go out as it was below their dignity. At times there was violence within the home. Sometimes this violence would result in the woman becoming inactive or it could also result in a woman becoming more active, but only when there was support from other women. The neighbourhood made a lot of difference in this regard and also when our organisation was able to strike support with some social/cultural local groups. This kind of collective support made a lot difference, even when women faced domestic violence after participating outside. In a household where there is domestic violence, to intervene in a sustained manner is a difficult proposition. For a sustained leadership and activism, a degree of mental freedom from domestic tensions is a necessity to some extent. 
SH: Tell us a little about the 80s when the anti-dowry movement began.
IM: When this movement was at its peak I was still a student and not in the women's organisation. It is from the students' side that we mobilised against the dowry system. Two issues used to come up among the students: one was the issue of "eve-teasing", which drew a huge response and it was because of the students' movement against it that a law was enacted in Delhi. For the anti-dowry movement we went around the colleges and found that almost every girl had a story to tell. So, there was an enormous upsurge even among the students. But in the general campaign of JMS, I was not so involved as I came in at a later stage. Then, the Parliamentary Committee had come out with a report on dowry legislation, which was already in the public domain, and at the time I joined, this is what was being discussed. 
SH: This was also the time when the Shah Bano case had come up leading to the issue of maintenance for Muslim divorced/abandoned women. 
IM: The Shah Bano case and the movement against the Muslim Women's Bill came up in the mid 80s and by then there was a certain change taking place already. One is of course the rise of the right-wing Hindu fundamentalism when the VHP had taken out a rally at the boat club in Delhi and this was also the time when the locks on the Babri Masjid were opened. I remember one of our women members had said in our party conference that this movement in Ayodhya had taken roots in the rural areas. That was one context but it was at this time that the Shah Bano judgment came where the Supreme court had granted maintenance to her which was really a pittance; 175 rupees a month. Following this, when she was given maintenance under CrPC 125 (Criminal Procedure Code) instead of the Muslim Personal Law, this led to a reaction from the Muslim fundamentalists who opposed it. At that time Rajiv Gandhi was Prime Minister and he brought in the Muslim Women's Right to Maintenance Bill which sought to deprive Muslim women of the right to maintenance under Section 125 and in its place put the question of maintenance under the Personal Law and effectively deprived a Muslim woman from getting maintenance from her husband. There was a big reaction to that from Muslim women and I must tell you that even before this happened there were cases coming in of dowry deaths of Muslim women. We took up the first such case from old Delhi and organised a big demonstration in front of the police headquarters as no action was being taken regarding the case. I had dealt with the case in our Samiti and I went with the women for the demonstration. There were at least 250 women, all clad in burkhas but since there was no publicity prior to it, this particular struggle sank without a trace in the history of the movement, despite the fact that it was for the first time that these Muslim women had come out of their homes and it was not a forced mobilisation, there was a spontaneity to it and it signified the feeling of uncertainty and anger that was growing amongst them. 
SH: Tell us about the kind of campaigns as well as the debate on the Uniform Civil Code.
IM: In the initial stages the broader demand of the women had been for a Uniform civil Code (UCC) that would provide certain rights to women, whatever their religion. At this time, in the background of the MW Bill, the Hindu Right led by the BJP also started talking about the need for a UCC when reforms in Hindu Code Bill had already been made. So, when they took up the issue of UCC it was to use it as a stick to beat the Muslims with. For them the UCC was not about equal rights for women but that Muslims have some separate set of laws and they had to be attacked for it. This was a difficult situation for the women's movement and therefore, instinctively the response to the MW Bill was that Muslim women should come into leadership of this movement against the Bill which was clearly depriving them of their rights that they had hitherto had access to. Many meetings were held and demonstrations organised in several areas, and the response, as I said, was enormous. At no point of time, in that whole period did we come across an opposition to this from the Muslim women on the basis of their identity. An all-India demonstration was organised in Delhi where Muslim women came from all over the country to participate. It was for the first time that people in Delhi were exposed to a full range of characteristics that Muslim women had from different parts of the country. Not all of them were in burkhas and the different cultures within the community were there for all to see. 
Given the attack from the Hindu Right, it was felt that Muslim women should take leadership positions and be in the forefront of this struggle. It was a tense period; the MW Bill was passed despite such opposition to it from women. There were very significant speeches made in Parliament also but usually parliamentary debates do not directly affect the people as such but those debates on the MW bill had particularly evocative influence on people but then the Rajiv Gandhi government anyhow passed the Bill. However, the mobilisation of Muslim women and the experience of engaging with minority Muslim women was a very rich lesson for the women's movement and it is from there that those who are engaged in mass movement came to a different understanding that the UCC had no backing of a mass movement and to build that, the slogan was shifted from UCC to 'Equal Rights, Equal Laws' regardless of whatever framework the Personal Law had. That's the context in which it became a key slogan. It has been of enormous benefit to the women's movement in actually bringing in different levels of consciousness of women into a broader, secular movement. 
The period of 80s had three major issues: dowry, MW Bill and anti-Sati agitation. In this period you really see that the women's movement and its leadership acquires an understanding of how a mass movement, in a diverse country such as India, including so many different identities of women, how they all have to be brought into a common movement. This is an enormous gift of the 1980s to the women's movement that the leadership that grew out of it has this understanding and has been able to carry it forward even in the later period. I don't know how to put it exactly but there is an experience, an intangible kind of experience that has grown in the women's movement because of its mass character.
SH: After many years in JMS/AIDWA, you moved to work with the trade unions in Noida. Was this too the party's decision?
IM: This is a difficult question because it was a combination of the two. I personally felt that there were several things that we had to do in the women's movement, that there was much more required to bring the creative energies of the class of women that was mobilised in our organisation. As general secretary of the organisation then, I felt that it was not correct for me to continue as in some spheres of the organisation, there were differences. So, I realised that one could be part of a team but not lead it if we are not on the same level of understanding. So, at that time I felt that I should not continue as general secretary. There was a lot of discussion and at that time the party decided to transfer me to the trade unions in Noida. 
SH: So, after working in the trade unions you came into women's studies at CWDS? When was this?
IM: I ceased to be a whole-timer of the party in 1998. Initially I was looking for work so I did various kinds of consultancies, as I did not have a job. I mean I did not have any income and I had no savings at all. This was also the time when Sitaram and I got divorced, sometime around 1998. Looking for a job was quite an eye-opener. A long period of activism and an equally long period of being a whole-timer gave me an enormous amount of experience but it did not have any value when I started looking for a job. It was in fact a negative thing; it was a big problem indeed because for every interview I gave the first question asked was, oh, you are a CPI-M member, and how can you be objective? Anyways, it is now more than ten years that I have been working at CWDS.
SH: It is like a full circle for you since your mother, Vina Mazumdar had started this Centre as well as the Indian Association of Women's Studies.
IM: Yes, it is. However, after all the years of being deeply involved in the movement, I feel that in my present situation, I am only a part-time supporter of the movement; I am on the periphery. I am not central to the movement any more. But the ideas of the movement and ideas with which I went into the movement, they are a part of my being and quite integral to my work. And, whenever I look for meaning in research, to my mind only that research is meaningful when it is of value to the movement.
This is a lightly edited extract from an interview that was part of the
Zubaan
Oral Archiving Project. Republished here with permission from the publisher.