When Justice K Chandru retired as a judge at the Madras High Court with a tenure lasting close to six and a half years, he recorded one of the most prolific rates of disposal in the country with having disposed of 90,000 cases. Some of his landmark judgements include ruling that women can become priests in temples; ruling in favour of a common burial ground irrespective of caste; scrapping police permission for staging plays, and ensuring community based reservation in noon meal centres. 
In his recent book, Listen to My Case, Justice Chandru recounts legal battles that reinforce the possibility of justice earned by those who rise from the margins and challenge the status quo. A phenomenal testament to the individual and collective grit and resolve against the patriarchal-brahminical social orders, this book invokes several questions. The ICF Team spoke to Justice Chandru who offered insightful responses to issues of the recent conversion laws, role of people's movements in the functioning of the judiciary, and more.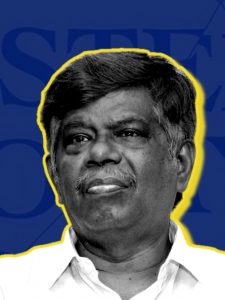 Indian Cultural Forum (ICF): A society that is patriarchal on the one hand, and is diverse on the other, what are the conflicts that come into existence when it comes to rulings that establish women's rights? 
Justice Chandru (JC): Judges do take oath under the Constitution.  They also swear they will uphold the Constitution without fear or favour, affection or ill-will. Besides Article 15 mandates that the state shall not discriminate against any citizen on grounds of sex. Similar provision also found under Article 16 relating to public employment. The fundamental duties enshrined under Article 51A, particularly, 51A (e) which obliges to renounce practices derogatory to the dignity of women. When there is so much guidance for us under the Constitution, the patriarchal ideas cannot get the better of us. The normal conflict will come only if you hold on to the tradition and archaic religious ideas.  Sometimes the legal precedents laid by the courts in the foregone days may be used to deny the true equality to women and once you are sensitive enough, you may get over them with constitutional principles.  
ICF: The new anti-conversion laws that have been passed by several state governments are being peddled as necessary for protection of women. How far do you think the women's case is being heard in the context of these laws? 
JC: The anti-conversion laws are anti-thesis of the religious freedom guaranteed under Article 25 & 26.  It does not give protection to any women.  But on the contrary, it denies the constitutional right of their choice to believe and act in terms of any religious principles. Some of the latest laws brought in allegedly to stop the so called "love jihad" are liable to be struck down as unconstitutional. I do not think in a state like Tamil Nadu the judiciary is influenced by these new Hindutva campaign. However, this may not be true in case of judges who have RSS bent of mind and appointed through Hindutva channels. However, the legacy reform and social justice which has been prevailed for several decades will also make them afraid of any deviation.
ICF: Considering that interpretation of law is a significant part of the judicial process, what extent do socio-political movements at ground level influence this interpretation?
JC: The socio-political movement at ground level are also responsible for greater influence in the judicial thought making process. It can be seen that in the matter of "honour killing", sexual harassment and POCSO cases the judiciary is very much alive to the ground level movement and many times never want to go against the current. 
ICF: Increasingly we have witnessed not only appalling sexist remarks from judges, but these have also translated into disappointing judgements in cases where women approached the courts. What measures, at an institutional level, can be undertaken by the judiciary at large to ensure that its work aligns with fundamental values of the constitution, as well as progressive socio-political transformations underway. 
JC: It is true that some elements in the judiciary make obnoxious sexist remarks.  But that is only a minority. Since there are vigilant women's movement which comes out open against patriarchal observations or decisions, the judiciary also to some extent stand corrected.  Today we have more than 50% strength of women in the sub-ordinate judiciary and substantial girl students in law colleges. Even in the higher judiciary a considerable number of women get appointed.  May be in Tamil Nadu we have 13 women judges out of 60 which is the present compliment. Besides this, we have the State Judicial Academies and National Judicial Academy in Bhopal wherein sensitisation of judiciary based on fundamental constitutional principles do take place. The press also plays a good role as correctional institution.  May be all these arrangements will have only a limited sphere of activity. What is required a large scale peoples movements alone will be guarantee to prevent the judiciary going astray.