A few years ago, as part of the Zubaan Oral Archives Project, independent researcher, writer and women's rights activist, Sahba Husain spoke with several other women activists about the women's movement in India.
In the second of this series, Sahba spoke to Indrani Mazumdar, who began her political journey in 1972 as a student activist/leader with the Student Federation of India (SFI) in JNU. Mazumdar later joined the women's movement as a member of the Janwadi Mahila Samiti (AIDWA) and was its general secretary for more than six years. Her research and publications focus on Gender and Migration. At the time of the interview she was a Senior Fellow at the Centre for Women's Development Studies, New Delhi. 
In the following excerpt Mazumdar talks about her family background, political journey and more.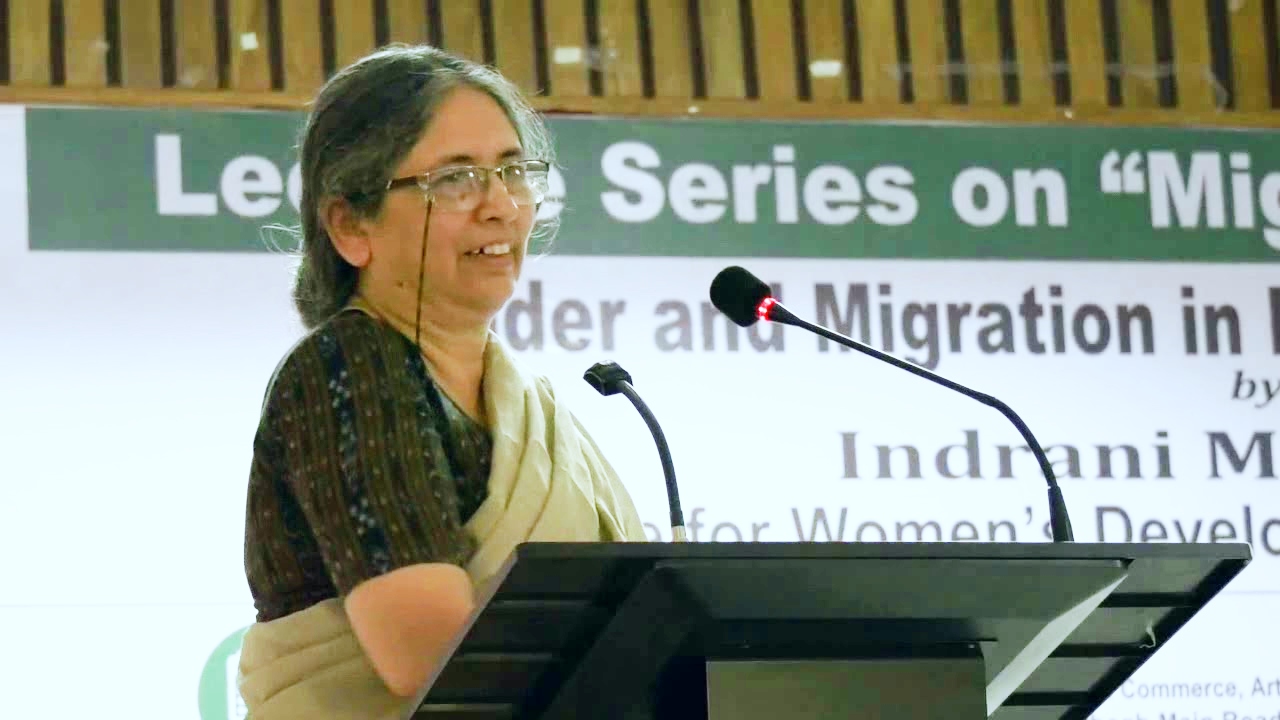 Sahba Husain (SH): Indrani, please tell us about yourself — your childhood, family background etc.
Indrani Mazumdar (IM): I was born in Calcutta in 1955 but my parents later moved to Patna in Bihar so the first years of my life were spent there but I have lived most of my life in Delhi. We left Bihar in 1965 and have been in Delhi since then. I did my Bachelors in Political Science and Masters in History from Delhi University. I had registered at Jawaharlal Nehru University in 1972 after completing my undergraduate course, as I wanted to do Languages, which was a five-year course but I was removed from the rolls during the Emergency in 1975-6. After the Emergency was declared there was a lot of trouble at the university and I was already politically active being a member of the SFI. I was a councillor at the time and we students were of course opposed to the Emergency. In fact JNU was one place where in the first month after the Emergency, we had two successive strikes and at that time the university authorities had identified 4-5 students who they did not want to continue there with their studies. I was one of them so my registration got cancelled. Then I went to Delhi University but did not declare that I was a student at JNU. There was this funny incident that took place: there was a teacher there for admissions and he said, look there is a gap in your education and then he laughed and said, well this happens with women. It was really a shock for me because that was certainly not a part of my trajectory. In our house everybody continued with their education and there was not supposed to be a break because you are a woman. 
SH: Tell us a little more about your family.
IM: My mother, Vina Mazumdar is a well-known person. She was Member Secretary of the Committee on the Status of Women in India that brought out the first report on the subject in 1977-8. The report played a very significant role in the revival of the women's movement in the post Emergency period. My mother had taught for 14 years in Patna University. My father was born and brought up in Patna. He was a musician and a disciple of Ustad Amir Khan, a vocalist in Hindustani classical music but he had started very late in life. Singing is a field where you have to start fairly early and he was a nervous person on stage. It was a tragedy in his life that he could not become an established musician. 
Ma was a teacher and also on the board of University Grants Commission. For her times, she was very well educated, with a degree from Oxford University. In our family it was a given that everybody had to be educated, it was a norm and not something that was thought about much. It was ingrained in us and in that there was no difference between girls and boys, daughters and sons. In any case we were heavily loaded on the female side because we are three sisters and one brother, I am the second among them.
SH: Are they also politically active?
IM: My elder sister teaches in Delhi University and my younger brother at Ambedkar University. My younger sister also teaches — at JNU. So, as of now they are all teaching. My elder sister and my younger brother are both associated with the CPI-M and my younger sister was also a member but not any more. I too am a member of CPI-M although I am not a full-timer any more. 
SH: Tell us about your own political journey.
IM: Actually it is rather strange that I first heard of the SFI when my mother was in Berhampur University in Orissa. There were some students who had come to the house to meet her, including a well-known student leader of the time. So it just came to my mind that there was this students movement and then when I came across it in JNU — I cannot actually say that this was a great inspirational moment — but this familiarity I think drew me to the movement. However, in terms of the inclination towards Marxist ideas, that was very much a part of my growing up years. In our house there was a lot of discussion on philosophy, politics and history and so there was an exposure to the liberating ideas of Marxism from early on. I would say that inclination was there but since I was still young, it was not well defined. My involvement began from the initial process that came from familiarity that later grew through the process of activity — and it was through this process of activism that one's ideas also grew. And then there was the period of learning as a member of the CPI-M, not just on our own but we were actually taught, which is very important although nowadays it is much less. Today there may not be that inclination to be taught but I do believe that structured thought and complicated ideas need exposure, self study and some degree of inspirational teaching to lift people beyond the narrow confines of their own world, their lives and beyond simple rationalism.
---
Also read | Women and the working class movement
---
There was a lot of turbulence during Emergency but I was neither jailed nor had to go underground even though we did run an underground movement called the Resistance after some of the student leaders, including Prakash Karat (former general secretary of CPI-M) who was then the President of SFI had to go underground. I was a councilor then and we got busy with the urgent task of distributing leaflets that were issued from the underground. Sitaram Yechury (politburo member of CPI-M) was also a student leader then and was arrested during the early stage of the Emergency. I was not a hostel student but a day scholar and the authorities had rounded up the hostels. At the time this happened I was not in Delhi, neither was Sitaram. The students were picked up rather indiscriminately and many of those who were picked were not really active or involved in any kind of political resistance. I do not remember exactly but I think 60 students were rounded up then. All of them were men; women students were not picked up. Many of them were soon released but Sitaram was arrested later under the Defense of India Rules (DIR) after he returned to Delhi and was released on bail after a few weeks. We continued our struggle as part of the wider political movement against the Emergency but after my name was struck off the rolls, I shifted to Delhi University where I worked actively to build the SFI. I was there from 1976-1982.
SH: Tell us about your family's response to your political involvement.
IM: Ideologically there was no problem, my family was not at all opposed to any kind of political activism but as is usually the case, when one gets involved politically one does not do a lot of what is expected or supposed to be done inside the house. The normal tensions that take place in such a situation were there in our house too — like we would be told not to treat the house like a hotel. Our family was not very well-off so everybody had to pull their weight in the house. Because of being active outside, one did not do the household chores that I too was expected to do. So there were these kinds of tensions and it is also a question of authority, it took time for my parents to adjust to us, the first two daughters in the family. My elder sister also became politically active but it was after the Emergency, which had a great impact on many of us and it actually activated us and generated the feeling that something had to be done. I was the first in the family to have become active. Since I was not living in a hostel, I would return home late and sometimes not return at all! I am sure my parents worried due to this but one did not think about it in those days.
SH: Were you married by then?
IM: I married Sitaram soon after I completed my Masters in 1980. We had a long relationship prior to marriage.
SH: You were a fulltime party member then. What was your experience? Were you already with AIDWA?
IM: When I became a full-timer I already had my first child, my daughter was born in 1982. I think that was the reason that the Party asked me to work in the women's organisation. 
Even when I was in the SFI it felt like a full-timer's work but the distinction between being one or not wasn't part of our thinking. It was always a decision taken by the Party and not rested with any individual, so we were all active without thinking about it. As a student, as far as studies were concerned it was not an ideal situation as it became subsidiary for me. Many others did much better. For me, when the Party decided to make me a full-timer it was different because the resources were less then and our wages were not so well structured.
SH: What was your wage then?
IM: I think it was two hundred rupees. It may have covered my transport expenses but certainly not anything else. 
SH: This was a period of transition for you, from student politics to the women's front?
IM: Yes, from student movement/politics to trade union work and then the women's movement. The party realised that with a small child it would be difficult for me as the trade union hours were quite long. The real reason was that I became a member of the Party that leads all the fronts in the sense that these are all mass or class organisations and they of course have many people from outside the party but I was already with the party and it was my understanding that it was the party that directed me to the women's organisation. This placement generated in me the consciousness regarding the women's question. We all believed in women's equality but I was personally not so involved in the women's question as such. And it is the party that taught me to look at this question. 
SH: What shape did your involvement take?
IM: When I joined the women's front, it was called the Janwadi Mahila Samiti (JMS) and at the national level it was the All India Democratic Women's Association (AIDWA). It was a new organisation that came into existence only in 1980. It was still working its way out both at the state and the national level. So, naturally at that stage JMS became much more known as such because Delhi then was one of the areas where major issues were taken up and there was not only a lot of activity but many struggles and movements, and we had a galaxy of local leaders who later went on to become national leaders. 
JMS struggled to establish itself primarily among the working class women in Delhi and Brinda Karat (now a politburo member of CPI-M), who was the general secretary of JMS and was experienced with the trade union movement in the city so that helped in giving a certain direction to the organisation. If only students and middle class activists had come in, it would have taken time. She was already rooted in some of the working class areas in the city and that helped in laying ground for the mass organisation. We all worked in different residential/industrial areas; our units were also based in these areas. Where I worked, in Mongolpuri, there were many workers from the textile mills, one of them being Swatantra Bharat Mills and DCM. They formed the core from where the entry of the organisation was affected but it soon grew in its own right. This was the base of the organisation in those days and that's how it grew. We were the foot soldiers I should say. 
SH: What were the kinds of issues you were involved in at the time?
IM: Well, the preliminary issues cut across all areas, regardless of the time or any particular incident. It could be about civic amenities or ration cards. You see, Delhi is a city of migrants and in all these areas, the resettlement colonies in the 1980s, which came up after the demolitions during Emergency; the working class was transferred to the periphery. Now they are bustling areas but in those days there were no toilets, no sewage, the lanes were not laid properly so there was water logging everywhere, the toilets were filthy and it was also a question of women's safety. When their habitat was demolished and they were sent away to these colonies there was absolutely nothing there except barren land. They (women) all complained and were afraid to go out in the fields but there was no organisation then. Over a period of time it did acquire an organisational shape through DDA (Delhi development Authority) and the manner in which politics developed in the city. The Congress, after its severe defeat in the post Emergency period rebuilt itself on patronage and semi-criminal or semi-legal type of political process. Anyway, when the migrants come, the first foothold in the city is how to get your name on the electoral list leading on to procuring a ration card, it worked both ways. At that time, one just responded to issues as they came up but later on one realised that the ration card or the rationing system has remained a key issue throughout this period until today.
This is a lightly edited extract from an interview that was part of the
Zubaan
Oral Archiving Project. Republished here with permission from the publisher.