A recent online lecture by publisher-writer Ritu Menon, organised by the Kerala Council for Historical Research (KCHR), lucidly traced the history of feminist printing presses and the construction of feminism's alternative knowledges in the world and India. Titled "From Footnote to Text: Publishing Feminism's Alternative Knowledges", Menon's lecture gave an overview of how the history of feminism across the world has consisted of three specific aspects — the women's movement, the women's studies movement and the "women in print" movement — the trinity inseparable from feminism's alternative knowledges.
Menon, along with writer-activist Urvashi Butalia, founded the first exclusively feminist printing press in India, called the Kali for Women, in 1984. They produced some of the most "germinal" feminist books in India and some of the foundational ideas in gender and women's studies came from these writings, as per G. Arunima, historian, academician, and the director of KCHR. Today, Menon heads Women Unlimited, another feminist publishing house, which is an associate of Kali for Women.
A gender-perspective on socio-political issues like fundamentalism, environment, media, arts, economics, is today a common tool used by academics, researchers and others alike. In Menon's opinion, this shift in perspective has given rise to radical changes in gender relations, and has therefore impacted the society as a whole. In the lecture, Menon she attempted to trace how this came to be, how women's history was made, and by whom.
According to Menon, the three movements — women's, women's studies and "women in print" — were products of the 1970s. They provided impetus to the realignment in perspective that considers gender as a crucial lens to look at things from. Although the history of the former two have been well documented and researched upon, the "women in print" movement, which accompanied and reinforced the other two, has received less attention till date.
The "women in print" movement was made of feminist presses, feminist book stores, reviewing periodicals, designers, librarians, binders and even printers and they formed an alternative to mainstream publishing. It was the coming together of the three that led to the first ever international, feminist book fair at London's Covent Garden in the June of 1984, which Menon and others from Kali for Women had attended.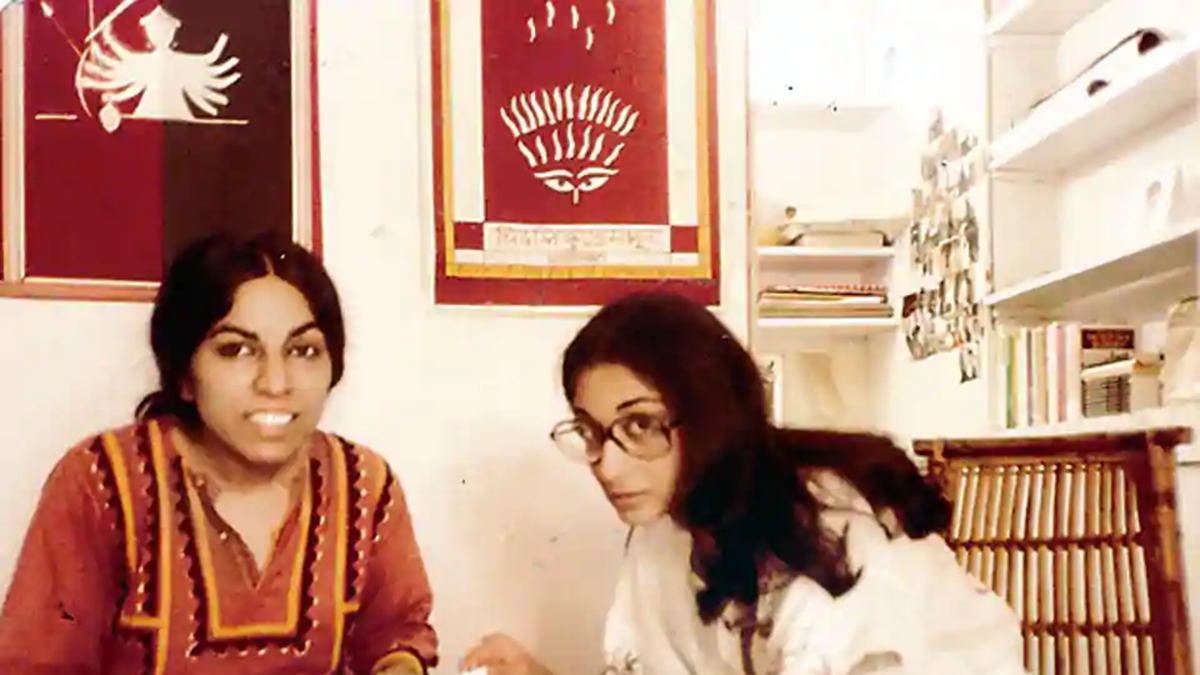 "We were there, but didn't have a single book from Kali, as we hadn't begun producing anything. All we had was a 4-page leaflet announcing the books we thought we could do. It was however an extraordinary gathering of hundreds of women with electric energy. There were writers, publishers, critics, journalists, reviewers…", says Menon in the lecture.
Feminist publishing was the product or consequence of women's movements and they came up in solidarity with these almost everywhere in the world. "Resistance was it's raison d'etre", says Menon. "The 1970s and 80s generated an enormous amount of material, the kind of pioneering work that formed part of the movement's history and of feminism's politics". These were grass root pamphlets, leaflets, resolutions, statements, cartoons and such, and not definitive texts, produced on "impromptu platforms" and distributed at political gatherings. Here, Menon mentions American socialist feminist icon Meredith Tax's 4-part essay, Woman and Her Mind (1970), which went on to become a classic in the movement, selling around 150,000 copies at a meagre amount of 35 cents. Menon tells that nonetheless, it did not enter the "book trade" due to the prejudices of the time. It was a response to such a scenario then, the coming about of exclusively feminist printing presses publishing houses the world over — they produced material, and informed and reinforced feminist consciousness.
The "women in print" movement did not stay aloof from any political issue in which they felt women had a role to play in. The writers were engaged in a political activity and feminist publishers and writers were a part of the struggles. Feminist publishers, as a result, became the bridge between the movement and to those whom the messages were being directed. In India too, the country's first ever exclusively feminist publishing house, Kali for Women, deeply engaged with the political issues of the time. The three questions that they considered crucial were:
1) Religion and ethnicity
2) Conflict and sub-nationalism
3) Peace
Writings on caste and gender, and caste-based patriarchy, were the other issues that the earliest of Indian feminist presses thought were significant to engage with in the country specifically. Stree, Zubaan and Women Unlimited, according to Menon, were the first presses to publish works on caste and gender, especially at time when works on dalit feminism, brahminical patriarchy, dalit patriarchy and the like, were being refused to be published elsewhere.
Watch the lecture here: