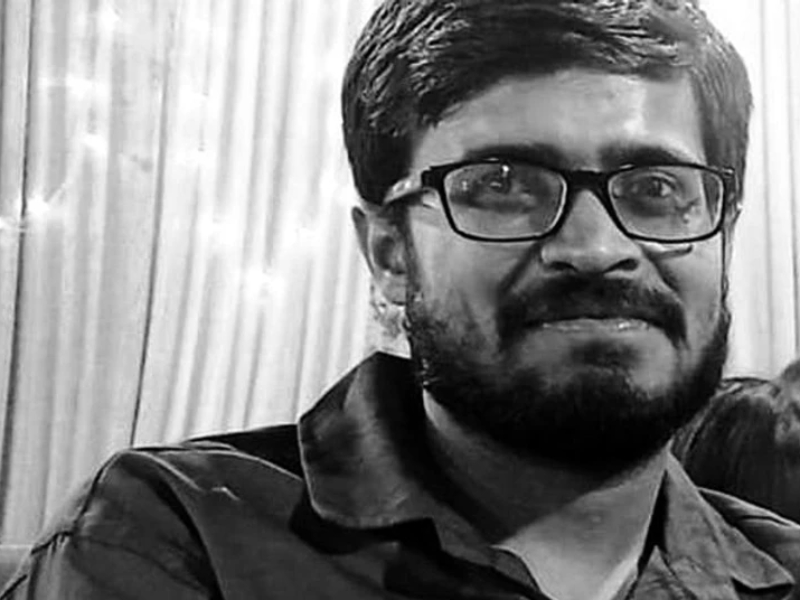 New Delhi: A team of government doctors has placed on record evidence that Shiv Kumar, a 24-year old Dalit labour organiser detained from the farm protests site at Singhu on Delhi's borders on 16 January, was tortured in Haryana police custody.
Kumar was found to have multiple fractures, torn toe nails and was "mentally and physically abused in the police (sic) remand", said a four page-report by a medical board of Chandigarh's Government Medical College & Hospital.
The report was submitted to the Punjab and Haryana High Court on 23 February by the superintendent of the district jail of Sonipat, where Shiv Kumar has been incarcerated for 23 days.
Accounts from his family and lawyers indicated he was picked up by police a week before his formal arrest, which, if true, implies he was in illegal custody for seven days. The medical report said all injuries on Kumar's body are "more than two weeks old and were caused by blunt object/weapon".
The team of doctors, which included a psychiatrist, recorded symptoms of post-traumatic stress disorder from "flashbacks of brutality" that Shiv Kumar had experienced, with disturbed sleep. The doctors noted he was "sad and distressed" and cried while being examined.
Citing evidence of multiple fractures, severe injuries and deep psychological distress, his lawyers on 24 February requested the high court to order the Haryana government to move Kumar—whose father said the Haryana police had not allowed him or any lawyers to meet him in prison for over three weeks—to the Government Medical College & Hospital as he needs "medical attention".
The government lawyer opposed the request, arguing that "whatever medical facility is required, including shifting Kumar" to this hospital would be provided, "if need be."
Article 14 sought comment from Sonipat superintendent of police J S Randhawa. There was no response to calls and SMSs on 24 and 25 February. We will update this story if and when he does respond.
Detained with colleague and fellow Dalit Nodeep Kaur, 25, Kumar is not named in any police first information report (FIR). An FIR filed on 12 January against Nodeep Kaur after her arrest lists 11 offences, including attempt to murder and extortion.
Kaur's family too has alleged torture and sexual assault in custody by Haryana police, charges which the police have denied.
Anup Surendranath, lawyer and executive director, Project 39A, a National Law University project on the death penalty, said that given the details that have been established in the medical examination, it was not only necessary that Kumar get proper medical attention but that "it is only fair and just that Kumar be released".
On 22 February, Article 14 reported how the stories of Nodeep Kaur and Shiv Kumar revealed the government's discomfort with young, educated workers collectively demanding legal rights amidst an economic decline.
While Kaur's arrest got international attention after Meena Harris the niece of US vice president Kamala Harris tweeted about it, the details of Kumar's arrest in the same case have not been reported widely.
Kumar's condition was thus far unknown because the police did not allow either family members or his legal representatives to meet him in Sonipat prison between 2 February and 20 February.
Surendranath said it was important to "fix accountability on Kumar's torture."
"Now the period of Kumar's custody is known and the duration of these injuries as per the medical examination map on to that period. An FIR must be registered against the police and criminal prosecution be launched against them," he said.
Held In Illegal Custody Before Formal Arrest: Lawyer
Shiv Kumar's lawyers said given the severity of his injuries, they hoped Kumar would be moved from prison to hospital on 25 February.
Advocate Harinder Bains told Article 14 that they had approached the high court, as the Haryana police "acted with bias" against Kumar and failed to follow the law in his arrest.
"They showed his arrest on 23 January, a week after the actual arrest on 16 January, and held him in illegal custody," said Bains.
Bains said the police arrested Kumar because he, with Kaur, organised protests by workers in an industrial area in the town of Kundli, 25 km north of Delhi, but tried to allege criminal links and got 10 days remand from a district court, arguing they needed to take him to other states, such as Assam and Bengal, to establish those links.
"In fact (they) did not take him there and instead took him to Haridwar on 30 January in the remand period and brought him back to then put him in prison from 2 February onwards," said Bains, who alleged "extreme mental and physical torture" of his client.
The son of a landless Dalit farm worker and part-time security guard, Shiv Kumar graduated from an industrial training institute—training in handling tools—in Sonipat in 2016. He worked for two years in factories making LED lights and automobile parts in the Kundli Industrial Area, before founding Mazdoor Adhikar Sangathan (MAS), or Labour Rights Union, in 2018, as an informal collective of workers.
On 12 January, the day of Kaur's arrest, factory workers and MAS organisers in the Kundli area had raised slogans demanding unpaid wages outside a metal fabrication factory, when the police and the local industrial association security had an altercation with the workers.
Like several others in the industrial township, the company owed them wages for the period of the Covid-19 lockdown in 2020. The factory owners accused the workers of violence and trying to extort money.
The Haryana police registered three FIRs against activist Nodeep Kaur, who worked in Kundli's factories till last year, and "50-60 unknown" persons, including rioting, "snatching and use of force", extortion, and attempt to murder, charges which are punishable with 10 years in prison.
While none of the FIRs mention Shiv Kumar, the police detained him from a farmers' protest site at Singhu, adjoining Kundli, four days after Kaur's arrest.
He Was A Colleague Of Nodeep Kaur: Police
On February 1, at the Kundli police station, sub inspector Shamsher Singh, an investigating officer in Kumar's case, told Article 14 that they had arrested him because Kaur had acknowledged him as a colleague from MAS during her custodial interrogation.
"We also found visiting cards which mention Shiv Kumar is the head of the Mazdoor Adhikar Sangathan," said Singh. "Then, we found his location based on his (mobile) call locations and arrested him."
Kumar's lawyers said the Sonipat police had violated the law and "his fundamental rights" by not informing his family—a fact confirmed by his father Rajbir, 55—and not allowing him to meet either them or his lawyers for four weeks, until they approached the high court.
"On the night of 24 January, a policeman came to our house and told us to inform the police if Shiv came home," said Rajbir, who uses one name. "The policeman made his mother sign a document. We later found out the police already had him in custody for more than a week."
Rajbir said someone from their village spotted Shiv Kumar inside Kundli station and informed his friends, who told him about his son's arrest on 30 January.
"The police and prison authorities did not allow me to speak to him at all, not even on the phone," said Rajbir.
An affidavit filed by the superintendent of the Sonipat district to the high court on 23 February 23 says a lawyer was allowed to meet Kumar on 22 February, five weeks after the family says he was taken in custody.
The family's only earning member, supporting medical treatment for his wife and a son younger than Shiv Kumar, Rajbir said he could not work on farms over the past couple of weeks while he tried to arrange for a meeting with his son in prison. He was only allowed to meet him on 20 February.
"When I finally met Shiv outside the hospital in Chandigarh, when he was bought for his medical examination, he was limping and walked with difficulty," said Rajbir. "His toe-nails had turned blue."
'Multiple Fractures, Grievous Injuries'
Following an appeal by Rajbir to the high court, on 19 February a medical board— comprising specialists in orthopedics, surgery, psychiatry and radio diagnosis from the department of forensic medicine and toxicology—of the Government Medical College and Hospital, Chandigarh, examined Kumar.
X-ray scans on 20 February showed fractures of the "second digit of left hand", fracture of "base of 5th metatarsal bone of right foot", and "possible fracture/sesmoid bone at left navicular bone(foot)," and Shiv Kumar's right wrist.
The doctors found Shiv Kumar's feet were swollen, that the "nail beds of his 2nd and 3rd toe nails of right foot were broken" and left big toe was discoloured from clotting and injuries and there were discoloured patches of injuries on Shiv Kumar's thighs. They recorded injuries on Kumar's left hand, with nails of his left thumb and index finger showing "grievous injury."
The report records Shiv Kumar's version of how he was taken into custody and details of his injuries.
The report records Shiv Kumar's version of events: that he was not present at the metal fabrication factory at plot 349 of Kundli Industrial Model Township when the labour union picketed the factory on 12 January.
Though the police said they arrested Shiv Kumar on 23 January, he said during his medical examination that he had been picked up by police a week earlier and kept in illegal custody. Shiv Kumar told the doctors that on 16 January, seven policemen arrested him from the farmers' protest site near Kundli between 2.30 to 3.30 pm. They took him to a building near the old court premises in Sonipat where the police staff tortured him over the next eight days.
They "tied both his feet, lay him on the ground, and hit him on the soles. His 2nd, 3rd and 5th toe nails of the right foot were torn", while he suffered clotting from the injuries from a stick on his left foot, said the report.
Shiv Kumar recounted in his examination "that the police hit him on the buttocks with flat sticks, then they tied his hands, and stretched his legs" and later hit him on his hands, palms, the back of the head. Kumar alleged "he was made to lie down on the ground with both legs straight and a metal pipe was placed on his thigh and rolled over on his thighs by two people."
The policemen did not allow him to sleep for three days, and after recording his statement, when he could not answer their questions asking him to naming others with him, they "tied him to a chair and poured water over his head", Shiv Kumar alleged, adding that they "poured hot water on his feet, and any blisters that were formed were burst by them".
Bains, Kumar's lawyer, told Article 14 that during a brief chat on 20 February at the hospital, Shiv Kumar told him that despite his vision disability, authorities at the police station in Kundli and later in Sonipat did not give him the spectacles he had on at the time of his arrest, until a day before he was brought to the government hospital in Chandigarh on the high court's orders.
Bains said the Haryana police denied Shiv Kumar his fundamental rights, and there were "several gaps in their investigation and irregularities" in their conduct.
"The police are required to have conducted Kumar's medical examination within a day of when they first showed him under arrest on 23 January, as well as a second time after his 10-day long police remand from 23 January till 2 February 2," said Bains. "But where are these medical reports?"
He said that listening to Kumar's plea, the high court had on 24 February directed the police to produce these two previous medical examination reports. "Once the police place these on the record," said Bains, "the accurate picture of the discrepancies will become clear on whether these grievous injuries were recorded or not accurately by district hospital, or did the police try to cover these up in some way."
Vikas Attri, a lawyer who had earlier assisted Shiv Kumar's family in Sonipat, said the Sonipat police detained him illegally. "We had made a request to judicial magistrate Sonipat on 2 February that Shiv be produced in court," said Attri. "At that time, Kundli police submitted that they had taken Shiv in police remand for 10 days. On hearing this, the district court rejected our petition for him to be produced."
"Shiva is a labour organiser, not a criminal," said Attri. "Why did the police take his remand for 10 days instead of producing him at the court within a day? They held him illegally to beat and torture him and then stopped me from meeting him in Sonipat prison, even when I presented myself his legal representative on 9 February."
Surendranath of the National Law University said the state "is not coming to the court with clean hands".
"In the worst scenario, there is now evidence that the police have promoted and facilitated Kumar's torture—which the Supreme Court has laid clear guidelines on—and at the least, it is clear to the court that the state cannot protect him and he must be released from custody on bail," said Surendranath.
The high court said the next hearing of Shiv Kumar's case would be on 16 March. Bains said they would move the district court for his bail before that date.
The court will hear Kaur's bail application in the 12 January FIR on 26 February, 44 days into her incarceration.
On 24 February, while ordering the police to shift Kumar to a hospital, the court postponed a hearing of Kaur's case, after the Haryana government failed to submit a medical report ordered by a district court a week after her arrest in Sonipat.
First published in
Article 14
a research and reporting project focused on issues around the rule of law in India.