The Forum for Human Rights in Jammu and Kashmir comprises an informal group of concerned citizens who believe that, in the prevailing situation in the former state, an independent initiative is required so that continuing human rights violations do not go unnoticed.
The first Report of the Forum was released in July 2020 and it probed the impact of the lockdown during the period of August 2019 to July 2020. The second report released this month probes the human rights violations in the period from August 2020 to January 2021. The report elaborates on the impact of human rights violations through a range of issues such as civilian security, health, children and women, media and industry and employment. The following extract is chapter six of the report that discusses the impact on media in Jammu and Kashmir and the new media policy. Read the full report here.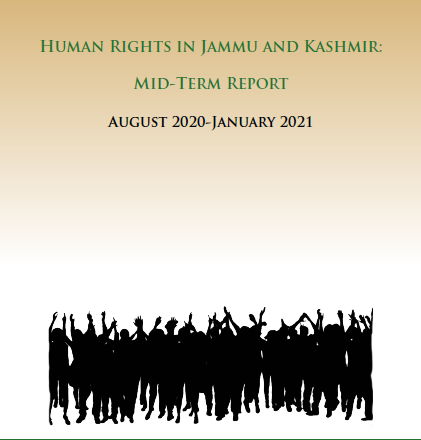 A landscape of intimidation
India ranked 142nd out of 180 countries (below Myanmar, Afghanistan, and South Sudan) in the global Press Freedom Index, 2020, down two ranks (from 140) in 2019, and four ranks (from 138) in 2018.
After the release of the new media policy in May 2020 (discussed in our August 2020 report), the past six months saw a systemic use of psychological scare tactics on media professionals through physical assault, summons and harassment under various charges, administrative seizure of assets during raids,283 sealing of newspaper offices, illegal detentions, withdrawing advertising and militant hit-lists of journalists declared to be on the government's payroll.
The Kashmir Times office in Srinagar was sealed by the Estates Department on 19 October 2020, without any written notice, two weeks after its proprietor, Anuradha Bhasin, was evicted from her residence, again with no notice. The reason cited a 'routine' check on the status of allottees, which supposedly alerted the department to Bhasin's occupation of the Kashmir Times office five years after the death of her father, the original allottee. This eviction came merely a week after that of another local media agency, the Kashmir News Service. 
Moreover, Amnesty India's offices in Bengaluru were forced to shut down and its bank accounts frozen shortly after it released a 'Situation Update' on human rights in Jammu and Kashmir. 
On 15 September 2020, photojournalist Kamran Yousuf was injured in an assault by the security detail of a police officer while he was covering a gun battle in Marwal, Pampore. Mr. Yousuf had previously been booked under the UAPA in 2017, jailed for six months in Tihar jail; his NIA chargesheet opined that Yousuf was not a "real journalist", though no evidence for this opinion was provided. Commenting on the assault, the Kashmir Editors' Guild stated that "It has emerged as a routine for the police and security forces to assault the journalists while covering the happenings on the ground". In response, the Director General of Police said that, "… at times, during operations, our men have high temper which result in such incidents. I reiterate that media and policemen are each other's good friends".290
On 18 September 2020, Auqib Javeed, a journalist from Srinagar, was summoned and held by the Cyber Wing of Jammu and Kashmir Police for five hours regarding his article on cyberbullying published by Article 14.291 Javeed also alleged that he was slapped by a masked  policeman. On 6 December 2020, journalists Shah Gowhar and Sajid Siddiq, who were attempting to cover an incident of firing in the area, were "abused and pushed around" by policemen, while journalist Rayees Ahmad had his mobile phone confiscated.
In further assaults upon the freedom of the press, The Hindu reported that a Senior Superintendent of Police, Sandeep Choudhary, slapped journalists Mudasir Qadri, Fayaz Lolu, and Junaid Rafiq in Anantnag on 10 December 2020, after the journalists noted that no person was being allowed to vote at the polling station till 8.30 am, even though the designated polling time began at 7 am. The three journalists were detained in the Srigufwara police station for an hour and a half, and their equipment was confiscated (it was returned later that day). According to an unnamed police source, after a minor stone-pelting incident in Liwar, Anantnag, the situation was "aggravated with the arrival of some media persons", so they were taken away from the area to "bring the situation under control and to instil confidence among the voters".
On 25 December 2020, three journalists, Suhail Khan, Ashiq Mir and Mudasir Malla, were thrashed by army men during a festival in Baramulla, triggering journalists' protests. Malla's camera was also damaged during the assault. In response, a "senior army official in a statement assured that action will be taken" against those involved in the incident, but there appears to have been no follow-up on this assurance.
The police summons and/or arrests of 18 journalists since August 2019 has created such fear amongst the local media that they blacked out reports of the firing and lathi-charges on the August 2020 Moharram processions. Following the deaths of two young journalists who suffered heart attacks, many link the chronic stresses of being a Kashmiri journalist with their untimely deaths. A journalist attempting to write legitimate reports, much like Aasif Sultan, may be imprisoned under UAPA, as he is for over two years and counting, without the charges against him being made public.
Though the recent quashing of an FIR against the journalist Salim Pandith is welcome, with the Jammu and Kashmir High Court holding that 'reporting on events which a journalist has bona fide reason to believe to be true can never be an offence', it serves chiefly to underline the fact that other Jammu and Kashmir journalists have not been afforded similar justice. 
Moreover, implementation of the much-criticized new media policy has led to the disempanelment of about 20 media outlets, including the newspaper, Rising Kashmir, whose editor Shujaat Bukhari was assassinated by terrorists in 2018.
---
The following correction was issued to the original report on February 14, 2020: