First published in Bengali as Swet Patharer Thala in 1990, Bani Basu's A Plate of White Marble tells the tale of the "new woman" of an era that just witnessed the independence of a nation. Bandana, the protagonist, though grieves over her husband's early death, never conforms to the social connotation and ideals of "widowhood", thanks to her uncle. She dares to begin her life afresh in every possible sense.
This first translation into English by Nandini Guha brings a significant Bengali novel with important social concerns to a wider audience.
The following is an excerpt from the book.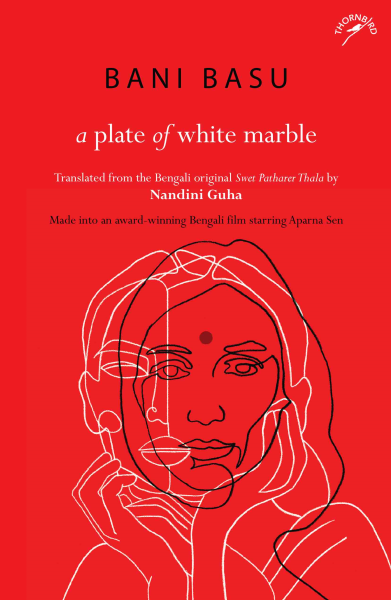 Shoulder-length salt and pepper hair. Clad in a white sari with a thin red border. If one saw her suddenly, she looked like a very fashionable lady. It would be difficult to believe that one day in protest, she had chopped her hair off with terrible hurt-pride at her son, disgust for herself and rejection of life itself. Behind a golden spectacle frame there was deep awareness. Etched on her brow was a stamp of fearlessness. Today she would take her farewell from the office. Knowing she would never specially come back on any other day, her colleagues had arranged a felicitation function on her last working day. The chief organiser was General Manager, Personnel, Anupam Shome, under whose directions the Officers' Club and the Union had come together. After tiffin time, when Shome himself came to invite and escort her, Bandana was quite surprised. But Mrs Bhattacharjee was not one to be perturbed when suddenly faced with any situation. She listened with a calm expression to the string of speeches in her praise on the stage. Behind the glasses, the expression of her eyes remained unreadable, as though the person being talked about in the speeches was not her. Finally, Anupam Shome requested her to say a few words.
With age, Bandana Bhattacharjee's voice had acquired gravity. She was standing like an ancient stone sculpture. Her eyes were steadily fixed on a distant place, a place however, that was full of meaning and enlightenment.
'In exchange for all your love, I can very well shower my deepest blessings on you all! But what value will this abstract blessing have, unless I can give it some concrete form? What is the benefit in converting life into a chain of meaningless rituals? Suppose, today, instead of the traditional thanks and blessings, I were to give you the belief that every day, from what you will invest, you will get back benefits more than you could ever have expected? If any one finds this faith in the course of one's own life, then it also sometimes takes one's whole life to accept it. Please believe me that our strength is not only for ourselves or for our families alone. Even though little, if you reserve that small amount of strength and dedicate it to the sad, the hapless, the ill-fated, if you can share this world's joys with even one helpless child, can show even one poor person the right way to survive, then from that one fountain, will flow for you a stream of joy which removes all sorrow. Our real enemies are disease, poverty, accidents. We have the natural weapons to struggle against these evil powers. We waste these on mutual recriminations, jealousies and greed. Yet in the journey of life we are equal wayfarers. Only if we face these problems of universal proportions by emerging out of our narrow boundaries, will true happiness come within our grasp. It most surely will.'
On her return to Shyambazar, she found that Koli had arrived. She looked very agitated. Bandana handed over all the gifts given by her office to Koli. Koli's joy was always unbounded whenever Boumoni received anything. But Koli did not even open the packet with the Kashmiri shawl, or the boxes with excellent books.
With a drawn face she asked, 'Boumoni, it seems you are going to Europe? The whole of Europe?'
Sutapa piped up with, 'Of course she is going. She has got her visa.'
Lowering her bag, Bandana said, 'I will go to the richest countries. Do you understand Koli! Sweden, Denmark, Holland, France. Once I reach London, I will see what schedule they have arranged for me. Let them do something for our children! They are spending most of their excessive wealth on gourmet food, clothes, education, but after that, a lot is also being used for pointless, selfish indulgences. That those who come into this world mentally challenged are also their responsibility, is something they have to be made aware of. It isn't only a question of money! We need technological inputs, information, debates, a lot of patience, hard work, and dedication! They will understand!'
Koli asked, 'Who is accompanying you, Boumoni?'
'Who will go! I would have taken Sutapa, but she is mainly in charge of setting up this big rehabilitation centre we are starting here. Dipu–Nirmalya are also absolutely alone in their centre. You know how many people it takes to look after all those children! We are so very acutely short of staff, Koli. If you would only join us, it would be such a great help!'
Boumoni had just completed sixty years of age. The same age at which Koli's own mother had suddenly passed away. Koli loved Boumoni, possibly even more than she did her own mother. A rare love that had grown out of many years of sharing joys and sorrows. It had been further nurtured by the strong empathy they had for each other, a love that not only didn't die, did not lessen, either but slowly grew and became deeper and deeper. Was Boumoni going to travel so far at this age? She had never crossed the seas, in fact, the seas were a far cry, within the country itself, she had been only to Delhi sometimes and never anywhere else. Her age was not a good one to travel alone.
Koli was gulping nervously. Hesitating, she finally said, 'Why Boumoni! Ghoshal da is one of the big bosses of your Atmadeep. He has done such major work. He has travelled extensively in India and abroad. So much experience. He has the time as well. Can't he go with you?'
Bandana laughed and said, 'Of course he can. But then, it is not required anymore!'
This is an excerpt from A Plate of White Marble written by Bani Basu, translated by Nandini Guha and published by Niyogi Books. Republished here with permission from the publisher.