The Citizens Committee on Delhi Riots of February 2020 set up through the public notice dated 25.10.2020 has issued a public notice extending the last date of submission of information and material pertaining to Delhi riots to February 10, 2021. Submissions can be uploaded at https://www.citizenscommitteeondelhiriots.in/submission-form or sent through email at  [email protected]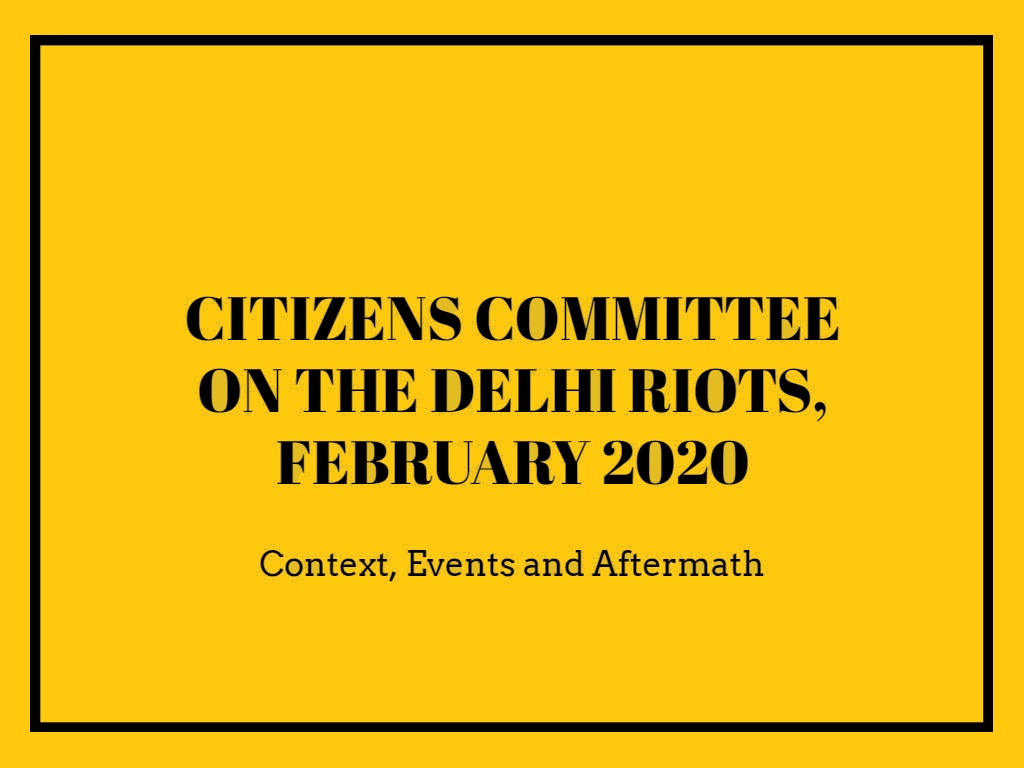 Public Notice: Extension of Deadline for Submissions to 10 February 2021
The constitution of the Citizens Committee to examine the events surrounding the Delhi riots of February 2020 was announced through the Public Notice dated 25.10.2020. The Committee comprises of the following: Justice Madan B. Lokur, Chairperson of the Committee (former Judge, Supreme Court); Justice A.P. Shah, Member (former Chief Justice, Madras and Delhi High Courts and former Chairman, Law Commission); Justice R.S. Sodhi, Member (former Judge, Delhi High Court); Justice Anjana Prakash, Member (former Judge, Patna High Court); Mr. G.K. Pillai, Member [IAS (retd.), former Home Secretary, Government of India] and; Ms. Meeran Chadha Borwankar, Member [IPS (retd.), former Director-General, Bureau of Police Research and Development, Government of India].
Through the said notice, the Citizens Committee had invited anyone with information/material pertaining to the Delhi riots to share the same, in as much detail as possible, with the Committee. Based on a perusal of this information, the Committee may invite persons for further interactions, keeping their identity confidential.
Please note that the Committee hereby extends the last date of such submissions to February 10, 2021. All communication with the Committee, including submissions made in response to the public notices, shall remain confidential.
The terms of reference and other details about the Committee can be read in the previous notice dated 25.10.2020.
---
Please write/upload your submission at
https://www.citizenscommitteeondelhiriots.in/submission-form
You can also email your submission to
[email protected]
Or send it by post to:
Constitutional Conduct Group (CCG), Common Cause House, 2nd Floor, Nelson Mandela Marg, Vasant Kunj, New Delhi – 110070
For any other enquiries, please feel free to email us at
[email protected]
---
On behalf of the Citizens Committee on the Delhi Riots of February 2020,
Justice (Retd.) Madan B. Lokur (Chairperson)