Stan Swamy has been a thorn against the establishment for decades. He has always stood on the side of the Adivasis of Jharkhand whose plight he understands well. His methods have always been peaceful – often making use of the vehicle of Public Interest Litigation. Yet, now the government  – through the NIA – has arrested and jailed Stan Swamy for conspiring to incite violence in the 2018 Bhima Koregaon episode and of being a part of the banned CPI (Maoist) party.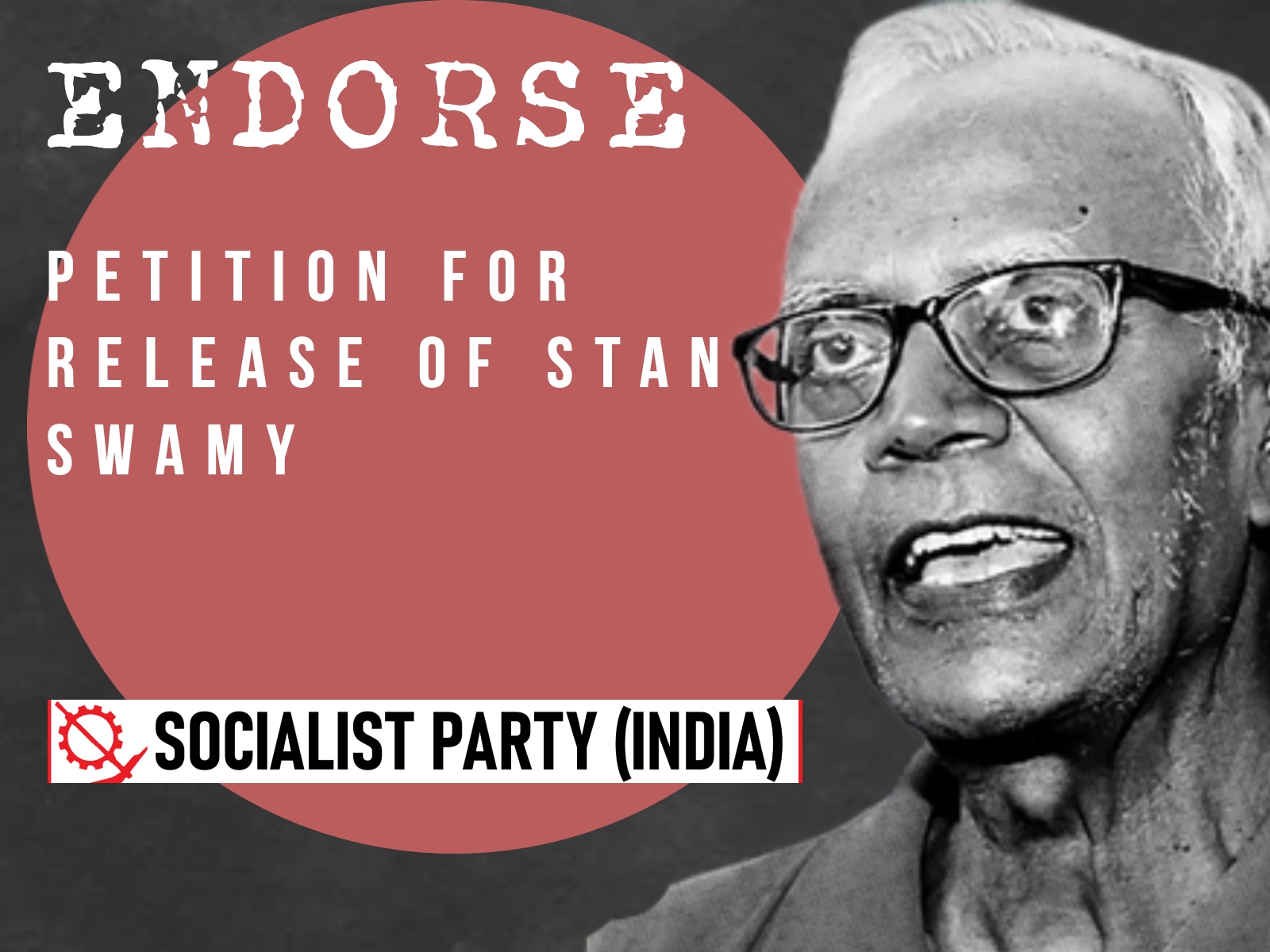 This is a now a constant tired trope of the government which has resulted in 15 other folks of the Elgar Parishad being put behind bars. Keeping Stan locked up is another brazen attempt of the ruling puppet-regime to have a free hand to do the bidding of their corporate masters.
A polite, soft-spoken and gentle man from Tamil Nadu, for the past 30 years Mr Swamy has dedicated his life to attempting to draw attention to the plight of Jharkhand's Adivasis. His grassroots activism has been especially important during India's take off and ongoing post-1990 neo-liberalization rampage. Tribal people have traditionally lived off their lands, and in sharp contrast with western 'individual' property rights frameworks – make their living collectively off of their ancestral lands. This has been in tension against the requirement of soulless corporate mining giants, and the need of India's expanding middle class for natural resources including hydro-electric power.
Recognising all this, activists in the mid -90s secured important legislative constitutional concession to the 5th Schedule in the PESA Act that mandated governments to decentralise any and all decision making  – and especially related to land and resource extraction in tribal areas,  down to the actual populations whose lives such 'development' purported to impact.
All Stan has been working for is that legislation to be actually implemented in spirit and practice. Based in Bagaicha, a suburban outpost in Namkum of Ranchi district, Jharkhand, he has dedicated himself to advocating for the lawful rights of displaced citizens of the region.
In practice, this has not only meant fighting for the correct implementation of PESA and the 1993 Samatha Judgement, but also to fight  – through letters from the ground, and research based PILs (using RTI painstakingly logged with each police station) for the release of thousands, with specific court injunctions to release 102 incarcerated undertrials  – some locked away for more than 4 years unable to afford legal representation.
In the eloquent words of Stan Swamy's research team:
"All this is part of the gross misuse of the criminal justice system by the state which favours only the rich and powerful to the detriment of the poor and downtrodden, and is now more and more unscrupulously in favour of the take-over of the economically poorest people's land and the nation's resources by both multinational and domestic corporates (corporatization). At the local level there are certain vested interests that act hand-in-glove with the police to foist such fake cases against innocent people with whom they might have some scores to settle. It is also evident that in the current system, justice remains very much beyond the means of most of those who have been falsely accused." (Page 3, second paragraph)
Among his constituency, Stan Swamy is admired more so because he checks his ego at the door, not attempting to become a leader, remaining grounded while never hijacking the leadership of the communities he so passionately is dedicated to improve the lives of.  A genuine facilitator for leaderless movements, the government hates his guts because Stan is the opposite of  what the egotistical maniacs at the top of our corrupt kleptocracy stand for.
The NIA is a sub-optimal governmental front whose unfortunate mission is to deploy (our) taxpayer funded state force against its own citizens. Its sorry signature move seems to getting away with evidence-free claims that movement X is a front for organisation Y.  In Stan's case, their wild assertion (#13, Page 3) is that as a convenor of Persecuted Prisoners' Solidarity Committee (PPSC), Stan is fronting for the CPI (Maoist). It needs to be emphasised here – not for the first time – that the courts have repeatedly ruled that mere possession of literature  or even association (#32) with an organization does not constitute grounds (#20 to #30)  for filing charges and is all protected under Article 19(1).
It is the NIA that is in contempt of court and the entire lot should be penalised to the fullest extent of the law. Not unsurprisingly, the NIA tried an identical move before – in 2008 they charged that an anti-displacement movement across Jharkhand called Visthapan Virodhi Jan Vikas Andolan, was – you guessed it – a front for CPI (M) till a court, 10 years later, threw the poorly made-out case out saying "the prosecution failed to bring home the charges levelled against the accused".
It's very likely that the city-slickers and career bureaucrats forming the backbone of the NIA have no real understanding of the word "andolan" and they can't seem to be able to draw that distinction (#40, Page 3).
So, the government is terrified of an 83 year old man. A person with Parkinson's disease, and hearing loss and chronic lower abdominal pain caused by two prior hernia surgeries is who the home ministry would like out of their way.  And so Father Stan Swamy ended up spending the Christmas of 2020 in jail. Today, housed since October 9th, 2020 in Taloja jail's hospital/dispensary section, he has been denied a straw and subject to cruel delays  on the flimsiest technical grounds.
That the NIA and their overlords – the government – do not care about Swamy is a given. What should not be, is that we – the people – on whose wider behalf Stan has been waging a multi-decades long battle,  fail to see this unjust cruel incarceration for what it is: a message from the unrepresentative fascist regime (after all they only represent 37% of us [See results by alliance and party]), to keep silent or else.
It's a message to our cozy selves sitting in urban centres not to be too bothered for wealth made on the backs of millions of our own invisible, displaced and highly exploited fellow citizens in places with names such as Bokaro, Koderma and Santhal Parganas. We should reject this poorly disguised threat from the government to our freedoms. For if we do not stand up for Stan Swamy and friends, the government will one day soon, come for us.
Petition launched by Socialist Party (India)
Endorsed by:
Venkatesh Narayanan, Software Technology Management Professional; B.Tech IIT Bombay; MS Syracuse University, NY
Sandeep Pandey, PhD, UC Berkeley; Visiting Faculty, IIT Kanpur, IIT Gandhinagar, BHU Varanasi, IIM Ahmedabad
Lubna Sarwath, PhD and Former Visiting Lecturer, Trisakti University, Jakarta, Indonesia
Bobby Ramakant, Citizen News Service
Shreekumar, PhD, Indian Institute of Science, Bangalore; taught at National Institute of Technology Karnataka
Surabhi Agarwal, MPhil, Hyderabad University