Farmers in India are mounting a historic struggle not only against the new anti-farmer laws imposed by the Modi govt., but also against neoliberal policies, crony capitalism as well as crushing of dissent in the last years. It is only fitting that a year since the anti-CAA protests, we are coming to the end of 2020 being led by this struggle.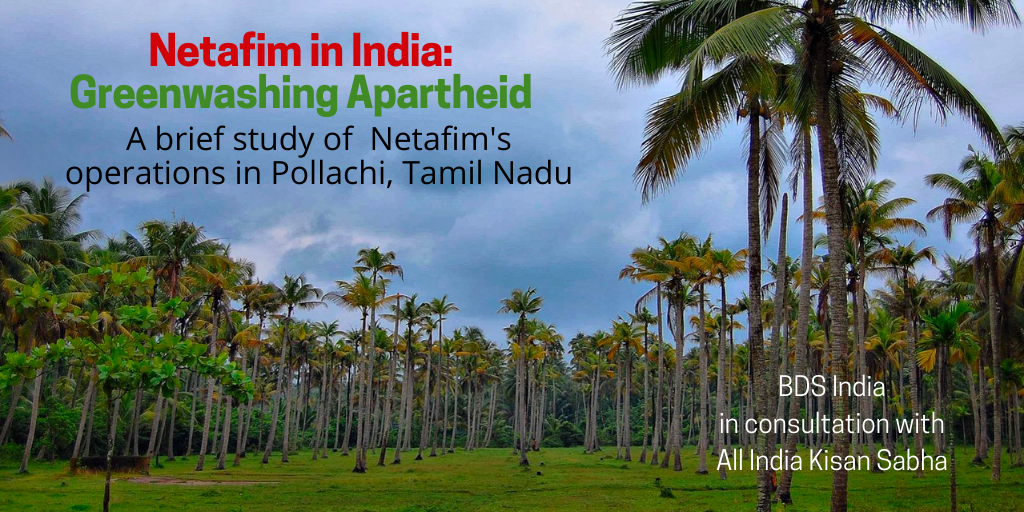 Indeed the connectedness to and the defence of land is essential to both the farmers as well as Palestinains resisting Israeli occupation, apartheid and settler colonialism. More specifically, Israeli companies such as Netafim that profit of Israeli settlements and colonialism also impose contract farming models in India, all the while posturing as bringing "sustainable development". Netafim, an Israeli drip irrigation company, was part of a consortium that imposed the 'Kuppam model' of contract farming back in the 90s, a model which the new farm laws seek to make permanent.
In solidarity with the ongoing farmers struggle, BDS India in consultation with All India Kisan Sabha has published this report examining the Netafim's operations as part of the state subsidy scheme in Tamil Nadu. The field research for this was facilitated by Mookambika Rathinam, a political activist from the region:BDS India Netafim Study

Palestinian Stop the Wall campaign has shared a video, in solidarity with the farmers. In November, as part of their World Without Walls actions, they had Vijoo Krishnan from All India Kisan Sabha and Meera Sanghamitra from NAPM discuss land, agriculture, water related as well as wider democratic struggles in India.
In September, soon after the farm laws were passed and the agitations had started, Palestinian Farmers' Union has sent this letter of solidarity to Indian farmers:


The struggles of Palestinian and Indian farmers are inextricably linked, as the companies like @NetafimCorp that were among the first to bring corporate farming model in India, colonize Palestinian lands.

Our solidarity to farmers mobilization in India today!@KisanSabha https://t.co/EYk62E6IFL

— BDS India (@BDSIndiaTweets) September 25, 2020
Our struggles bind us and our unity is stronger than our oppressors!