Shortlisted for this year's JCB Prize, Deepa Anappara's Djinn Patrol on the Purple Line is a coming-of-age novel about contemporary India. It tells the story of a boy who goes on to find his friends who disappear one by one from their basti. Told from the perspective of the boy, it exposes the dark underbelly of urban India — markets, crowds, dogs, rikshaws, and plain existence and survival. Simply put, it's about nine-year-old Jai versus a complicated, unjust world.
Below is an excerpt from the chapter "We Have Enough Time Before" of the book: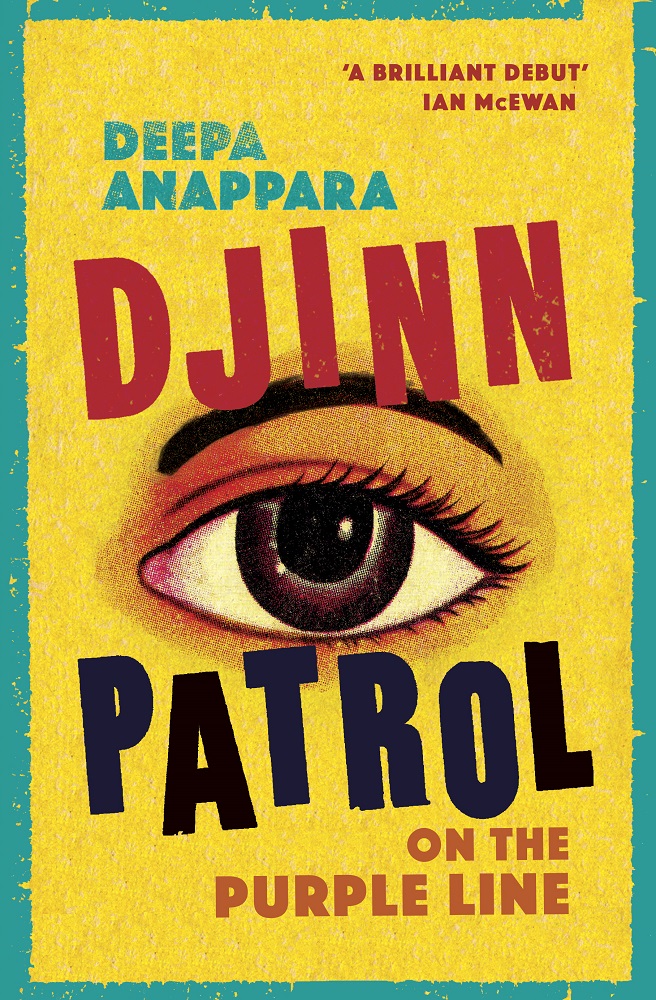 —it gets too dark to go to Bhoot Bazaar and look for Hakim from Hakim's TV-repair shop. My legs don't want to walk with me anymore. I have to keep dragging them forward. The bazaar seems to be growing bigger and bigger. I pass alleys I have never been to. Pari is tired too and our pace is tortoise-slow. 'When will we study?' she asks. Just like her to worry about silly things. I prepare a list of questions in my head so that Pari can't pretend she's in charge again. But when we meet Hakim, the TV-repair chacha, he talks about Bahadur without any prompting from us.
'I saw him on Friday, maybe even on Saturday, but definitely I didn't see him on Sunday,' he says, stroking his pointy beard that's henna-orange at the bottom and white at the top, just like his hair. 'That was two whole days after his own brother and sister saw him, I found out later. He was wearing his uniform the whole time. I assumed he was avoiding school because of the bullies – you must have seen them teasing Bahadur? Poor child. Shall I get you a cup of tea? You're doing a good job, looking for him. You deserve a reward.'
Before we can say yes or no, he calls for cardamom tea from a stall nearby, and it comes in tall glasses, frothy-bubbly at the top. It tastes expensive, this tea. Puffs of pricey steam warm our cheeks as we drink.
'Bahadur isn't here, at the basti or the bazaar,' the TV-repair chacha tells us. 'If he were, he would have come to see me by now.' I believe him because chacha is the nicest person I have ever met. He even takes our investigations seriously. He tells us that Bahadur:
never got into a fight with anyone, even the children who made
fun of his stutter;
hasn't taken anything from the shop;
had no plans to run off to Mumbai-Manali.
I ask the TV-repair chacha if Quarter was one of the people who bullied Bahadur, but the chacha doesn't know Quarter, only the pradhan. 'That man,' the chacha says, wrinkling his nose like something is stinking, 'he'll do anything for money.'
'Snatch children too?' I ask.
The chacha looks puzzled. Pari glares at me from behind the cardamom-scented steam.
'Could a djinn have taken Bahadur?' I ask. 'There are bad djinns,' the chacha says, 'who will possess your soul. Very rarely do they abduct children. You can't put it past them, certainly. Some djinns are big troublemakers.'
Then a commotion in the alley distracts him. It's two beggars I have seen before, but they are special because one is in a wheelchair and the other is his bow-legged friend who shuffles behind, pushing the chair. The recorded voice of a woman jets out of a loudspeaker fitted to the back of the wheelchair. We're both ill of leg, she says. Please help us by giving us money. We're both ill of leg, she goes on. Please . . . She never gets tired.
'Here, here.' Chacha gestures at them to come over, and he buys them tea as well.
'It must be getting late,' Pari says when street lights turn patches of the black smog yellow.
We say goodbye to the chacha and walk home.
'My instinct tells me Bahadur ran away.' Pari speaks like a detective. 'No one in our basti has any reason to snatch him. He must have made a lot of money working for the chacha, and now, he has gone off to join another TV repair shop. One far away from here, and Drunkard Laloo.'
'In Manali?'
'Why not? People in Manali watch TV too.'
Boys and girls from our school, playing in the alley, wave at us. I don't wave back. I don't want to encourage them to join our detectiving team.
'Either we tell Bahadur's ma about his Manali plans,' Pari says, 'or we go to the main railway station, show his photo to people, and ask them if they have seen him.'
'We can't tell Bahadur's ma and Drunkard Laloo. They will get angry with Bahadur's sister and brother, beat them up even.'
'Then we have to go to the city station,' Pari says. 'Stop Bahadur before he gets on a train.'
'Arrey, but what if he's already in Manali?'
'If we can find out for sure that he took a train to Manali, the police there will look for him. They can't be as bad as our basti-police, can they? Right now we don't know if Bahadur is here or where. What we need is one good clue, that's it.'
I remember that the railway station will have CCTV cameras; Police Patrol cops often scour CCTV footage to catch criminals and runaway children. I don't tell Pari that. Instead I say, 'You have forgotten or what, first of all, you have to get to the station, which is so far away in the city. Second of all, you have to take the Purple Line till there and you can't even get on a metro platform without a ticket. The metro is not like the Indian Railways.'
'I know that.'
'Is your father a crorepati that he can spare the money for our tickets?'
'We can ask Faiz for money.'
'Never.'
'Didn't you say, after the first forty-eight hours, it becomes more and more difficult to find a missing child?'
I don't remember saying that, but it also sounds like the kind of thing I would say.
[…]
It's dark when I reach my house, but I'm lucky, Ma and Papa aren't home yet. Runu-Didi is talking to Shanti Chachi, and stretching by standing crane-like on her right leg. Her left leg is folded at the knee.
'Shouldn't you be making dinner?' I ask Didi.
'Listen to how he speaks to me,' she tells Shanti-Chachi. 'He thinks he's a prince and I should wait on him hand and foot.'
'When he grows up,' chachi says, 'with some luck, he'll get a wife like me who'll teach him that he can either cook himself or starve, it's his choice.'
Maybe that's why Shanti-Chachi's first husband said okay-tata-bye to her, and why her three grown-up children never visit her. But I know better than to point that out.
'I'm never getting married,' I tell Runu-Didi when we are in our house.
'Don't worry, any girl will smell you from a mile away and run off.'
I sniff my armpits. I don't smell that bad. Ma and Papa get back late, but together. They stand in the alley, talking to our neighbours. Their faces are too full of worry and crossness for me to ask them where they bumped into each other. Runu-Didi finishes making rice and dal, and calls Ma and Papa, but they tell her not now, Runu.
'Arrey, a man is dying of hunger here,' I say, pressing my belly.
Runu-Didi troops outside. I march behind her, singing 'Why Am I Like This?' Smoke crawls out of houses, heavy with the smell of dal and baingan-bharta.
Papa points at me and says, 'If we don't watch this little shaitan, he'll be the next one to vanish.'
'What?' I ask.
'The press-wallah's son has disappeared,' Ma says. 'We saw him just two days back, haan, Jai, you remember?'
Then Ma turns to the others and says: 'We asked that boy, do you know where Bahadur is?
He said he didn't. How he could lie with a straight face, I'll never understand.'
'Omvir is missing?' I ask.
'He and Bahadur must have planned it all along,' Ma says.
'Such selfish children,' a chachi says. 'Didn't even stop to think how worried their parents would be. Now the police will get involved. They'll come here with their machines. All of us will lose our homes.'
'Let's not get ahead of ourselves,' Shanti-Chachi says.
'Yes, true,' Ma agrees as if she hasn't packed our house into a bundle and left it by the door.
'Our people are looking for the children,' Shanti-Chachi says. 'They'll bring the boys home tonight, I'm sure.'
'They might have gone to Mumbai,' I say in a hushed voice. 'Manali maybe.'
I'm giving up my secret, but not all of it.
'What did you say?' Papa asks, hands on his hips.
'Can I go to Pari's?' I ask Ma. It's the wrong question for right-now, I realise as soon as I say it.
'Whatever work you have with her, it can wait till tomorrow,' Ma says.
'You should buy me a mobile,' I say, and turn to go back into the house.
'Not so fast,' Papa says, his hand on my shoulder. 'Did Bahadur tell you he was going to Manali?'
'I have never talked to him,' I say. This is the truth. I should ask Pari to teach me how to lie.
Papa's fingers dig into my bones. 'Omvir isn't even in my class,' I say.
'How will we find these children if they have gone that far?' a chachi says, eyes squeezed small, fingers pressing her forehead as if it's throbbing with pain.
'My son wants to see Dubai. Doesn't mean he's getting there any time soon,' another chachi says.
'The boys must be hiding in a park near a hi-fi building,' a chacha says. 'Even the grass there is softer than our charpais.'
'Homework,' I mouth to Papa so that he'll stop interrogating me. He lets me go.
Inside our house, I stand in front of the kitchen shelf where Ma has put the Parachute tub. I can reach it easily now that Ma has changed its position. On its lid is a bindi shaped like a black teardrop that Ma must have stuck there, meaning to wear it again and forgetting. Before going to sleep or washing their faces, Ma and Runu-Didi take their bindis off their foreheads and stick them on whatever their hands can reach, the sides of the bed, the water barrel, the TV remote, my textbooks even.
I twist the lid open and fish out all the notes. There's 450 rupees, the most money I have ever seen. I put fifty rupees back, screw the lid tight, and stand the tub back on the mango-powder tin. I hide the rest of the money in the pockets of my cargo pants.
My hands have gone clammy and my tongue is scalding-hot in my mouth. Stealing money makes you feel terrible. But having 400 rupees in your pocket feels excellent. I can eat anda-bhurji and bread-butter for a whole year with this money. Maybe not a whole year. Maybe a month.
I should put the money back. I feel a note in my pocket, crisp and smooth and full of hi-fi power. It sends a flash of current through my fingertips, makes me sway like Drunkard Laloo.
'When will this end?' Ma asks as she enters the house. 'As if we don't have enough problems.'
She looks at me. I'm her No. 1 problem.
'Come now, let's eat, beta,' she says, smiling at me. 'You must be hungry.'
She tickles the back of my neck. I push her hand off.
I'm a detective and I have just committed a crime.
It's for a good cause though. If Pari and I bring Bahadur and Omvir back, we won't lose our homes. Our home is worth loads more than 400 rupees.
This is an excerpt from Djinn Patrol on the Purple Line, written by Deepa Anappara and published by Penguin Random House India. Republished here with permission from the publisher.