While state apathy and inefficiency may cost Varavara Rao his life, his shifting to Nanavati Hospital does little to assure that no other prisoner will meet the same fate in the future, writes the author.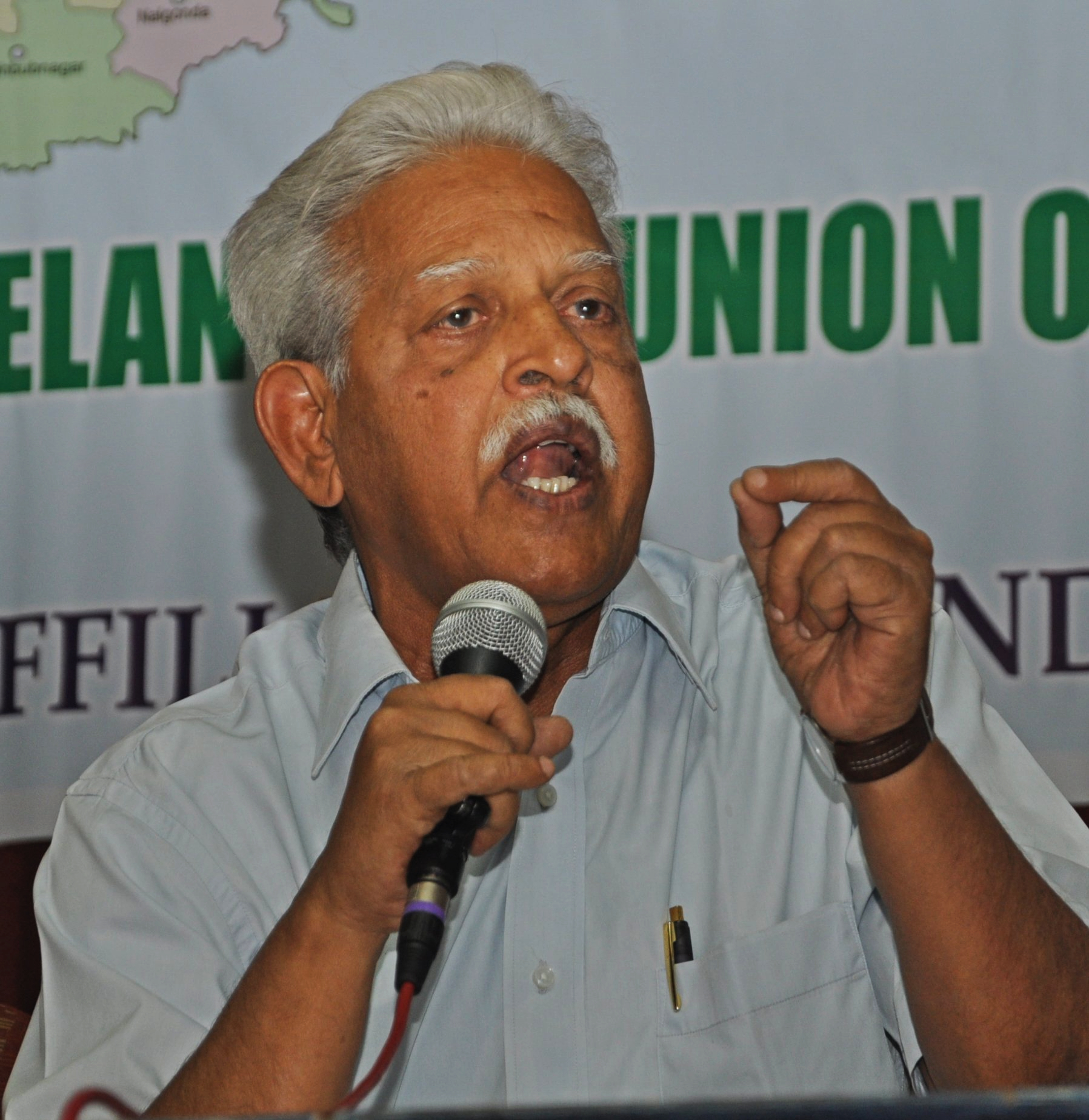 The Bombay High Court has ordered the Maharashtra Government to shift the 81-year-old poet and activist Varavara Rao to Nanavati Hospital for treatment. The state has also been warned against shifting him out of Nanavati without informing the court. This comes at the end of a long legal battle fought by P Hemalatha, Rao's wife, spanning over three months only to secure basic treatment for him as he is seriously ailing.
He was arrested in 2018 as the government alleged he was involved in planning the Bhima Koregaon violence. News of Rao's deteriorating health conditions first hit headlines in July. Hemalatha and her daughter made people sit up with their outcry, "Don't let Varavara die jail."
Five months later, Senior Advocate Indira Jaising appearing for P Hemalatha told the Bombay High Court: "Death is inevitable but everyone looks for a dignified exit from this world."
Varavara Rao's family has been running from pillar to post just to keep tabs on his deteriorating health.
In May, while his appeal was pending before the Bombay High Court, Rao was shifted to J J Hospital. However, neither his lawyers nor his family were informed until the next day. Once they learned of this, the family requested the NIA Court to direct J J Hospital to file a report. But before any progress could be made and tests could be completed, Rao was hurriedly discharged and sent back to Taloja Jail. The family alleges that the hurried discharge was to avoid judicial scrutiny of his health condition.
Later, J J Hospital did submit a report but no copy was provided to Rao's lawyers and they were only allowed to read it in court.
A few days later, in June, the NIA Court rejected his bail again noting that Rao has been "cured" after receiving proper and timely medical aid.
Matters took a turn for the worse in July as Rao's condition deteriorated. His co-accused Vernon Gonsalves, a non-medical professional was asked by state authorities to tend to him informed the family that Rao was bed-ridden and delirious.
After his family's appeals gained international attention, he was again admitted to J J hospital in July. His family rushed from Hyderabad to meet him only to find him lying in urine-soaked sheets.
Their fears came true when he tested positive for COVID-19, following which he was moved to St George Hospital. Reportedly, he had a fall there and suffered severe head injuries.
Following the intervention of the National Human Rights Commission, he was moved to Nanavati Hospital. During the hearing of his appeal, the Bombay High Court directed Nanavati Hospital to submit a report on Rao's health status and treatment.
What do we know about Varavara Rao's health condition?
Nanavati Hospital had submitted its report in a sealed envelope, a method generally used for confidential documents relating to state security. The court allowed Rao's lawyers to access a copy of the report. This report from August is so far the last proper evaluation of his health. Yet, this was not a complete report as it has only noted his health status. It did not contain his medical reports or details of his test results.
Again, before any other progress could be made in court, Rao was shifted back to Taloja Jail. Neither the court nor his family was informed about this. Even his discharge summary is yet to see the light of the day in court.
In the report submitted to the court, the neurologist from Nanavati noted the low sodium levels that had remained uncorrected since his admission to J J hospital. This has allegedly also aggravated his dementia. On admission, he was in a state of altered sensorium and regained consciousness almost a month later on the day of his hurried discharge.
Shortly after his discharge, he wrote to his wife  Hemalatha, that she was dead and her body was in the morgue. This raised alarm bells on his mental state and cognitive thinking amongst his family members.
In her petitions, Hemalatha told the court that Rao had no neurological problems at the time of his arrest. From weighing 68kgs in 2018 he was now a bag of bones at 50kgs.
Communication was tough and the jail authorities were unresponsive.
In court, the family was informed by the state that Rao was being treated by doctors at Taloja Jail in consultation with doctors from Nanavati Hospital.
Everything that the family knows about Rao's condition is not from the authorities or doctors at the jail hospital but from his co-accused Vernon Gonsalves.
Rao was bed-ridden and had lost control of his bodily functions. He was being cared for by two of his co-accused who were not medical professionals. The abysmal state of jail infrastructure allegedly caused him to develop a urinary infection since his urine bag hadn't been changed for 40 days.
Jaising had urged the judges in the Supreme Court to pay heed to Rao's cruel conditions of detention saying, "His soul is not being kept intact with his body."
Following Bombay High Cort's direction on November 12, Rao was examined by doctors of Nanavati Hospital through video-conferencing for 15 minutes. In their report to the court, the doctors said that Rao was alert and responsive. But the report also mentions Rao age as 45 years old.
Jaising called the report an "eye-wash". She questioned how any examination can be conducted within 15 minutes, with which the court agreed.
Battling state resistance in medical care for Varavara Rao and prisoners
Amidst all this, the family has had to wait for their petition to be listed and heard by the Bombay High Court for over two months. Finally, after a Supreme Court order directing immediate listing, the matter was heard on November 12.
Yet, what is more, alarming is the state's resistance in allowing him to access treatment. Counsels representing the different state organs have time and again argued how allowing him treatment outside jail would set a "bad precedent".
In the Supreme Court, Solicitor General of India Tushar Mehta on behalf of NIA had argued, "I don't see why other prisoners will not pray for similar relief."
During the hearing on November 12, ASG Anil Singh appearing for National Investigative Agency repeated the same stance saying, "This will set a bad precedent. There are doctors in jail who are experts."
Justice Shinde in the November 19 hearing said, "Ultimately the man is on almost death bed. He needs some treatment. Can the State say no we will treat him in Taloja?"
The arguments of the state also vacillated between keeping Rao in Taloja and transferring him to J J Hospital instead of Nanavati. Jaising pointed out to the state and court that Nanavati was actually the state's hospital of choice in July after he was admitted to J J Hospital and St George Hospital.
The court also reasoned that government hospitals are overburdened with COVID-19 patients.
Finally, the Prosecutor submitted to the court the instructions of the Home Minister that Rao was to be sent to Nanavati as a "special case".
Right to Health and the state of Prisons
Access to medical care while in the custody of the state, as a part of the Right to Health, is a fundamental right under Article 21 of the Constitution. The Supreme Court in Inhuman Conditions in 1382 Prisons emphasised on the importance of providing medical assistance and facilities to inmates as a part of their right to health.
In Nilabati Behera v State of Orissa, the Supreme Court said, "There is a great responsibility on the police and prison authorities to ensure that the citizen in its custody is not deprived of his right to life….. The duty of care on the part of the State is strict and admits of no exceptions."
Despite this well- established jurisprudence, the state of prison infrastructure and implementation of fundamental rights is such that prisoners have to petition the court for the most basic human rights.
The National Crime Records Bureaus 2019 report notes that there are 1962 medical staff members all over India against a sanctioned strength of 3320 posts. This includes the Medical Officer, Pharmacists and Lab technicians. In this, there are 762 doctors against a sanctioned strength of 1205 for a total of 4,78,600 prisoners. This means that each doctor has to attend to 628 prisoners on an average in India.
The situation in Maharashtra is no better where 34 doctors are responsible for the health of 36,798 prisoners in the state's prisons.
The medical officer is not only responsible to look after the diagnosis and treatment of the sick prisoners in the jail hospital but must also monitor hygiene and diet in the jail premises.
While the Prison Manual of 2016 mentions posts of Assistant Civil Surgeons, hailing from various fields, and Staff Nurses, the same are missing in the categorisation of the NCRB report.
Admittedly, there is a column of "Others" that may encompass medical professionals like specialised doctors, nurses and nursing assistants. However, not all states have sanctioned posts under this broad spanning and vague column, and Maharashtra is one of them. This is probably why Vernon Gonsalves and Arun Ferreira had to take on the task of caring for their ailing co-accused.
Only 34.59% of the total annual expenditure at the national level is spent on inmates and of this 4.3% is on their medical needs. As far as medical infrastructure goes, the report does not mention it in the exhaustive list that ranges from CCTV cameras to vehicles.
There were 1,775 deaths in prison, of which 1,544 are for natural causes as per the report.
During the hearing, Jaising asked the state counsels: "Who will take responsibility if he dies? If anything happens to him, it will be nothing short of custodial death."
Senior Advocate Anand Grover informed the court that it could take at least another year to frame charges in the case in which Rao was arrested in 2018.
Jaising argued that the State has to ensure that Rao survives to stand trial. She asked, "It is not beneficial to you if he dies. What if he is acquitted? What is the price we will pay?"