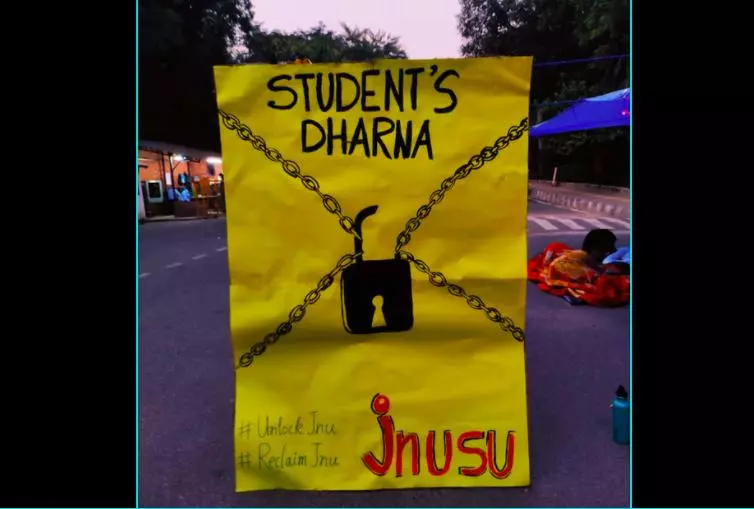 Delhi: Alok Kumar, a student of MA Linguistics at the Jawaharlal Nehru University, returned to the campus two months ago when his home in Bihar's Chapra district was inundated during the floods that ravaged thousands of houses in the state. Kumar wanted to resume his studies, notwithstanding the floods and the raging pandemic. But to his disappointment, he was asked to take shelter outside the campus. He also had to attend online classes on a tiny mobile screen. After attending classes for a while, he has given up and joined other students in staging a dharna to demand phased return of students to the campus.
Speaking to NewsClick, he said, "The students had left the campus after the March 13 letter thinking that they will soon return to the campus, but we saw a number of subsequent lockdowns in the country. Many students had left their laptops and study material in their rooms. Students like us now want to return to the campus. The online classes are not enough. There are not only internet and bandwidth issues in accessing the classes, but we are largely missing out on debates and discussions which are essential in understanding any topic. A student cannot get his doubts cleared."
"Another issue that has perturbed us is that we will lose out on most of our research work. And homes do not provide a conducive environment to be able to study. Any student enrolled in any masters program in the university, must submit their dissertation. In my course, we conduct research on a less familiar language. Last year, we did research on the Ahirani language which is spoken in Madhya Pradesh. I do not think there will be much progress this year. There is no roadmap by the department or the university," said Kumar.
He added, "In the previous semester, the students were asked to choose between submitting two assignments instead of an exam or appearing for an exam later. Many students chose the second option. The university has not given any clarity on when and how that will be arranged."
When asked about the highest number of COVID-19 cases being reported from Delhi recently, Kumar said, "It's a concern, but for how long can you postpone the reopening of the campus. There are guidelines about the reopening of the cinema halls and malls, but for universities."
Arun, a visually impaired student from Centre of Political Studies, who hails from Thrissur in Kerala, said, "I and my two friends conducted a survey among my classmates. We found that more than 50% of students were unable to access the [online] classes. In remote areas, you need more than 2 GB data to attend classes. Often, the students have to deal with fluctuating internet bandwidth and lose connection. When we join the class again, we find that the topic has ended or moved beyond the point of comprehension. If I cite my example, I live in a containment zone where I cannot access study material or any library. Meanwhile, my laptop broke down and I had no option to get it repaired. Almost all shops are closed now. So, I now have to rely on my mobile screen."
"Usually, after every class, teachers send us additional material to read. So, we get around 100 to 120 pages for self study. How can a person like me who has very low vision read all of this material on a mobile screen? Considering the situation, our teachers have lowered the word limit from 3000 words to 1800 words now," he said.
Arun, however, is hopeful about his return to the campus. "I think the students can return to the campus and administration can facilitate it only if there is a political will."
Sanjoy Das, a student of M Sc Life Sciences, is worried about his prospects of getting admitted into a Ph D programme. "The students pursuing sciences will lose out on practical work in the labs. Now, if you are not trained well, how will you expect that you will get into a Ph D. I think the administration should allow the students to come back and resume their studies. It is in the interest of the university as well as students."
Registrar Pramod Kumar could not be contacted for his comments.