Theatre director, actor, writer, and publisher, Sudhanva Deshpande has been creating conversations with theatre persons who have established their own theatre spaces. These conversations form a rich body of work covering a range of themes like community building around such spaces, challenges of drawing and keeping an audience, and keeping these spaces going with a vision. Three of these conversations have taken place so far- with Pradeep Vaiddya and Rupali Bhave of The Box, Pune; Bhagirathi Bai , co-creator of the Seagull Theatre of Guwahati; Dakxin Chhara of the Budhan Theatre of Ahmedabad.
The fourth conversation is expected on Thursday 29 October, 6:30 pm with Manu Jose of Ala Centre for Cultural & Alternative Education, Mulanthuruthy, Ernakulam, Kerala, live on Facebook, YouTube.
Aparna (@aparnamahiyaria) of ICF spoke to Sudhanva about these conversations, their beginnings and the journey so far.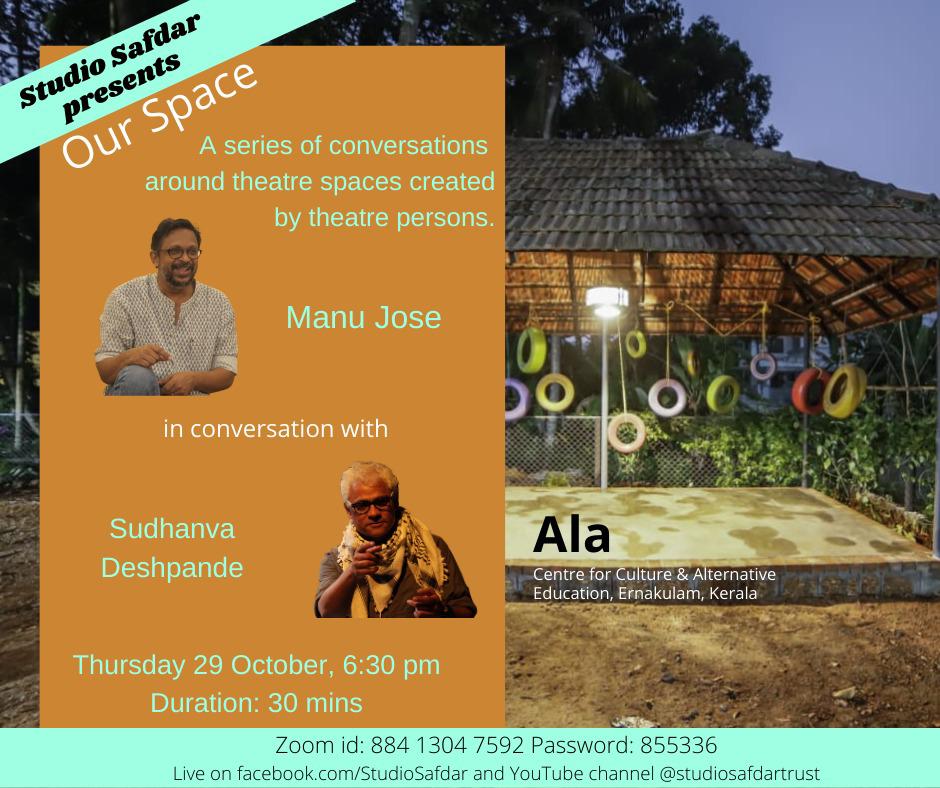 Aparna: How did this project come about?
Sudhanva: When the lockdown began, quite naturally, the attention was on workers and the poor, and what the loss of livelihoods meant for them. Soon, people began realising that many artists are also affected by the lockdown, and that there are many among artists who do not have the luxury of financial stability or savings to deal with the loss of income. Many of us were involved in one way or another in mobilising resources for the neediest, whether artists or not. One of the things that hasn't received any attention at all though is the impact of the lockdown on theatre spaces. Maybe that's because theatre is such a small part of the economic world of 'entertainment', who knows. But at Studio Safdar we knew that there are many spaces like us, created and run by theatre persons, which were dealing with the lockdown and thinking of their future in that context. It seemed a perfect time to initiate this conversation. It is a way of turning attention towards a vital part of the cultural/artistic ecosystem in our towns and cities. We tend to focus on the performance, but not on what makes it possible in the first place. Theatre spaces are invisible; this is a way of making them visible a little bit.
Aparna: What do you think is unique, something that distinguishes theatre spaces created by practitioners themselves as compared to any other theatre building?
Sudhanva: I think the fact that we use theatre spaces as practitioners gives us a better sense of both the physical space, and the mental space, required to do theatre. I've performed at scores of spaces all over the country, both the more traditional 'auditoriums' created by the government or some private body, and the much more informal spaces created by theatre persons. The one huge difference is always in the attitude. In a space created by theatre persons, there is just an immediate warmth, a curiosity, a sense that your show is also their show. Therefore, even though in almost all cases, the facilities are minimal, this warm, welcoming and caring attitude makes the experience richer and more pleasurable. This is also true for spectators, who are treated as equals and co-passengers on a journey, not as simply a seat number. Lastly, even though facilities are typically minimal, theatre persons know what truly matters to us, and there's a way they use the resources at hand to maximum gain.
Sudhanva: I think the fact that we use theatre spaces as practitioners gives us a better sense of both the physical space, and the mental space, required to do theatre.
Aparna: Jana Natya Manch, the group you practice theatre with, had set up its own space, Studio Safdar, in 2012. Have these conversations enabled you to reflect about Studio Safdar in ways that you hadn't before?
Sudhanva: Well, the conversations are still an ongoing series. We've had three so far – with Pradeep Vaiddya and Rupali Bhave of The Box, Pune, which is a new space that paradoxically opened during the pandemic; with Bhagirathi Bai, co-creator with her husband Baharul Islam, of Seagull Theatre, Guwahati, who've been around a number of years and even run a theatre school; and with Dakxin Chhara of Budhan Theatre, for whom the theatre space is not a building but an entire neighbourhood – and what's been common in all three is the sense of resilience and cheerful confrontation of challenges. Bhagirathi, for example, spoke about how they built an entire building in anticipation of a government project that was coming their way, but at the last instance, with the change in personnel helming the Sangeet Natak Academi, the project was scrapped – but it meant that Seagull's meagre savings were all wiped away! It's certainly not the first setback Seagull has faced, but if there's anyone who can take this in their stride and bounce back, it is Bhagirathi and Baharul, and that is exactly what they are doing.
Aparna: Who are the other speakers we might expect?
Sudhanva: There are plenty of theatre spaces all over the country created by theatre persons. Even after we began the series, we've had people tell us about spaces we didn't know about. Personally, I'm more interested in learning about spaces that are in smaller centres, or spaces that are not so well-established. So we'll come to cities such as Mumbai and Delhi and Bangalore as well, eventually, but before that I'd like to do at least half a dozen or so other cities.