This dossier on the RSS by Shamsul Islam, is a copyright free text, compiled using its own records and authenticated sources, and published as an eBook in October 2020. This book, the author states, "has been compiled for the purpose of spreading awareness about the RSS, a Hindutva organization which presents the most lethal danger to the principles of democracy, justice, secularism, egalitarianism and liberalism not only in India but the world over."
Following is an excerpt from the book.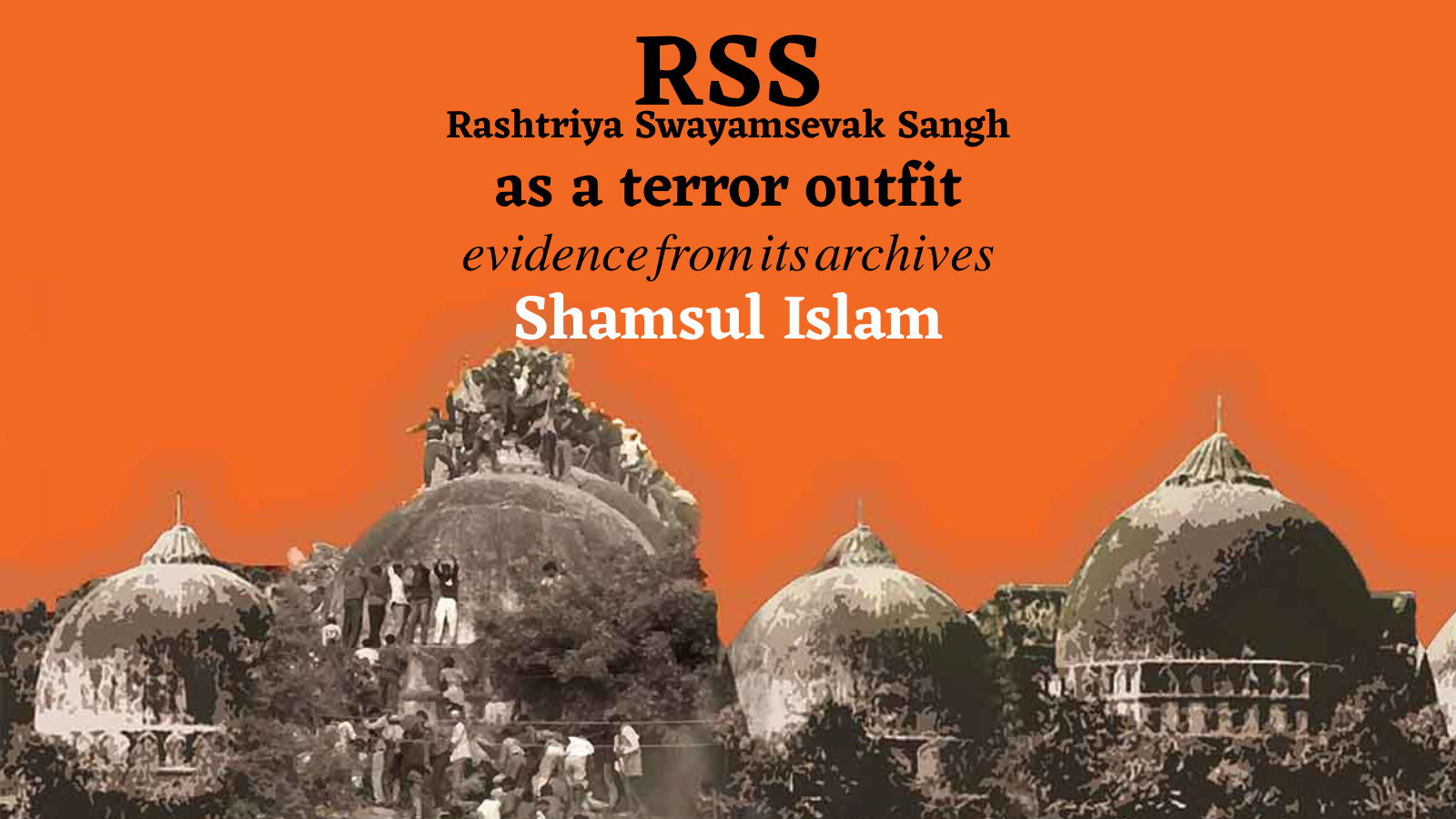 RSS linkages with international Fascist organisations
Report in the New York Times
The world has not bothered to take any notice of a new terrorist network developing fast in India and its neighbourhood between RSS and the two ultra nationalist Buddhist groups of Myanmar and Sri Lanka against minorities (Muslims and Christian) in the region. In a startling and focused disclosure, The International New York Times (October 16, 2014) in an editorial titled 'Deadly alliances against Muslims' wrote:
On his 79th birthday in July, the Dalai Lama appealed to Buddhist extremist groups in Myanmar and Sri Lanka to stop instigating attacks against Muslim minorities that have killed scores. Instead, in an affront to Buddhism's core message of compassion, leaders of those groups announced an alliance to make common cause against Muslims.
'The time has come to ally internationally,' Galagodaththe Gnanasara, the leader of the radical Sri Lankan Buddhist group Bodu Bala Sena, announced at a convention held in Colombo last month. The guest of honor was Ashin Wirathu, a Buddhist radical whose picture Time magazine put on its July 1 cover as 'The Face of Buddhist Terror. The government of Prime Minister Mahindra Rajapaksa ignored pleas by Sri Lankan Muslim and Christian civil groups, fearful of more anti- Muslim violence in their country, to deny Mr. Wirathu a visa. Granting Mr. Wirathu a visa can only reinforce the fears of many Muslims that the government—and perhaps more powerful regional allies—back Bodu Bala Sena, which translates as Buddhist Power Force.
Last week, Mr. Gnanasara claimed he was in discussions 'at a high level' with the right-wing Indian Hindu group Rashtriya Swayam Sevak to form what he called a 'Hindu-Buddhist peace zone' in South Asia. A Rashtriya Swayam Sevak spokesman, Ram Madhav, promptly denied that there were any such discussions. But Mr. Madhav, now general secretary of India's governing Bharatiya Janata Party, has written comments sympathetic to Bodu Bala Sena and Mr. Wirathu's group 969 in Myanmar on his Facebook and Twitter accounts.
It is folly for the governments of Mr. Rajapaksa in Sri Lanka, President Thein Sein of Myanmar and Prime Minister Narendra Modi in India, or their political allies, to give even the appearance of tolerating these Islamophobic groups in a region that has too often been convulsed by religious sectarian violence. They should condemn this mad alliance before it can spread further.1
Neo-Nazi mass murderer of Norway, Breivik's linkages with the RSS
Gnanasara's revelation that ultra-orthodox Buddhists in South Asia were entering into deadly alliances with RSS for cleansing minorities in the region was not first of its kind. Neo-Nazi mass murderer of Norway, Anders Behring Breivik, glorified Indian 'Hindu Nationalists.2 He opened Pandora's box when declared "Hindu Nationalist" movement of India as a key ally in a global struggle to bring down democratic regimes across the world. Just before he went to massacre a large number of people in Norway, he released a "manifesto" of 1,518 pages, of which 102 pages dealt with the glorification of Hindutva movement of India. It declared support to "Sanatana Dharma movements and Indian nationalists in general."
This manifesto also laid down a plan of co- operation between Neo-Nazi movements of Europe and "Hindu Nationalist" organizations of India. It said that it was essential that these two "learn from each other and cooperate as much as possible" as "Our goals are more or less identical." This manifesto specially mentioned the name of the fountain head of the Hindutva politics like RSS and its subsidiaries like BJP (political wing of the RSS), ABVP (student wing of the RSS) and VHP (RSS wing to bring the world under Hindutva hegemony) in this regard.3
Importantly, the manifesto pledged military support "to the nationalists in the Indian civil war and in the deportation of all Muslims from India" as part of a larger campaign to "overthrow of all western European multi-culturalist governments.
In the light of these facts it can be assumed that RSS is gradually working to build an international terrorist network to spread and execute its politics of hatred against Muslims, Christians and liberal elements. Its goal of cleansing minorities is being internationalised with very serious repercussions for the region and the world.
BJP IT-cell incharge calls for auction of Godse's revolver to prove his popularity
Vicky Mittal, BJP IT-Cell Indore in-charge demanded that in order to decide who is more popular in India, whether Gandhi or Godse, "once put on sale respected Godse's pistol you would know whether he was a terrorist or a patriot?". He seemed to be sure that Godse, the killer of Gandhi would win hands down! 4
If you believe that all this is happening without the knowledge of the RSS/BJP's top leadership, you are grossly mistaken. A prominent Hindutva organisation, Hindu Janajagruti Samiti (HJS), allied to the RSS, has been regularly holding national conventions for 'Establishment of a Hindu Nation' in India. In June 2013 one such convention was held in Goa. It is to be noted that members of one avatar of the HJS, Sanatan Sanstha, have been found indulging in bomb blasts at Muslim institutions and are under investigation for the murder of renowned intellectuals like Govind Pansare and Narendra Dabholkar, MM Kalburgi and Gauri Lankesh. This convention started its proceedings with a felicitation message from the then chief minister of Gujarat, Narendrabhai Modi, on June 1, 2013 wishing the HJS all success in its project of turning India into a Hindu Nation. 5
Shockingly, from the same dais in this convention from where Modi's felicitation message was read, one of the prominent speakers, K.V. Sitaramiah, declared on June 10, 2013 that Gandhi was 'terrible, wicked and most sinful'. Rejoicing at the killing of M.K. Gandhi, he went on to declare,
As Bhagwan Shri Krishna said in the Gita, Paritranaya Sadhunam Vinashaya Cha Dush-kritam Dharamasansthapnaya- Sambhavami-Yuge-Yuge (For the protection of the good, for the destruction of the wicked and for the establishment of righteousness, I am born in every age) on…30th January 1948 evening, Shri Ram came in the form of Nathuram Godse and ended the life of Gandhi.6
The report of this speech was deleted from the website of the HJS7, but it is available on the website of US-based "Forum for Hindu Awakening".8
---
1.http://www.nytimes.com/2014/10/16/opinion/deadly-alliances-against-muslims.html
2.http://www.thehindu.com/news/national/norwegian-mass-killers-manifesto-hails- hindutva/article2293829.ece
3.http://www.thehindu.com/news/national/norwegian-mass-killers-manifesto-hails- hindutva/article2293829.ece
4.https://www.freepressjournal.in/india/how-gandhis-killer-nathuram-godse-is-more-alive-than-the-mahatma-himself-today-in-india
5.For the original letter see: https://www.academia.edu/36746035/
6.https://www.academia.edu/4059744/
7.Now deleted: http://www.hindujagruti.org/news/16527_mohandas-gandhi-was-terrible-wicked-and-most-sinful.html
8.https://forumforhinduawakening.org/dharma/news/2013/06/11/mohandas-gandhi-terrible-wicked-sinful-shri-k-v-sitaramaiah/
This is an excerpt from RSS as a Terror Outfit: Evidence from its Archives compiled by Shamsul Islam, published as a copyright free ebook in October 2020.