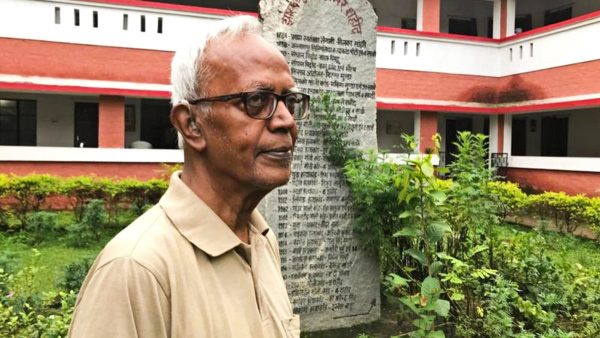 Fr. Stan Swamy was arrested by the National Investigating Agency (NIA) on 8th October in Ranchi and he was sent to Taloja jail after being charged in a false and fabricated conspiracy case related to the Bhima Koregaon incident that took place on 1st January, 2018. Here is a brief note on the life and work of Fr. Stan Swamy and the Bhima Koregaon case.
About Stan Swamy
Fr. Stan Swamy SJ, an 83-year old Jesuit priest, was born in a village called Virahalur, near Trichy, Tamil Nadu. He is a member of Jamshedpur Jesuit Province. After completing his post-graduation studies in Sociology, he worked as a trainer and then Director of Indian Social Institute, Bengaluru from 1974 to 1991. He, then, was the Director of Jharkhandi Organization for Human Rights, known as JOHAR (a popular term used to wish one another), a Jesuit Social Centre in Chaibasa, Jharkhand, which works among the 'Ho' tribes, from 1991 to 2000. After the new state of Jharkhand was carved out of Bihar in 2000, he worked towards establishing a new Jesuit Social Centre serving the adivasis of Jharkhand, Chhattisgarh and Madhya Pradesh while residing in a rented place in Ranchi. In 2006, he founded this new centre, known as Bagaicha, which continues to work for the rights of tribals in central India. He continues to work in this Centre to this day.
 His Work in Bagaicha
Fr. Stan Swamy is a true champion of marginalised sections of society in India, especially the tribals. He worked for the implementation of the 5th Schedule of the Constitution in tribal dominated regions of our country. He has been a vociferous supporter of the Panchayat (Extension to Scheduled Areas) Act (PESA), 1996, and the Forest Rights Act, 2006. He also supported the Right to Fair Compensation and Transparency in Land Acquisition, Rehabilitation and Resettlement Act 2013, which guaranteed fair compensation, resettlement and rehabilitation to people who gave consent  to be displaced by various projects in the region. He supported the Samatha judgment of the Supreme Court in 1997 and advocated for the SC order that guaranteed that the "owner of the land is also the owner of the sub-soil minerals". He supported the assertion of the tribal people of their socio-economic and cultural rights through the "Pathalgadi" movement. Pained at the arrest of thousands of tribal youth falsely accused as being 'naxals', he founded the Persecuted Prisoners Solidarity Committee (PPSC). He documented and made a study of the fabricated cases filed against thousands of tribals languishing in jails and based on the findings, he filed a Public Interest Litigation (PIL) in the Ranchi High Court demanding speedy disposal of the cases.
The Bhima Koregaon Case
Fr. Stan Swamy has been victimised by right-wing led governments for his work for tribal rights and several cases, including that of sedition, were filed against him. Most of these cases were dropped as they were found to be politically motivated. However, the Government appears to be targeting him with a false and fabricated case related to the Bhima Koregaon incident, which took place on 1st January, 2018. It was a day to commemorate the 200th anniversary of the victory of the Mahar Regiment, comprising of low caste groups, who along with the British had defeated the Peshwa (upper caste) army of the Maratha Empire at Bhima Koregaon on 1st January, 1818. During the 200th anniversary of the event on 1st January, 2018, right wing upper caste groups unleashed violence on dalits during their celebrations. Instead of acting on the perpetrators of the violence, a Bhima Koregaon conspiracy case was filed to protect the perpetrators and target social activists standing up for marginalised groups. 15 persons, including intellectuals, social activists, poets, etc, were arrested under the draconian Unlawful Activities Prevention Act (UAPA). Fr. Stan Swamy is the oldest and most recent victim of this Bhima Koregaon case based on false and fabricated evidence claiming that he had links to the banned CPI (Maoist). The modus operandi of the National Investigating Agency (NIA) has been to raid a person branded as a Naxal or Maoist, seize his or her computer, phone, etc., implant incriminating evidence in it and use this evidence to convict these people with life imprisonment. Fr. Stan Swamy's residence was raided twice in 2018 and 2019 by the Pune Police investigating the case and after the National Investigating Agency (NIA) forcibly took over the case in January, 2020, he was interrogated for over 15 hours in July, 2020. Finally, he was arbitrarily arrested by NIA on 8th October and he is presently lodged in Taloja jail near Mumbai. It is ironic that Fr. Stan Swamy, who had been struggling for the release of tribals falsely implicated in various cases is himself arrested in a false and fabricated case.
Fr. Stan's Medical Condition
Fr. Stan suffers from tremor (Parkinsons) and hearing. He uses hearing aid in both ears. In 2019 he had undergone surgery for appendicitis, in Bengaluru. He is weak physically and fractured his hand in January 2020. Due to his advanced age (83 years), he has been under medical observation and special diet.
Chorus for Immediate release of Fr. Stan Swamy
There has been a national outrage at the arrest of Fr. Stan Swamy disregarding his advanced age, his health condition, his reputation as a prominent Christian leader and the yeoman services he has rendered to marginalised sections of society in the country. Prominent leaders, Members of Parliament and Chief Ministers of Jharkhand and Kerala have questioned the arrest of Fr. Stan Swamy.
We humbly request you to use your good offices to support the cause of the immediate release of Fr. Stan Swamy and the withdrawal of all false and fabricated cases filed against him.