Poet, translator and founder of Panther's Paw Publication Yogesh Maitreya in conversation with James Michael, an independent cinema researcher based in Mumbai whose work is focused on film and language. This is the concluding part of a II part interview. 
Yogesh Maitreya: James, you said in Part 1 that movies reflect the dominant political views and opinions of their time. We therefore cannot also avoid the politics of the time in which Indian cinema came into being. For instance, Manthan (1976), directed by Shyam Benegal, seems to explicitly reflect state ideology and was released during the Emergency. More recently, some movies of Akshay Kumar showcase the developmentalist initiatives of the current BJP regime. I see these movies as prime examples of how movies in India adhere to 'state ideology', sometimes lauding Nehruvian brahmanism and at other times Sangh brahmanism I think cinema is a good avenue to explore these subjects further also because it helps identify the pervasiveness of caste in India. What do you think?
James Michael: I'm glad you are referring to the origins of cinema in India again because I went back and checked about DG Phalke and can now confirm that he is technically not the father of cinema in India. Technically because he neither made the first film in India nor the first mythological. As Ashish Rajadhyaksha shows in his book, Indian Cinema: A Very Short Introduction, Phalke's elevation as the father of Indian cinema comes from the fact that he tied the fortunes of his movie making enterprise to the Swadeshi Movement.
The ambition of Phalke was to make Indian cinema indigenous—ideologically as well as by way of setting up a Swadeshi-style enterprise in Nasik, Maharashtra. Therefore, one could claim that politics was endemic to cinema from its inception and that one could perhaps draw a straight line from Swadeshi Movement to Make in India and from Raja Harishchandra (1913) to Mission Mangal (2019), tying them together, even if loosely.
Now that you mention it, a connection could indeed be made between Manthan and recent movies such as Swades (2014), Toilet: Ek Prem Katha (2017) and Pad Man (2018). All of these movies have this Swadeshi/Make in India [tilt] and therefore a developmentalist logic that drives their plot. Manthan's claim to fame is that it was produced by 5,00,000 milk farmers in Gujarat. Earlier you also talked of the angry young man phenomenon in Indian cinema, which happened at a time when Hindi cinema underwent an internal segmentation into art cinema, middle-class cinema and populist cinema, partly as a result of a government drive to produce "proper Indian movies" through enterprises such as the Film Finance Corporation (FFC).
What needs to be talked about in this context is also the not-so-angry-men or the proper gentleman type heroes in Indian cinema during the time, such as Girish Karnad in Manthanor Amol Palekar in Rajnigandha and Chitchor. If Amitabh Bachchan represented the populist angry young man segment, Karnad represented the developmentalist FFC-funded art movies of the time and Amol Palekar the middle-class heroes. All savarna heroes, all looking after each other's interest in a sense, as Kuffir put it eloquently in his article.
I am not sure why a savarna Christian (Verghese Kurien) is turned into a savarna Hindu (Dr. Rao) in Manthan. Perhaps Swadeshi indeed meant and continues to mean being savarna Hindu, as Phalke demonstrated six decades before Manthan, but the movie tries to at least showcase the caste inequities endemic to the region of the period, represented through the conflicts between the Dalit character Bhola and the brahmin Mishraji.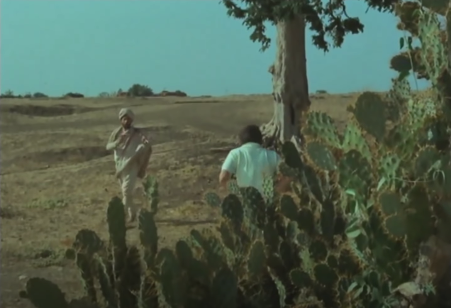 Jump to Ashutosh Gowariker's Swades and the central character is Mohan Bhargava, a brahmin suddenly suffering from nationalist nostalgia in 2004—during the previous UPA regime—when India's GDP growth was a stupendous 8%-plus or so. I think if Mohan Bhargava decided to leave his job in NASA, come back to India, stay in a caravan and set up a small hydro-electric power generation facility in a remote village, the thought of 8%-plus growth was definitely running through his mind. From Manthan therefore we could see a transition from state-sponsored developmentalism to Swades, where developmentalism is entrepreneur-focussed and happens under what many commentators would characterise as neo-liberal conditions. Compared with Manthan, the Dalit characters also move from the centre to the periphery of the narrative in Swades.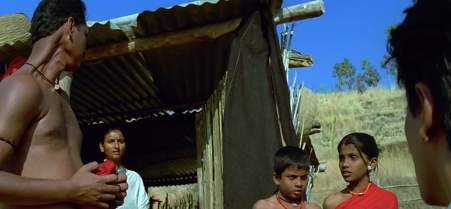 On the other hand, when we come to Toilet: Ek Prem Katha (2017), we can see party-sponsored propaganda under the aegis of what I would like to call as neo-swadeshi conditions. By 2014, the economy had lost much of its steam and Swadeshi savarnas were battling for domestic supremacy. In Toilet: Ek Prem Katha therefore we have brahmins suffering from dilemmas such as whether they should build toilets for themselves or not, now that government was trying to eliminate open defecation under the Swachh Bharat Abhiyan. Here, access to toilets is not portrayed as a basic necessity for lower castes or that which may reduce the sufferings of the manual scavenging community but as an internal dilemma of a brahmin man who would rather adhere to scriptural orthodoxy than accept to build a water closet that may contribute toward the elimination of manual scavenging/open defecation. So, come 2017, we have a situation where Dalits have been completely made invisible in these developmentalist narratives that we had been witnessing since at least the 1950s.
---
Also read | Manto's "Boo" and Savarna Guilt
---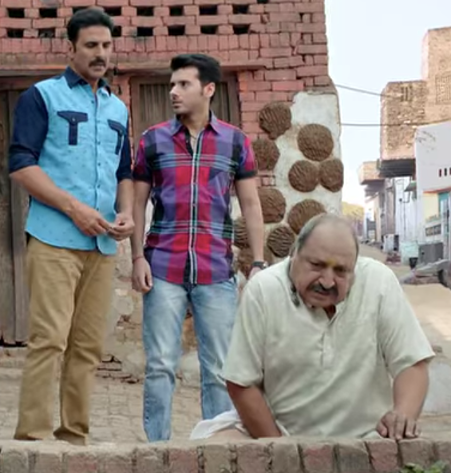 For sure, I am not claiming here that propagandist films are being made for the first time in our nation's history. DMK under CN Annadurai made rationalist anti-brahmin movies such as Velaikari (1949) as well as Parasakthi (1952), which generated controversies because of its anti-Hindu and anti-brahmin content. The point here is that if the DMK-led propaganda was anti-caste in nature, fuelled by the teachings of anti-caste leader Periyar, Akshay Kumar is hard at work to reinstate brahmanism in all its glory.
YM: Appropriation and outright erasure of Dalit-Bahujan stories in Bollywood movies have always been a practice. In Akshay Kumar's Pad Man, the hero is shown as being a Rajput from the Hindi belt, but the story actually is that of Arunachalam Muruganantham, a Tamil Bahujan man. I like to imagine that this is possible because of savarna dominance over not only the mode of production of cinema but also in domains such as the censor board. Now in the wake of over-the-top (OTT) media platforms and COVID-19, many Dalit-Bahujan stories and characters suddenly seem to be popping up in series and movies screened on Netflix, Amazon Prime and Disney+ Hotstar. This has provided viewers with a chance to watch stories that are closer to their lives and therefore are more relatable. Even the language in such series and movies is very much what Dalit-Bahujans can easily relate to. OTT seems to have freed content from the nepotistic Bollywood mode of production at least for now. Could you elaborate?
JM: It is apposite that you mention OTT media services and COVID-19 at the same time because as far as I am concerned the pandemic has offered us a space to think about the structure of a cinema theatre and its connection to the entrenched nature of mainstream movies. A cinema theatre evidently places some constraints on movies: for instance, it is beholden to deep-rooted structures such as star power, distribution channels, censorship and the family. Consider this, food and beverages constitute about 30% of the revenue of big multiplex chains such as Inox and PVR. So, for such multiplexes, there is economic sense in promoting movies that reinforce traditional family values, which in India happen to be that of upper castes. Star power cannot be overemphasised either—the biggest festive weekends during a typical year—be it Eid, Diwali or Christmas—are dominated by a Khan. Salman Khan releases movies during Eid, Shah Rukh Khan during Diwali and Aamir Khan during the Christmas season. A 2016 report by the Economist magazine claimed that between them the Khans had cornered 14 of the past 15 big festive weekends, which are typically the periods when children have school holidays.
Unlike the past when word of mouth was a thing, these movies tend to make "table profits", profit for the producer even before a movie is released, owing to revenues from selling satellite rights, digital rights, song rights, overseas rights and such. Also, movies are released on a much wider scale than before so much so that it is now possible to turn in a profit in under a week or so, owing to the pull of a star. It is impossible to think of releasing a smaller-scale movie in India during holiday seasons because multiplexes run four or five shows per day per theatre of a star-powered movie across their country-wide chains. Khans, like any other savarnas, have no qualms in promoting traditional upper caste values in their movies because content has no standing in a system that allows you to literally trawl in profits inside of a week.
Secondly, COVID-19 has allowed us to reflect on the length and structure of a typical movie: the length of a movie could range from one hour to a maximum of three hours on average, interspersed by an interval. This is because it is practically impossible to sit in a theatre with kids and family beyond three hours and even within this period movies need to allow for a break for the family to enjoy snacks or to use wash-room facilities. If historically intervals were necessary for changing reels and technology had long since made this practise redundant elsewhere, its persistence in Indian cinema speaks of the ideological conditions that underpin cinematic practises in our country.
---
Also read | Vicky Donor: Caste and Race of Sperm
---
When COVID-19 struck, the share price of big global producers such as Disney or in India of listed theatre chains such as Inox or PVR crashed because their business models are tied to blockbusters that are suitable for theatres where families could go on an outing, so to speak. On the other hand, the share price of Netflix went through the roof because OTTs aren't necessarily beholden to the structures elaborated above. Netflix has been encouraging "series" over movies because their model is based on [more] stickiness than the one-time watch blockbuster model elaborated above. Such series have also blurred the distinction between movies and traditional "television serials".
We make fun of saas-bahu serials for their witless plots, but come to think of it, the structure of TV does not necessarily allow a typical plot to be complex. The characters in such serials are flat and more or less static—like the sock and buskin or the mask tradition in ancient Greek theatre, which was about coded costumes and exaggerated facial features or expressions, necessitated by the large, open-air character of the Greek theatre of the time. In general, a TV serial running for over a year or more at scheduled daily or weekly intervals may not have the wherewithal to imbue ordinary objects with diegetic value as opposed to a series that could be binge-watched, re-watched or replayed at will. Also, most of these saas-bahu TV serials are characterised by their over-reliance on bottle episodes, tailored for maximum bang for the buck, as opposed to the lavishly produced, cinematic series of a Netflix or an Amazon Prime.
Let me give you an example to further illustrate the contrast between a traditional TV serial and an OTT series: in the series Sacred Games, in season 1 episode 04, police constable Katekar asks his son about MagiTech, a computer institute where Katekar had him enrolled. In episode 05, when the constable visits Shamsul's mother, who had earlier filed a complaint that Shamsul was missing, as part of police inquiry, she shows him a pamphlet of MagiTech, where her son had also enrolled. This humanises Katekar, who until then was prejudiced against the Muslim woman and was uninterested in taking up her complaint in earnest. The reference to MagiTech in episode 04 was stray, so much so that I didn't even notice it: I had to therefore re-watch the episode to catch the significance of the pamphlet that was vested with so much diegetic power through those two episodes. This is not easily possible in a conventional TV serial, which is constrained by significant time lags between episodes.
My larger point is also that OTT series allow the so-called distinction between a traditional movie and a serial to disappear and one could begin to hypothetically envision 10-hour or more long "movie series". In this context, we could, cooped in our houses, venture to predict the demise of cinema as we know it during these pandemic times.
YM: The implication of your observations is that OTT platforms are game-changers in the context of how we are watching movies. I remember my father used to take me to the movies on Sundays to watch Bollywood movies. Of course, in a theatre, we do not know the caste of a person who is sitting next to us and in a way, cinema brought us all together. But in India, caste is all pervasive and even science is not immune to it, not to speak of cinema halls. In Maharashtra, it was 2003 when the Congress government made it mandatory to play the National Anthem in cinema halls on Republic Day.
In 2013, actor Puneet Issar's wife slapped an NRI inside the movie theatre for not standing up while the National Anthem was being played. In this context and in the context of cartelisation of movie chains, caste has found a way to kill the "nominal equality" that Dalit-Bahujans have been enjoying with their capacity to buy tickets. OTT platforms seem to have the capacity to reflect more Dalit-Bahujan stories and characters and are providing us with the freedom to watch the content we want. But we are cooped up at home and made to watch movies or series as an individual or as family, reduced to our respective caste locations. I am alluding here to cinema hall's historical potential for social endosmosis, which is essential for a society to progress. It seems to me that not only are movies or series being reconfigured but also our subjective positions are in a sense being shaped differently. I think the location of anti-caste ideology in all of this must be identified newly, because the time in which we are living now could persist longer than we are expecting. In a sense, movies are affecting us in ways that we have never experienced before.
JM: K Sivathamby, in the context of Tamil cinema, had argued that the cinema hall was the first performance centre in which all Tamils sat under the same roof, in a sense dissolving the barriers created by caste through the purchasing power of capitalism. By the early 20th century, the lower castes, in relatively larger numbers, had had a taste of "wage labour" and were getting paid in that abstract, modern "equaliser" called money. I had also mentioned above that DMK used this new "public common" for propaganda purposes. But as you yourself have mentioned, due to the increasing cartelisation of cinematic venues by theatre chains, the "commons" character of cinema has been fast disappearing, allowing for only certain people with higher purchasing power to visit these venues, making theatres as increasingly representative of savarna values.
I believe OTTs such as Netflix have inflicted a body blow to these cartelisation tendencies. Also, as opposed to the erstwhile angry young men of Indian cinema, who were never even Yadavs, as Kuffir has argued, we can see that OTT series are choc-a-bloc with Yadav and other such Bahujan characters. Consider, for instance, Kusum Yadav of Sacred Games, Jatil Yadav of Raat Akeli Hein, Sunny Mondal of Jamtara, Radha Yadav and Kajal Yadav of Dolly Kitty Aur Woh Chamakte Sitare or Ayyan Mani of Serious Men, who is a Tamil Dalit and assertive Ambedkarite living in Mumbai. Similarly, Kajal Yadav also at some point asserts her backward caste identity in Dolly Kitty Aur Woh Chamakte Sitare, which we don't get to often see in a Bollywood movie.
In this context, I argue that untethered of cartelisation and star power, OTT plots are free to explore the other side of India, which lends itself to the "Noir" character of many of these series and movies. Noir crime thrillers elevate ordinary objects by imbuing them with symbolic values—no object is outside the purview of a crime series. A kerchief or a leaflet promoting computer classes could prove to be crucial pieces of evidence in Noir thrillers that often end in cliff hangers to ensure audience stickiness.
In addition, due to historical reasons, the genre's provenance in Hollywood and its subsequent internationalisation across Europe, Noir lends itself to localisation, vernacularisation and globalisation at the same time. If in the middle-class movies of the 1970s, Bengalis and other language participants were hard pressed to speak Hindi in the movies that they produced (think of Basu Chatterjee or Hrishikesh Mukherjee), in Sacred Games, we can finally get to hear the characters speaking in Marathi, the local language of Mumbai. It should be noted that the series also got released in 191 countries at the same time!
Your reference to theatres as "commons" also has another dimension to it. The cinema hall, in a sense, exemplifies one of the fundamental characteristics of liberal democracy, namely the tension between communitarian and individual ethos. We get to watch a movie together, but the darkness that enshrouds us ensures that each spectator is on his own. This could, in a sense, be mapped onto individual and communal, or communitarian, rights as well. State intervention is necessary to ensure that welfare is distributed according to the principles of liberal democracy, i.e., ensure inalienable rights such as roti, kapda aur makan and of course equitable access to public commons such as cinema halls (right to equality), while the intervention should be circumscribed to make sure that individual liberal rights, including to free speech (inalienable), ability to amass money (free market) etc., are also protected (right to liberty). The balance between these two values is always tenuous, and when communal rights are sacrificed in the name of individual rights, the powerful always tend to win. This has resulted in theatres losing their public "commons" character overtime.
It should be remembered that in relation to the earliest movie screenings, we had governments issuing anxious circulars around potential risks associated with the spread of contagions, which in retrospect offer interesting parallels to the current anxieties around the COVID-19 pandemic. You may remember that when Vigathakumaran (1928) was released in Thiruvananthapuram, Rosy, the Dalit female lead of the movie, was denied entry to the movie theatre where the movie was released. The so-called common space inside a movie theatre has continued to remain a festering wound, always temporarily sutured by the promise of a covenant, which goes by the name of the Constitution.
In 1991, eight Dalits were massacred by upper caste Reddys in Tsunduru, Andhra Pradesh. The seeds of the grotesque violence were sown when a young Dalit graduate's foot allegedly touched a Reddy woman in a movie theatre. In 2014, the Andhra Pradesh High Court acquitted all the accused in the case. Probably these are among the reasons why the government wants us to know that, even if it would indefinitely hold off the other important fundamental rights of its 'citizens', when it comes to nationalism it sees no caste or class and wouldn't mind distributing it in disproportionate abundance.
In 2014, Salman Mohammed, a philosophy student from Kerala was arrested for not standing up when the National Anthem was being played in a state-owned movie theatre in Thiruvananthapuram and was charged with sedition. It should also be remembered that it was a small film society from Kerala that had moved the apex court against the 2016 ruling that made playing the National Anthem mandatory in cinema theatres. As a result of this, the National Anthem is no longer obligatory in theatres.
All's not gloom and doom though. Technology is getting cheaper by the day and more accessible to most of the people in the country thanks to the ubiquity of smartphones and cheap data programs—OTT services are going to stay and we should use this opportunity to further democratise cinematic practises in our country. I do not, for a moment, think OTT in itself is inherently democratic, but we have a foothold there now and should make sure that our presence counts and matters.
YM: Historically speaking, movies in India have been manifestations of strict caste moralism. Intimacy between couples used to be depicted in terms of "nuzzling" flowers or courting doves, among other such tropes. In short, the act of kissing was in a sense abnormalized in these movies. With OTT platforms, the idea of couplehood has not only changed, but also brought into public imagination an uncensored idea of couplehood, an impossibility in earlier movies. For example, in Sacred Games, a central character possesses sexual and emotional affinity for his transgender partner. In Made in Heaven (Amazon Prime) one of the leading characters is gay and sexual intimacy between him and his partners is showcased without censorship. How do we chart this radical change, even if only schematically?
JM: Yes, Yogesh, there was an informal ban on kiss in Indian movies earlier. Madhava Prasad reads it as a symptom of the impossibility of couplehood itself in the context of the feudal joint family, which more or less denies privacy to couples. Madhava is of course allergic to the word caste, so we could as well add here that in a feudal, arranged marriage setup, endogamous relationships are the only expressions of couplehood and that the ban on kiss, therefore, signified the impossibility of love itself in a nation controlled by caste relations. Nothing much seems to have changed now, although the conditions that created the impossibility may very well have metamorphosed according to the changing nature of capitalist modernity itself.
For instance, look at Dostana (2008), which broached the subject of homosexuality in Bollywood and tried to make it palatable to the Indian upper caste family. In a sense the movie also showcased the signalling power of cinema—once domestication of gay relations was narrativized under conditions of endogamy, it was only a matter of time before a degree of legitimate protection would be accorded to gay couples in India, which was made legally possible by invoking the right to privacy by the Supreme Court in 2017. This right to privacy has always been a structural impossibility for most Dalit-Bahujans in India—imagine the countless one-room chawls in Mumbai or the Dalit colonies of Kerala, where in the event of a death, one has to at times break the kitchen floor to cremate the dead. So, love and kiss are in a sense problematic in itself for different sets of people living under antithetical material circumstances.
When serial kisser Imran Hashmi arrived in Indian cinema with the movie Murder (2004), it is notable that the story is set in Thailand and not in India. The kiss in the movie happens between two adulterers and is depicted as a blemish that represents a moment of crisis in conjugal love, which of course is restored by the end of the movie. Zeher: A Love Story(2005) is again interesting for the same reason—the adulterers get to enjoy a steamy kiss but not the so-called legitimate couple, although they get to do a raunchy song scene together! If through the 1990s and at the turn of the millennium, restoration of couplehood that faces various challenges was the underlying theme that animated most Bollywood movies, we could witness some changes happening to this thematic in the current decade.
For instance, if we look at a movie like Zindagi Na Milegi Dobara (2011), we could see that couplehood is not necessarily depicted as an end in itself but is actually portrayed as a problem that needs to be overcome in pursuit of individual freedom.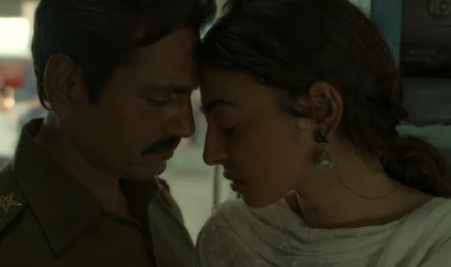 When we come to series and movies released on OTT, Sartaj Singh in Sacred Games is battling a failed marriage; Jatil Yadav in Raat Akeli Hai is entangled with a "femme fatale" in classic Noir fashion; Dolly and Kitty, in Dolly Kitty Aur Woh Chamakte Sitare, have a tragic affair and a failed relationship, respectively; and Sunny Mondal in Jamtara stages a fake marriage with an older, upper caste Gudiya, who wants to use the ruse of marriage to make some quick money and emigrate to Canada. In many of these series and movies, we can easily see that although the couple is finally free from the shackles of an overbearing feudal family and there are full frontal nude or amorous scenes aplenty, the idea of couplehood itself seems to be facing foundational challenges. This is an aspect that would require our continued close attention as the beginning of the next decade is just round the corner!