"When the State's version of incidents becomes suspect and unacceptable due to trust deficit, it is imperative that an alternative version of the facts observed by the populace is also presented and publicized", writes jurist B N Srikrishna in the Prologue to the detailed report released by the Citizens & Lawyers Initiative on the violence that took place in North East Delhi in February 2020. Based on material available in the public domain, including news and fact-finding reports, it's an attempt to counter the Delhi Police's narrative that tries to assert that the violence was a conspiracy against the central government by anti-CAA protesters. It's also in response to the assertion that the violence was part of a "Hindu retaliation" to "Muslim provocation".
Below is an excerpt as well as the entire version of the report.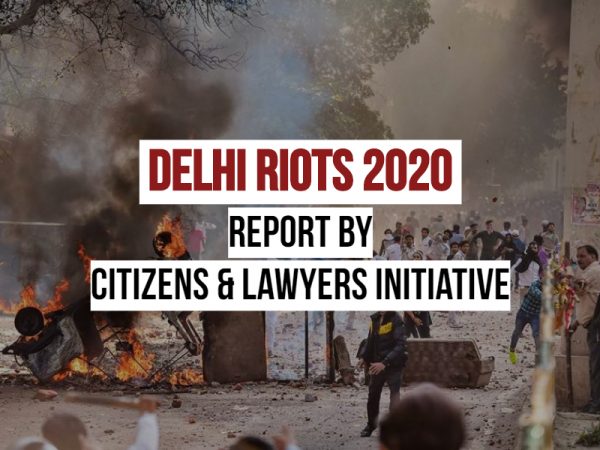 Prelude to the Violence and Early Warning Signs
2.4 Kapil Mishra in North East Delhi
Deadly communal riots broke out in the North-Eastern part of the national capital, leaving 53 people dead, and properties destroyed worth crores. The riot that ravaged for many days had put Kapil Mishra, a local BJP leader, under much spotlight. On 23 February Mishra had led a pro CAA rally at Maujpur chowk and demanded vacating the roads near Jafrabad metro station where hundreds of women had blocked the road on Saturday night, in protest against new citizenship law. Sit in protest, similar to Shaheen Bagh spread in the national capital, the one including Kadampuri and Chand Bagh in North-East Delhi. Mishra unsuccessfully contested Delhi election from Model Town constituency; he was even banned from campaigning for 48 hours for his incendiary tweet. On 23rd January, Mishra tweeted, "There will be a contest on Delhi Roads between India and Pakistan on February 8."
The Mishra rally in Maujpur was said to have sparked one of the worst communal riots in Delhi. On February 23rd, in the presence of the North East district's Deputy Commissioner of Police, Ved Prakash Surya, Mishra delivered a "hate speech" giving an ultimatum of three days. Mishra warned that, before the visit of Donald Trump, the president of the United States of America, which began 24th February onwards, roads should be cleared. He said, "They (protesters) want to create trouble in Delhi. That's why they have closed the roads. That's why they have created a riot-like situation here. We have not pelted any stone. Till the US President is in India, we are leaving the area peacefully. After that we won't listen to you (police) if the roads are not vacated by then in Jafrabad and Chand Bagh."
Threatening the Delhi police, Mishra said in a tweet, "A three-day ultimatum to the police to clear the roads and after that please do not try to convince us, we would not even listen to you." Earlier, in the afternoon, Mishra asked his supporters to gather at Maujpur at 3 PM to give an answer to Jafrabad. He tweeted, "to give an answer to Jafrabad. In support of CAA, we will hit the streets. You are all invited."
Eyewitnesses recorded that incendiary slogans were raised during Mishra's rally:
Kapil Mishra tum lath bajao, hum tumhare saath hai, Lambe-lambe lath bajao, hum tumhare saath hai, Kheech-kheech ke lath bajao, hum tumhare saath hai, Mullo par tum lath bajao, hum tumhare saath hai, Chamaaro par tum lath bajao, hum tumhare saath hai. (Kapil Mishra, you beat them with sticks, we are with you, Beat them with long sticks, we are with you, Beat them with full force, we are with you, Beat the Muslims, we are with you, Beat the Dalits, we are with you).
Just after the "ultimatum" of Mishra, clashes broke out in Maujpur, where shops were set ablaze by the mob. "I heard him and his supporters talking about sending a lot of messages to others to gather at the venue," said Rashiuddin Ahmed, a local leader from Seelampur, who were present during Mishra's rally. He also claimed, "I heard him talking to people. "Yahi sahi mauka hai. Isse bhuna lo. Ab chook gaye to dubaara mauka nahi milega. (This is the right time. Exploit it. If you miss it, you won't get another opportunity)."
Read the report below: