Before arrest, Stan Swamy addresses the people of India
On Thursday, October 8, a team from the National Investigation Agency (NIA) showed up at the Bagaicha Social Centre, Ranchi, where Stan Swamy lives in a room, and arrested the 83 year-old activist for forest rights and those of undertrial prisoners. On October 9, the special NIA court in Mumbai remanded him in judicial custody till October 23. He is now at the Taloja jail.
What follows is a lightly edited transcript of a video message from October 6, shared by Swamy's colleagues, in which he explains how he came to be trapped in the "Bhima Koregaon" case.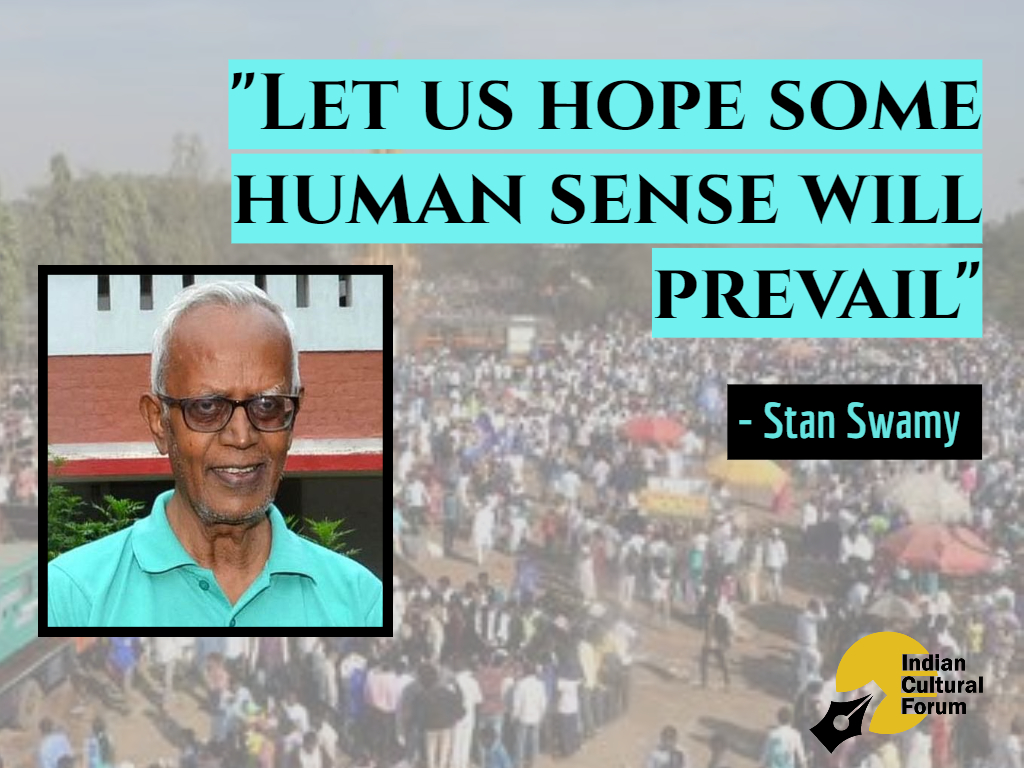 I would like to begin this video by speaking of the context in which I am. Right now, the NIA is interrogating me. They have done 15 hours of interrogation, and still want me to go to Bombay, which I'm saying I will not do—for reasons I will explain later.
A little background on my being active in Jharkhand. It is in the context of Jharkhand becoming a separate state. Everyone had wanted this but there remained unresolved issues, these being displacement, land alienation because of mining, factories, townships, dams. And people were not taken into confidence. Only the minimal compensation was paid to them. We took it up as a challenge, to see how young people might treat this as a life-issue and fight it out. In this process, some very helpful rulings or laws were passed by the Indian parliament, particularly the Panchayats Extension to the Scheduled Areas, or PESA Act of 1996, which gives significant powers to the gram sabha. Whatever is to happen in the village requires the gram sabha to be consulted first and must have its consent. Another positive step was the Land Acquisition, Rehabilitation and Resettlement Act, 2013, which for the first time recognised the need to get the consent of the people, landowners, with a fair compensation paid to them. These opened the way and people started to claim their rights. However, when they stepped forward to claim them, they were just being thrown into jail.
So, in 2017 I gave a call to whoever I knew, not only in Jharkhand but in all the central tribal states—M.P., Chhattisgarh, Odisha and Bengal as well. We came together and formed a body we call the Persecuted Prisoners Solidarity Committee (PPSC). We planned first to do a study of undertrial prisoners in all these states and then have recourse to legal action, so justice might be done. In this process, I filed a case against the Jharkhand state, in the high court, on behalf of around 3000 young adivasis languishing in jail. This became a bone of contention with the state and they wanted to put me out of the way. One easy way was to implicate me in serious cases. Hence the case of Bhima Koregaon, a place I have never been to in all my life. I was implicated there, and was raided twice. First by the Pune police, then the NIA.
I was interrogated for 15 hours in July, over a span of five days. Apart from some factual information about Bagaicha, they wanted to know about the Pathalgadi issue and the Bhima Koregaon movement. Whatever they had asked for I provided. But then, some persons whom I had come across during this process [of interrogation] started to put before me certain extracts, supposedly taken from my computer, extracts in which Maoists were communicating with each other and in some of these extracts even my name was mentioned. They asked: Where did you meet? My first question to them was, who is the person writing. To whom was this written? On which date? Is there a signature? None of it was there. I denied and disowned every extract that was put before me, except one between Sudha Bharadwaj and myself. We were the co-convenors of the PPSC. We had issued a call to human rights organisations all over the country explaining what the PPSC is about and requesting them to join hands with us so it would be a common effort. The [other] extracts were all interpolations put into my computer, so I took a very clear stand on them.
They are asking me now to go to Bombay for further interrogation and I am refusing to go because of my age, certain ailments, and the epidemic which is ravaging the country. The Jharkhand government has given directions that elderly people may not travel or appear in public. It is a risk I am unwilling to take. I am ready for further interrogation if the NIA wants it, but through videoconferencing. This is what I am communicating to them and let us hope some human sense will prevail. If it does not I am ready, and I hope those who know me and care about me are also ready to face what is to be faced.
I would like to end by saying that what is happening here isn't something unique to me alone. It is a broader process happening all over the country. We are all aware how prominent intellectuals, writers, lawyers, poets, activists, student leaders have been put into jail because they expressed dissent or put questions to the ruling powers of India. In a way I am happy to be part of this process because I am not a silent spectator, and I am willing to pay the price whatever it be.
Thank you for your attention.