Dadri Lynching: Looking back at responses from artists, activists
Five years since 52-year-old Mohammad Akhlaq was murdered outside his house in Uttar Pradesh's Dadri, the Indian Cultural Forum takes a look at responses from artists and activists on lynching from over the years. From Rajesh Joshi's poem 'Junaid Ko Maar Dalo' to Harsh Mander's write up about visiting Pehlu Khan's home and TM Krishna's letter to the Prime Minister, we present a range of material from the archives, both in English and Hindi.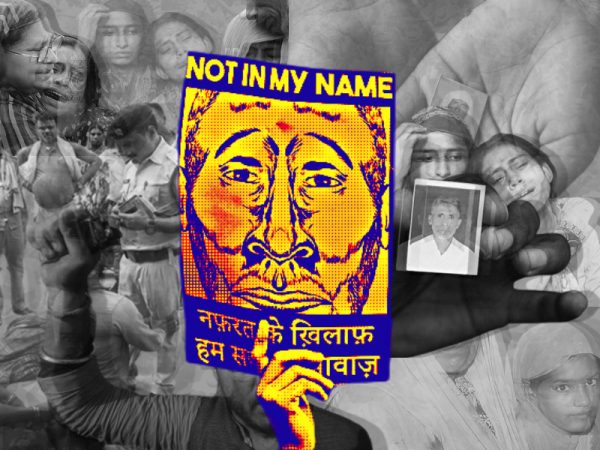 ● ​Junaid Ko Maar Dalo | जुनेद को मार दो
– Rajesh Joshi
बहाना कुछ भी करो
और जुनेद को मार डालो।
● Saira's Ramzan: In Memory of Hafiz Junaid
Saira held tight in her heart
Allah the Most Merciful
The Most Compassionate
And did not see the hawks
that gathered around her pot of haleem​
● She Will See A Bitter Moon
– Manash Firaq Bhattacharjee
On Eid ul Fitr, a Poem for the Late 15-Year-Old Hafiz Junaid​
● Killing the Shambukas
– S Chandramohan
Jim Crow segregated hostel rooms.
Ceiling fans bear a strange fruit,
Blood on books and blood on papers,
A black body swinging in mute silence,
Strange fruit hanging from tridents.
● Visit to the Site of Pehlu Khan's Lynching
– Harsh Mander
With two fistfuls of marigold flowers, and surrounded by a few police persons, I walked the couple of hundred years to the spot where the ageing cattle trader Pehlu Khan had been cruelly lynched by a mob.
● "Words come to you easily. So why do we need to shout and scream for a few sentences about a man who was lynched for allegedly consuming beef?"
– TM Krishna's Letter to the Prime Minister
As I penned this piece, I heard of your words at a rally in Bihar, instead of deterring me from writing to you, it has only further strengthened my resolve that this needs to be said.
● Junaid's Mother and Akhlaq's Daughter Ask for Justice
– Newsclick
At an AIDWA convention in New Delhi, Saira, Junaid's mother along with Shaista, Mohammad Akhlaq's daughter talk about the pain of losing their loved one to the madness of a hate crime.
● Village Women Unite to Protest Lynching: 'Will Not Accept Body Until You Register FIR, Arrest Killers'
– The Citizen
​Women of a small village in the Ramgarh district of Jharkhand came out in support of the grieving and terrified wife and children of the 50 year old driver Alimuddin Ansari who was lynched by a mob on the basis of rumours that he was carrying cow meat in his van.
● जंतर मंतर पर गूंजी आवाज, मेरे धर्म के नाम पर हत्या नहीं | Jantar Mantar Resonates with #NotInMyName
– Newsclick
Thousands of people – of all ages and from different walks of life, gathered at Jantar Mantar on 28 June 2017, protesting the spate of lynching and hate killings in the country.
● Nafrat Ke Khilaf Dilli Ki Awaaz
– Newsclick & Indian Cultural Forum
On September 10, artists and poets gathered at different venues in Delhi to mark cultural protests against the killings of rationalists and the incidents of mob lynching across the country. They say, "Not in my name."