Killing in the Name of Cow
Ever since the Modi led BJP was first elected to office in 2014, there has been a spate of attacks on dalits, Muslims and other minorities in the country. Mohammad Akhlaq's brutal mob lynching was only the beginning of killing in the name of cow.
It's been five years since Akhlaq was killed and countless others are thrashed, beaten, paraded naked, and lynched by gaurakshaks more often that we would like to believe.
But we will not forget. We will not let these hate crimes by gaurakshaks ruin the social fabric of our country. To assert this, we present some of the stories from our archive.
Gauboy
– Orijit Sen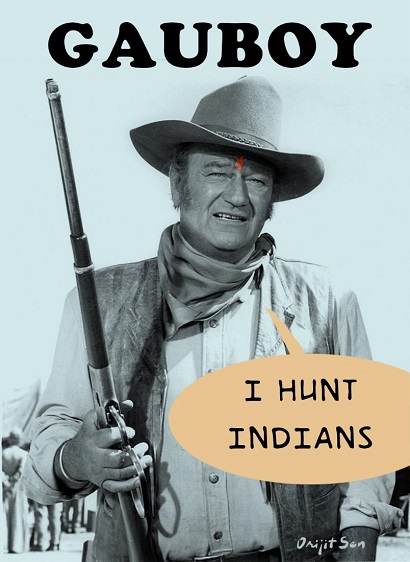 गौ माता
– कमला दास
My neighbour is a gau-rakshak
– Nabina Das
Everyone has a gau rakshak neighbour these days
not everyone knows what they look like
we say happy Diwali sirji, and how's the weather today
we eat cake, madamji makes sherbet when we meet.
I could even have a lover who's a gau rakshak so tender
that he keeps me from all untowardness of nights.
Our gau rakshak neighbour wears branded jeans
he hates Chinese goods but flaunts a Swiss watch
she too likes kitty parties where Ramdev churan churns
Zara scarves with Kolhapuri sandals for the ladies, kyunki
after all, Musalmanon me hunar toh hai for craft and art
thus my gau rakshak friends make light of life.
When we meet we say pleasantries like the rain
until my inshallah waterlogs their ears, they seem stunned:
You JNU-wallahs are like that only no, they say
a little wanton, a little awaara, somewhat misfit
still I recite Bhakti poetry and often placate the bhakts.
Our gau rakshak neighbour asserts Hindu khatre mein hai
the sky is saffron, the cow mothers turn plastic bags to manna
Our conversations span all greatness of Bharat Mata Shri
then Nirvana becomes a Bengali mithai he offers me with tea.


In the Name of Cow: Lynching and More Lynchings
– Ram Puniyani
The insanity which comes up in the mob is most condemnable. In case of lynchings in the name of cow, the factors involved are multiple. With the rise of Hindu nationalist politics many a dalits were earlier killed in Gohana for example when they were skinning the dead cow. Adding on to this agenda of polarizing society on the issue of cow, last few years as Modi Sarkar has come to power there are overt statements for Gau Raksha (Cow Protection).
Read the full article here.
Lynching as a Public Spectacle
– Prabir Purkayastha
It is the idea of a secular, democratic India that is at stake today. That is why the mass violence against Muslims and the "new" caste movements against reservation. Gau raksha is only a strategy of mobilisation, not the goal. Just as segregation was the real content, pushing India towards a Hindu majoritarian state under upper caste dominance is the true intent of today's mass violence. This is why we have lynching as a public spectacle, recorded on cell phones and circulated widely. This is the key element: homogenising the majority, and breaking the will of the minority community. Technology then and now, is the instrument of amplifying this message of hate; but not its cause.
Read the full article here.
The Visuality of Lynching​
– Shaheen Ahmed
By early 2016, the cartography of the violent, lynched body of the unworthy citizen, that aberrant citizen, became the contemporary post-human condition of Digital India. The premise, since October 2015, remained the same – killing in the name of cow, the 'divine bovine mother'. The visuality now rendered itself beyond still images, it now consisted of videos too that were shared over WhatsApp in real time of the violence being perpetuated.
Read the full article here.