In a small village in Kerala, people begin to feel threatened by an invisible rooster that crows at odd hours. It offends the sentiments of all those who are religious, political, patriarchal, exploitative, fanatical and homophobic. Naturally, there are many baying for its blood. The witch-hunt that ensues fuels suspicions that the invisible cock might even be a human; an anarchist who is trying to destabilise the nation with help from outside.
A stunning tale, as N S Madhavan calls it, The Cock is the Culprit — written by Unni R and translated by J Devika — does an astute job of exposing the dark underbelly of Kerala society.
The following is an excerpt from the chapter "Sarcasm" of the book.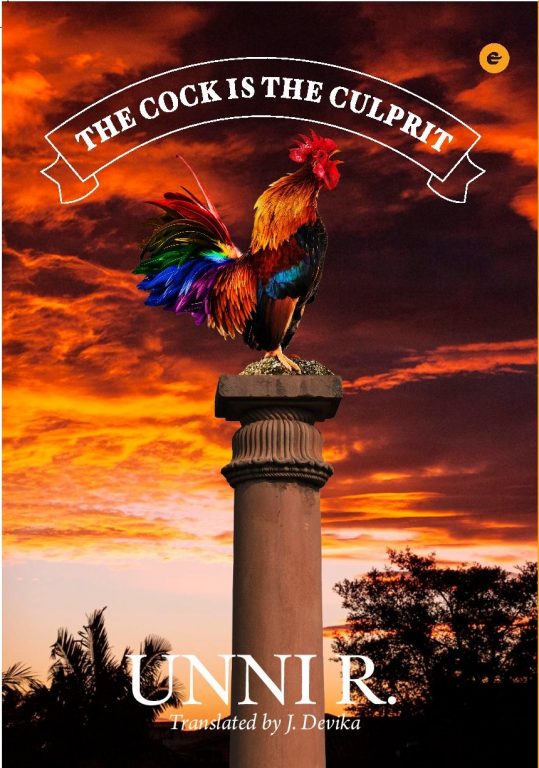 Chaakku sat before Krishnankutty, Kurupsaar, Mathai, members of various political parties who had come together to form the Citizens' Forum, Kochukuttan,and some fifty other people, like a lone warrior facing a whole army. Since no introduction or prayer was called for, Kurupsaar ended the confusion about how to start by announcing 'Let us begin' with a shake of his head. Chaakku made the first offering: 'I am withdrawing the complaint against Sri Kochukuttan.'
The room rang with the applause of everyone except Kochukuttan. When it stopped, he spoke up: 'Before that, the complaint against Naaniyamma must be dropped.'
Chaakku looked at Krishnankutty and Kurupsaar. Kurupsaar got up and said in his naturally mild voice, 'Naaniyamma is a good woman. No one has any doubt about that. But one is not sure if the rooster in her house has the same goodness of character.'
There was a general sense of puzzlement all around.
'It's only natural that when one files a complaint against a rooster, it becomes a complaint against its owner.'
The audience continued to gawp.
'Mr Chandrasenan Nair has had an experience with Naaniyamma's rooster that may strike you as really odd, but it is one that poses a serious threat to our national security and is indeed a blot on our national pride. That is why he had to file such a case.'  Now the audience seemed to be not only taken aback, but also genuinely worried. Kurupsaar sat down. Chaakku got up to speak:
'Two days back, some ten or fifteen of us had gathered in the frontyard of my house to honour the sacred memory of our martyrs and discuss the threats raised by terrorism. We had decided to begin with a silent prayer. All of us stood up and closed our eyes to pray. Suddenly, there was a sharp crowing. Surprised by such a sharp sound, our eyes opened involuntarily! We then saw a rooster on the boundary wall. I have seen it before many times. It had never encroached into our premises. I had never ever heard it crow, either. And yes, this same rooster was behaving thus, in such an unprecedented way! Go away, you fowl—we first yelled at it politely. But no. Not only did it refuse to leave, it kept crowing louder and louder. In short, a day set apart for sacred memories and thoughts was lost to crowing and screeching. My complaint was against this utterly unusual crowing. I thought it was necessary to have it investigated. The truth is this. And other than this, I haven't complained against the old lady, nor do I want to trouble her in her ripe old age.'
When Chaakku ended his speech, some people were torn between many things: What to say now? What is the truth? And where is the lie in this? Where are we right now? Others were sceptical—what conspiracy could possibly lurk behind a cock's crowing?
While they were taking their time to emerge from the complexity of the situation, Kurupsaar asked, 'Now tell us, should Chaakku withdraw the complaint or not?'
When that plunged most of the audience into yet another dilemma, Kochukuttan alone raised his nose and mouth towards reason and logic, trying to breathe.
All the others agreed that it was only fair to lodge a complaint against a creature that let out an ugly sound when the sacred memory of the brave martyrs of the nation was being evoked. Naaniyamma became irrelevant before the glory of the nation.
As they were about to leave, Chaakku revealed yet another detail: 'That rooster is still crowing. Full of sarcasm. If you strain your ears, you can hear it.'
No one had anticipated such a revelation.
This is an excerpt from The Cock is the Culprit Unni R, translated by J Devika and published by Westland/Eka. Republished here with permission from the publisher.