A novel of epic proportions written in four parts from 1887 to 1901, Govardhanram Madhavram Tripathi's Sarasvatichandra is both the enactment and embodiment of the life philosophy of one man and his sole mission. Part IV, The Dreamland, brings to a culmination the philosophical and narrative concerns explored in the preceding parts. At the heart of it lies the question of dharma and right conduct in the realms of state, society, family and love; and widow remarriage, a concern central to late nineteenth-century reform.
Translated by Tridip Suhrud, the novel holds up a fascinating mirror to Gujarati society and life in the princely states against the backdrop of pre-independent India, in transition at the turn of the nineteenth century—culturally, politically and ideologically.
The following are excerpts from the book.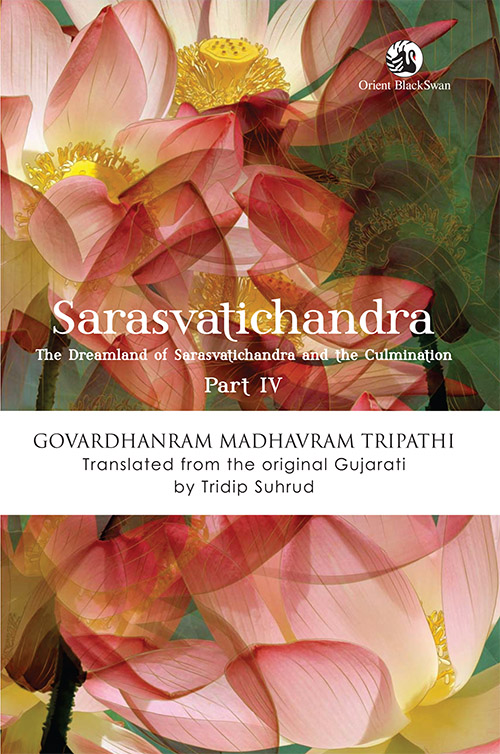 Political policy, when applied by men who are liberal and farsighted, leads to the strengthening of relations between political leaders of different states. If two kings have friendly relations they find ways of coming closer to strengthen these mutually beneficial ties; if they are enemies they seek proximity to find each other's weaknesses. During the reign of Emperor Akbar, he had friendly relations with Rajput kings and many Rajput women joined the imperial zenana. In the present period the English do not follow this policy. There are many reasons for this. But those kings, or their officials who form relations of inter-dining with the English, derive benefits of this closeness. The Rajputs are free, according to both Shastras and custom, to have social relations within the four varnas and also outside of them. This arrangement has been made to enable such social intercourse as is necessary for the benefit of political policy. The English open up their hearts during dinner table conversations; they are rarely so open on other occasions. Their religious leaders and their women also create possibilities of social closeness, which is otherwise not possible. Mallaraj had therefore advised Maniraj that he should have an Englishwoman as a companion for queen Kamlavati.
Maniraj, after he assumed the throne, realised the usefulness of his father's advice. Shastras place no prohibition on the kshatriyas with regard to inter-dining just as the brahmins are free to acquire knowledge from any source. Kshatriyas are like brahmins when it concerns the acquisition of political knowledge and statecraft. At the present time political education and statecraft are equated with English education. As a source of knowledge English has a position of primacy and reverence in our palaces. These days many debauched and evil practices are found among our princes and palace oficials which are sought to be legitimised and sanctioned by customs. These practices hamper the growth and functioning of native states. Mallaraj had formulated a maxim, that customs are contingent upon time. He had taken measures to ensure that this maxim was followed in his palace and by his oficials and that no customs contrary to this maxim were allowed to take root in his court. This was done to ensure that conservative and retrograde practices do not impede statecraft. For this reason the palace of Ratnanagari had instituted Sanskrit learning. Following the same logic Maniraj decided to open the doors to English education. Vidya Chatura welcomed the proposal. The widow of Colonel Brave was approached to send a high-born, virtuous and learned tutor from England. She recommended Miss Flora, who was about twenty-five years of age. For the past one year or so, Miss Flora had been the queen's tutor. Honouring her husband's wishes, the queen had enthusiastically participated in this project, willingly abdicating her higher status to adopt the role of a student.
---
Also read | Ratnanagari's Statecraft
---
Gunasundari, deep in grief after Kumud's death, had been negligent about nurturing Kusum's intellectual development. On her frequent visits to Gunasundari, Kamlavati observed this and, with her husband's consent, sent Flora to Kusum. The Englishwoman was accomplished in various arts, while Kusum was eager to learn them. Flora was keen to learn about native customs, while Kusum was enamoured of the polite ways of English women. Flora found she had much to learn from the wisdom and household skills of native women, while Kusum was eager to know about English social customs and their suitability or incongruity with native life. Their mutual attraction made their meetings joyous for both.
Flora was on her way to Kusum's sitting room. She was in the staircase when from a window she saw Kusum approaching her. She waited for Kusum. They held each other by the hand and started talking. They spoke in Gujarati. Flora had begun to speak some Gujarati and her hesitation and mistakes became a cause for laughter.
Flora: 'Miss Kusum ben … Kusum b…en!' Kusum: 'Behn, not ben!'
Flora: 'Correct. The orthography and speech in your language are different. Kusum behn—is that right?'
Kusum: 'Correct, Flora behn! Our names mean the same thing.'
Flora: 'Yes! Yes, you are Kusum and I, too, am a Kusum.You are a miss and even I am one.'
They came up to the sitting room and sat on a couch. Kusum gave Flora a Chinese fan. Fanning herself with it, Flora asked,'What is this called?'
'Vinzano.'
'Who was with you just now?' 'My aunt Sundar. Shall I call her?' 'Of course, with pleasure.'
Kusum invited Sundargauri to join them. They sat down. Flora said,'Please come.Are you well?'
Sundargauri: 'Yes. Kusum is all praise for you.' Flora:'She is affectionate towards me.'
Sundargauri: 'Kusum, Madam Sahib speaks softly like Kumud.'
Kusum: 'Yes. But she likes to be called Flora behn and not Madam Sahib. Flora means a flower. Kusum also means the same and both of us are unmarried.'
Sundargauri: 'Flora behn, how long will you remain unmarried? Kusum will have to get married soon.'
Flora: 'Sundar Kaki, we are still young; you are our elder. Those who wish to marry may do so;those who do not may not.It all depends on one's preference. Kusum ben—behn—may marry if she wants. I may not marry if I so please.'
Sundargauri: 'Please advise her to get married. Her mother is very worried.'
Flora: 'She will marry when her education is complete and when she is in love.'
Kusum: 'Kaki, you have asked the wrong person for help! Their customs and thoughts are different from ours; you will not succeed with her. But let us satisfy your curiosity. Flora behn, among your people, how long do women's minds stay away from thoughts of love?'
Flora: 'Love is in the hands of God.'
Kusum: 'But can a woman remain unmarried and pure if she so desires?'
Flora: 'Of course, she can. Those who have will and fear God can; God helps all those people.'
Sundargauri: 'In England, women like you can work. That is not the custom among us.'
Flora: 'Yes, that a fact.1 But Pradhanji is a wealthy man.We consider it sinful to marry our daughters by force and against their will. Kusum behn is not yet of marriageable age according to our custom.'
Sundargauri: 'A father's wealth is useless for a daughter. Moreover, getting a daughter married is not sinful, not getting her married is. There is no merit higher than the gift of a daughter for parents. The gift of a daughter in marriage is not an act of coercion. It actually secures her future; it is for her own good. Parents who desire their children's welfare cannot be said to act in a coercive manner.'
Flora did not comprehend this argument. Kusum, of course, did and hence tried to change the subject.'Kaki, if you do not mind, we will begin my lesson now. But they will be in English, which would be a problem for you.'
---
1. 'Yes, that is a fact' is in English in the original.
These are excerpts from Govardhanram Madhavram Tripathi's, Sarasvatichandra Part IV: The Dreamland of Sarasvatichandra and the Culmination, translated from the Gujarati by Tridip Suhrud and published by Orient Blackswan, 2016. Republished here with permission from the publisher. (The Gujarati original was published as Ratnanagarinu Rajyatantra by NM Tripathi and Co, Bombay, in 1898.)