In Memoriam: Three Years Since Gauri's Assassination
Three years since her assasination, Gauri Lankesh continues to inspire the need for fearless resistance.
On September 5, 2017, the fearless journalist and activist was shot dead on her way home by a man with alleged links to the Hindutva organisation Sanatan Sanstha in Bengaluru. Before Gauri, other rationalists Govind Pansare, Narendra Dabholkar and M M Kalburgi were also similarly assasinated in their hometowns. Today, as we witness India becoming increasingly intolerant and communal, it becomes all the more crucial to remember Gauri and the spirit of fearless resistance that she will always be an icon of.
The Indian Cultural Forum brings to you a round up of voices from artists, activists, academics and writers remembering Gauri Lankesh.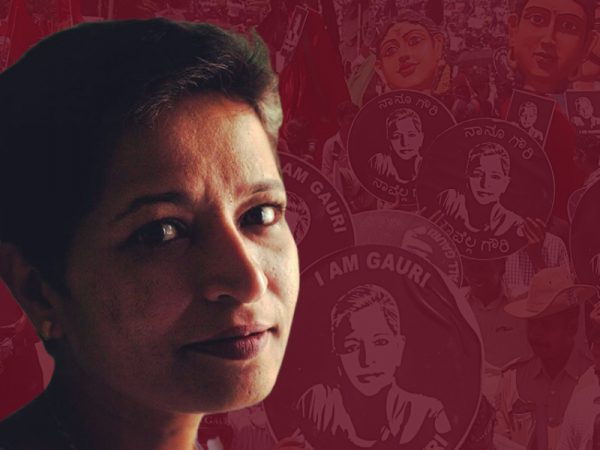 On the anniversary of Gauri Lankesh's assassination by Hindutva cadres, her sister Kavitha Lankesh talks about the progress of the court case on her murder; the lack of depth and research in media coverage and the legacy of her sister and father as fearless journalists.​
An academic and writer, Rajendra Chenni, writes about how Gauri Lankesh became the "most strident voice against the Hindutva forces". He says, "When we saw the ocean of young faces all declaring "I am Gauri" at the protests against her killing, we understood the Gubbachchi had metamorphosed into a tidal force of democracy and dissent."
Hindu Right's intolerance towards rational voices took the lives of Dabholkar, Kalburgi, Pansare and Gauri. Resistance to that intolerance continues to unite progressive voices today. Remembering Gauri, in this three-part conversation, technology policy researcher Jai Vipra speaks to Tejal Kanitkar, who is a faculty at NIAS, Bengaluru, and has been working with the movement for rationalist thought and scientific temper.
What have we witnessed since Gauri's death three years ago? The Indian democracy has been constantly put to tests in the last few years. Writer and activist, Githa Hariharan recounts the events of state repression and people's resistance that we have witnessed since Gauri's assassination. She says, "If we speak, Gauri will continue to speak through us."
Pushpamala N, a sculptor and visual artist, speaks about her friend Gauri Lankesh in this interview. In this poignant and personal account, we meet Gauri as an affable person, a friend who one could talk to about anything, as a neighbour who brought people together, as someone with unwavering commitment to her work despite the costs that come with it particularly for women, as a political fellow traveller who one had disagreements and debates with, and as a symbol of resistance that continues to unite voices against intolerance and hate.
Three years since the attempt to silence her, Gauri continues to inspire words, art, and protest. Here are some of the artworks that have registered their resistant voices against the regime that considers dissent a crime.
What began as a spontaneous, personal response months ago as poet and translator Pratishtha Pandya listened to the iconic song by Faiz Ahmed Faiz, became a collective journey when artists from different parts of India, of different generations, communities, and gender came together.
From the Archives
In this conversation from September 2017, Megha Pansare recalls the last time she met Gauri Lankesh, and expresses shock at the brutal murder. She says that the murders of the rationalists and the brave journalists like Gauri, are planned and executed to spread terror. The voice of dissent is the biggest fear for the right wing. She draws parallel between the murders of Kalburgi, Pansare, Dabholkar and Gauri.
Friends and Family Respond to Gauri Lankesh's Assassination
Newsclick and ICF Report
In this video from 2017, friends and family talk about Gauri days after death.