My Dreams on a Rainy Day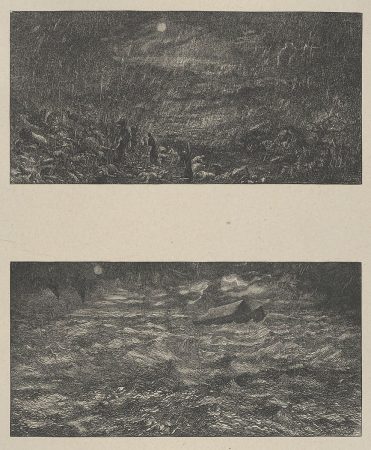 Thomas Dalziel, 'The Deluge–The Ark on the Waters' | Image courtesy The Metropolitan Museum of Art
My dreams are blind —
To the fresh wounds of my past,
To the wrinkles of my anger,
To my anxious palms
And tired legs
As she makes me walk towards herself.
My dreams are deaf —
To the barking grief
That breeds beyond
My home of low esteem,
To the stammer of my self-belief,
To the bickering continuum
Of the world demanding me
And my yearning to never be.
My dreams don't taste —
The retching of my doubts
Before I give into
My distant passions,
The salt of my fears
Brimming around my eyes,
The blue-black bruise on my tongue
As I abuse myself –
Before others do.
My dreams don't touch —
The red sensations on my skin
Of the hot, hot, hot iron
Of emotions you threw at me,
The torn perseverance,
The overused patience.
My dreams don't smell
The foul breath of memories,
The stinking life buried
Underneath many deaths,
The rotten pile of hope
Stacked behind the sweet,
Satisfying defeat.
My dreams won't believe —
The petrified traumas
Of my disabled self,
And earnest excuses from
My triggered past.
My dreams walk with an air of wisdom,
Stubborn like an old lady,
With ignorance under her arm –
Like an umbrella
On my rainy day.