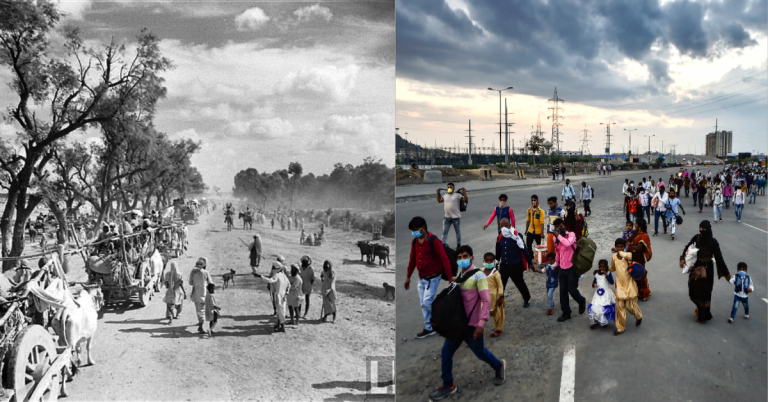 Amid a raging pandemic, between the 9th and 27th of May, one of the most sweltering times in northern India, around 80 migrant workers, men and women included, died of heat and lack of food in trains arranged to take them back to their hometowns. Instead of passengers, therefore, the trains that reached their destinations carried their still bodies. Ever since the news and the many images of the exodus of crores of labourers, travelling across the country by foot, appeared on social media, there have been one too many parallels drawn to another great migration the country witnessed around seventy years ago as part of the 1947 Partition of the subcontinent. On July 17, the National Centre for Biological Sciences (NCBS) organised a webinar on "Partition and the Psychological Strains of Migration" with prominent psychiatrists Alok Sarin and Sanjeev Jain.
Though one of the most lasting traumas experienced collectively as a nation-state, mainstream psychiatry in India has maintained a disturbing silence on the issue, according to Alok Sarin. A mental health activist and psychiatrist in New Delhi for more than 25 years, Sarin and  Sanjeev Jain, have worked to put together a book on this matter, triggered by the same silence. Jain is another well known psychiatrist and a faculty at the Department of Psychiatry at NIMHANS, Banglore. Titled The Psychological Impact of the Partition of India (Sage, 2018), the work argues that the event was as much a partition of minds and human experiences, as it was a geographical division. It also explores the "trans-generational effects" of Partition-related trauma and calls for a more sensitive positioning of some people's trauma, distress, and ill-health within their fraught socio-cultural backgrounds or identities as well.
---
---
As per Sarin, one of the ways the mental trauma associated with the Partition was traced was through the history of mental hospitals across the borders, especially in the erstwhile Punjab Presidency. The stories of these hospitals are not linear, but "fascinating" and "layered", and characterised by myriad "exchanges". Sarin mentions a Lahore Hospital, divided in 1948 — following which around 233 Muslim patients from various hospitals across India were sent to Lahore and many Hindus from Lahore, to Amritsar and Ranchi.
Taking forward from here, Jain joined in by offering snippets from his spectacular analysis of the dreams of the mentally ill who were transferred across hospitals situated on either side of the border. Heavily affected by the changes taking place around them, the confused state of their psychopathology led some patients to have delusions that rapidly shifted in imagery — they ranged across Hindu, Muslim and Christian symbols — as per Jain. For some others, it was a sinking feeling of guilt following Gandhi's assasination, so much so that they attempted suicide. In fact, Gandhi himself analysed the eruption of violence as a "sign of madness", following which he issued a "plea for sanity," mentions Jain.
---
Also Read | "The fleeing labourers are caught in an unusual combination of crises"
---
Unlike in the West, where the Jew Holocaust triggered ground-breaking observations on its impact on the public's mental health, India hasn't seen much work on this front, perhaps due to the low number of psychiatrists here at the time. Saying this, Jain brought in psychiatrists Gardner Murphy and Dusan Kecmanovic into the discussion, to argue how societies have used the partitioning of minds to justify later physical separation. He drew parallels between Kecmanovic's argument of how former Yugoslavia believed that the Croats and Serbs were not compatible because of their varying psychological makeup, and the belief that existed in the Indian subcontinent of the 1940s that Hindus and Muslims could not live together due to similar reasons. Psychoanalytic studies like these argue, therefore, that a partition of minds was later on used to justify geographical division as well.
Jain added that there was an urgent need for more such socio-psychological studies from a South Asian perspective and recognition of the psychological space of the people of this region — lest our understanding continues to be based on Western and colonial observations.
The session ended with them agreeing on the several parallels that exist between the 1947 Partition and the recent migration of labourers from India's cities— both forced albeit in different ways. "What kind of a state have we built if we cannot assure people of life and safety; that they will be looked after in times of distress?" Suddenly called "migrants" in times of crises, abandoned, and stripped of a sense of belonging to the cities they constructed, such a partitioning of minds meant that the "ghosts of 1947 are still alive and kicking," concluded Jain.