Women in Cinema Collective's Webinar on Cyber Abuse
Kerala's Women in Cinema Collective (WCC) organised a webinar on "How to Deal with Cyber Assault" on July 4, as a part of their ongoing efforts against cyber violence. Attended by both its members and special invitees, most of whom were survivors of such assaults themselves, it had advocates and techno-legal experts Shyam Padman and Nabeel Koya, along with Justice K Abraham Mathew, explaining the legal side of things. In December 2019, WCC had carried out an online campaign on the need to recognise, report and prevent cybercrimes.
Ever since its formation in 2017, the WCC has brought in multiple tangible and intangible changes into the Malayalam film industry, which, till then, was seen as an extremely divisive and regressive space by outsiders, particularly for women and the less privileged. Matters reached a crescendo when an established female actor of the industry was subjected to sexual abuse in Kochi in 2017. The same year, 18 women, including actors, directors and other technicians, came together to form the collective, establishing their solidarity with the survivor actor. WCC is the first and perhaps the only collective for women in cinema in India.
"The entire episode and ensuing reactions reaffirmed the stronghold of patriarchal beliefs in the film industry highlighting the challenges faced by survivors in their course of pursuing justice. Spanning multiple generations and film disciplines, this group met up with the Chief Minister of Kerala to draw government attention on the gender-discriminatory values and unsafe practices that are rife in the film industry. Thus the Women in Cinema Collective, the first of its kind, came into existence," says the WCC's website.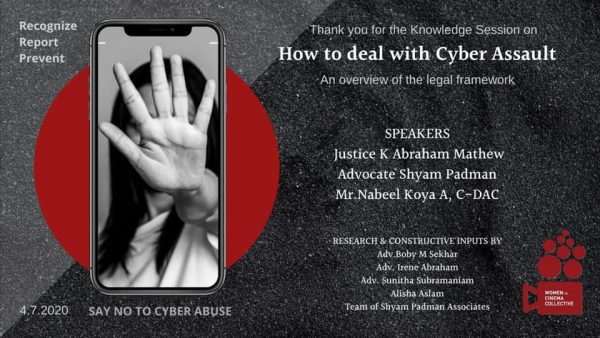 The webinar, which had over 20 participants, started off with WCC members actor Parvathy Thiruvothu and director Anjali Menon explaining the reasons behind organising it — to build solidarity, spread awareness and to realise the need to stand up to cyber abuse as a collective, rather than individually. K Abraham Mathew explained the law's low functionality in terms of cyber abuse and why he thought it was hard to keep pace with rapidly changing technology, which seems to be developing on a daily basis. He then went on to elaborate on the technicalities of India's cyberlaw and said that it was crucial to fight issues like this as a collective, precisely because of such reasons. Shyam Padman was of the opinion that there was a lack of awareness regarding cyber abuse and that it had to be approached not from individual ethical/moral standards, but from a purely legal perspective. Padman added that India's IT Act was put in place with an intention to bridge the digital divide and not deal with cyber abuse. Following this, Nabeel Koya spoke of what was to be done once a cybercrime had been committed and opined that Kerala had an exclusive set up for this alone. He also spoke about the options that could be explored by survivors of cyber attack — local police station, magistrate, writ petition, national crime portals, for example.
The webinar soon proceeded into a discussion with the participants — WCC members and others — sharing their own cyber abuse experiences. They shared details and the advocates responded with the options they could explore to deal with them in the future. One of the members shared the consistent attack they faced on social media after she remarked that a film of a prominent actor in the industry was "misogynist". Shocking and disturbing details of the cyber abuse that the industry's female actors had to face on a daily basis were discussed — all while talking about the pressing need to maintain collectives like the WCC. Boby M Sekhar, another advocate, opined that collectives helped in dealing with the mental trauma that came with such abuse.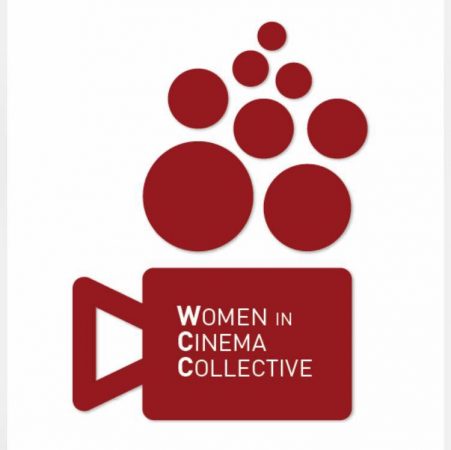 Other participants in the webinar included editor Bina Paul, journalist Anna M Vetticaud, actors Rima Kallingal, Anna Ben, and Samyuktha. Paul opined that the Malayalam film industry was the only one which did not function as per the law of the land. Director Menon talked of how the WCC has filed a petition to bring the industry under PoSH regulations, the importance of the Hema Commission and more.
The piercing interventions made by this group of women, in the atmosphere of an industry that has historically witnessed low female participation in decision making, are to be considered significant. Film industries and associated organisations, especially in Kerala, have been exclusive universes in which participation and even opinion is reserved to those directly linked to them. Prominent ones like the Association of Malayalam Movie Artists (AMMA), Film Employees Federation of Kerala (FEFKA), Malayalam Cine Technicians Association (MACTA) for example. Those at the helm of all the three are considered by many, and especially the WCC, to be protecting those accused in the 2017 sexual abuse case. For outsiders therefore, these spaces have always appeared to be cloistered ones, where nobody really knows what goes on and have therefore even appeared questionable. What the WCC has done is to democratise such a space, with efforts that have had a deep impact on the industry's attitudes towards the women in it and much more.